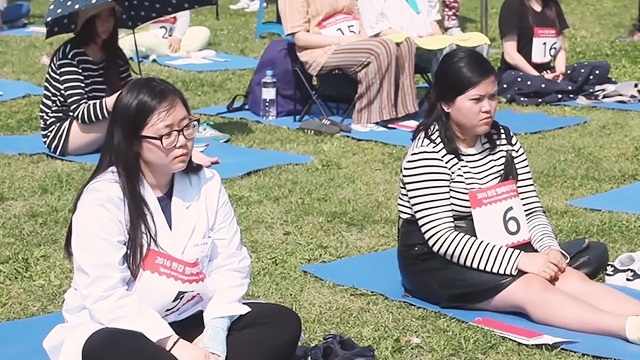 Have you ever been berated about zoning out? Like completely shutting off and staring into space with your mouth slightly open? Well, you now have and excuse for doing so, as South Korea is holding their Space-Out Competition on April 30 in Hangang.
A project by performance artist WoopsYang, the annual contest aims to encourage people to hit pause on their fast-paced lives and literally do nothing.
ADVERTISEMENT - CONTINUE READING BELOW
CONTINUE READING BELOW
Recommended Videos
The rules are fairly simple: For 90 minutes, you'll need to do absolutely nothing. You can't check your phone, fall asleep, talk, laugh, sing, or dance no matter how bored you get.
The person who spaces out best and who has the calmest heartrate after the alloted time will receive a trophy and will move on to compete at the International Space-Out Competition.
Last year, it was local rapper Shin Hyo-Seob known as "Crush" who took the grand price. 
The registration period may be done, but you may still want to try your luck if you're heading to South Korea--or just watch the event for the fun of it. At least now you can justify staring into space by saying that you're training for the next competition.
 For more details, visit www.spaceoutcompetition.com.
ADVERTISEMENT - CONTINUE READING BELOW
Comments
Load More Stories