Talk to her about anything, and you'll know that Julia Barretto is an engaged conversationalist. It's even more impressive given that she took our interview in a moving car en route to another commitment, relaxed and bubbly even though she juggled two full-day glam shoots for four publications days prior. One can argue that a pretty face doesn't always require candor and insight, but it's a different matter for the 25-year-old star, who boasts of several feathers on her cap: actress, vlogger, and, just recently, entrepreneur.
"Sometimes, I do underestimate myself. I fail to acknowledge the things I have achieved in the past," she reflects, still down-to-earth as I bring up her numerous achievements. Despite all her success, Julia is nowhere near complacent. "I still don't feel like it's enough. And after a while, I realized that maybe that's a good thing because I'm always striving and wanting and working hard for more. Kumbaga in Tagalog, hindi ako nakakampante. I'm never too comfortable that I'll just stop working. I don't think I'm where I should be yet, but I'm slowly getting there."
ADVERTISEMENT - CONTINUE READING BELOW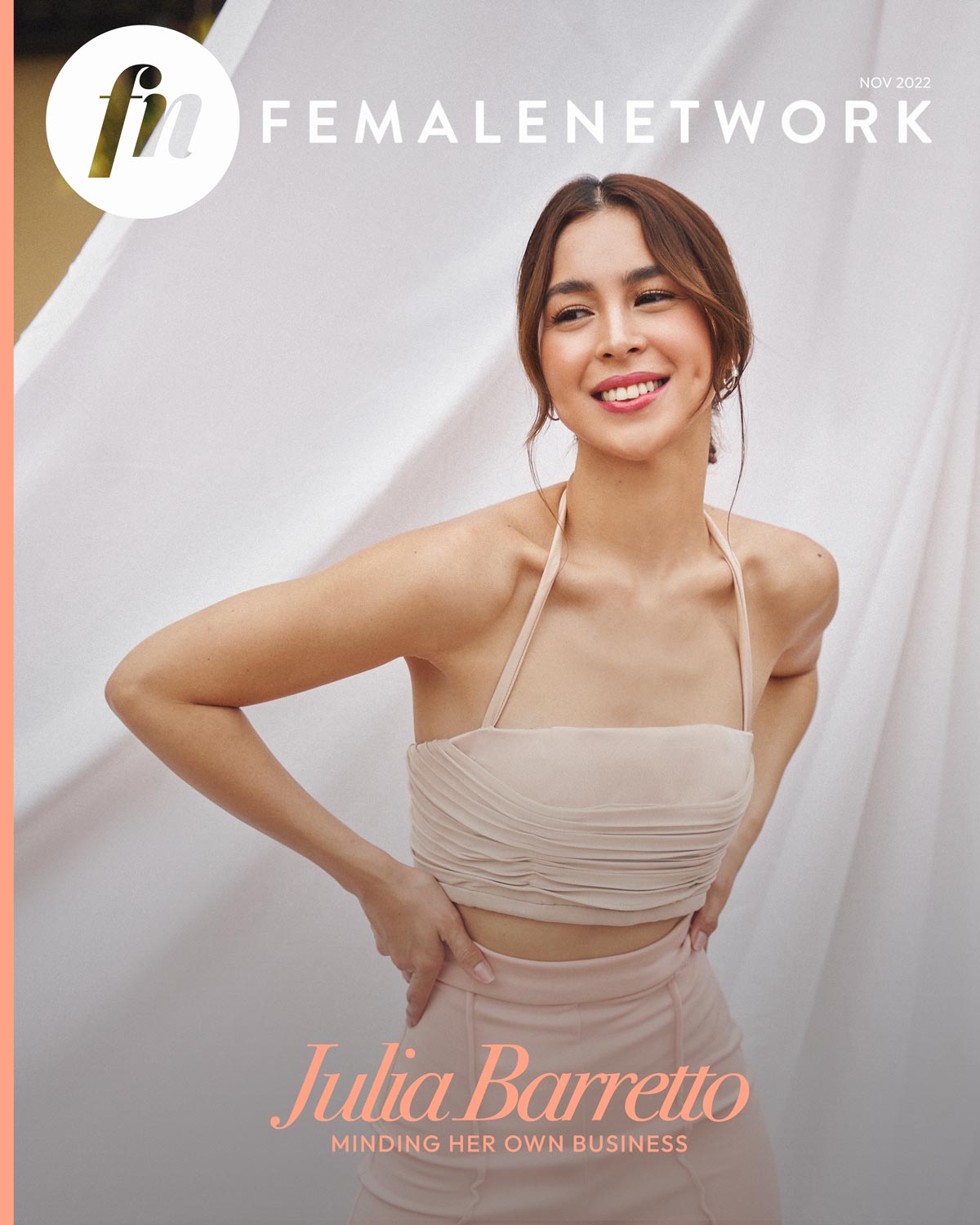 Julia Barretto for Female Network November 2022
A Creative Spark
There's possibly no easier way to launch a business venture than to attach it with the name of a well-known star. Case in point: the massive growth of celebrity-fronted brands, which outpaced established labels in the fashion and beauty industry. Still, even with the privilege of being a household name, Julia reveals that she had zero expectations when she launched her brand The Juju Club late last year. From cute hair claws to aesthetic sunglasses, bucket hats, and more, Julia's lifestyle brand speaks of her carefree and happy-go-lucky style. "When we launched, it's kind of really crazy. We were able to bring in a lot of customers on the first day. We were sold out. I'm so grateful. Because of how it was well-received, that really kept me motivated and excited to grow this brand more."
Since she was young, Julia always knew that she would one day launch her own business, so she took advantage of her free time during lockdown to turn that dream into reality.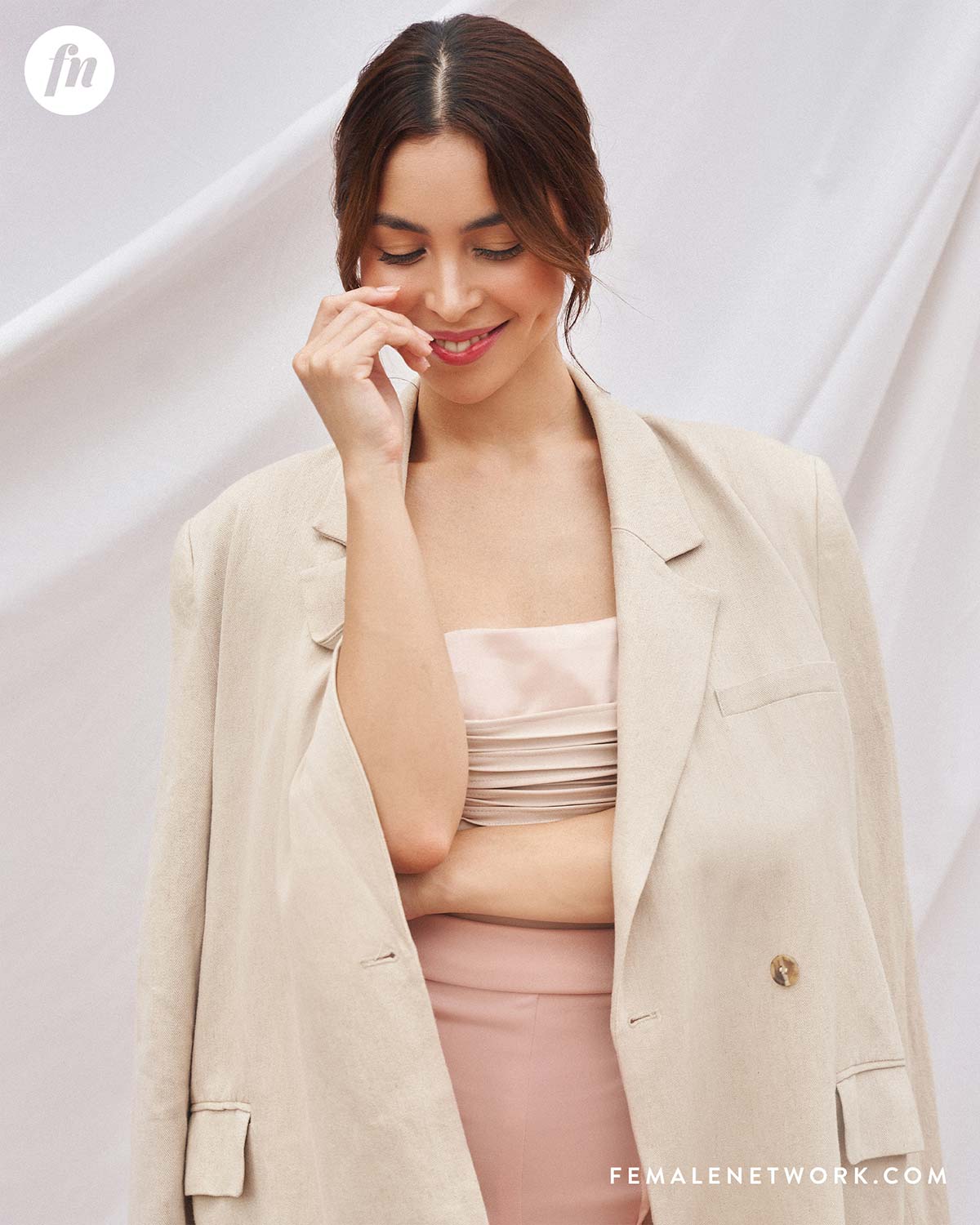 "Before the pandemic, I was always working nonstop, and I didn't get the time to focus on opening a business of mine. So when it happened, I had a lot of time to think about what kind of business I really want to put out there." 
ADVERTISEMENT - CONTINUE READING BELOW
She talked us through her initial concept. "During the pandemic, I'm always just home, and there's no need for us to be glammed up, and so I really enjoyed just being able to put my hair up in a clamp. Initially, it was just about a little business that would offer different hair clamps, but I kinda got carried away," she tells me with a laugh.
Also gaining more traction for her YouTube travel series entitled Juju on the Go, Julia is keen on strengthening her brand. "I always dreamt of having my own lifestyle brand, a one-stop shop for people before travels. I'm trying to turn it into a lifestyle brand where anything and everything can follow under it, and hopefully, we're getting there."
In true girl-boss fashion, Julia is always looking to innovate and learn. Case in point: her plans to expand her brand with a fragrance line. "I like that every time we launch, it's an opportunity for us to learn and improve and get feedback from people, so we know what to do better next time. After we launched the fragrance collection, we really saw the big potential, and I was really inspired by how people received it. Right now, I'm working towards making it an independent brand but still under The Juju Club. So I'm currently creating its own branding and ensuring that if we restock, the quality is at its best."
ADVERTISEMENT - CONTINUE READING BELOW
She puts a premium on ensuring everything is on par with her standards—putting quality above all else. "We were sold out, which I'm grateful for, but the restock isn't coming anytime soon because I'm working on the quality of things. It's going to take a little bit of time, but it's gonna be worth it."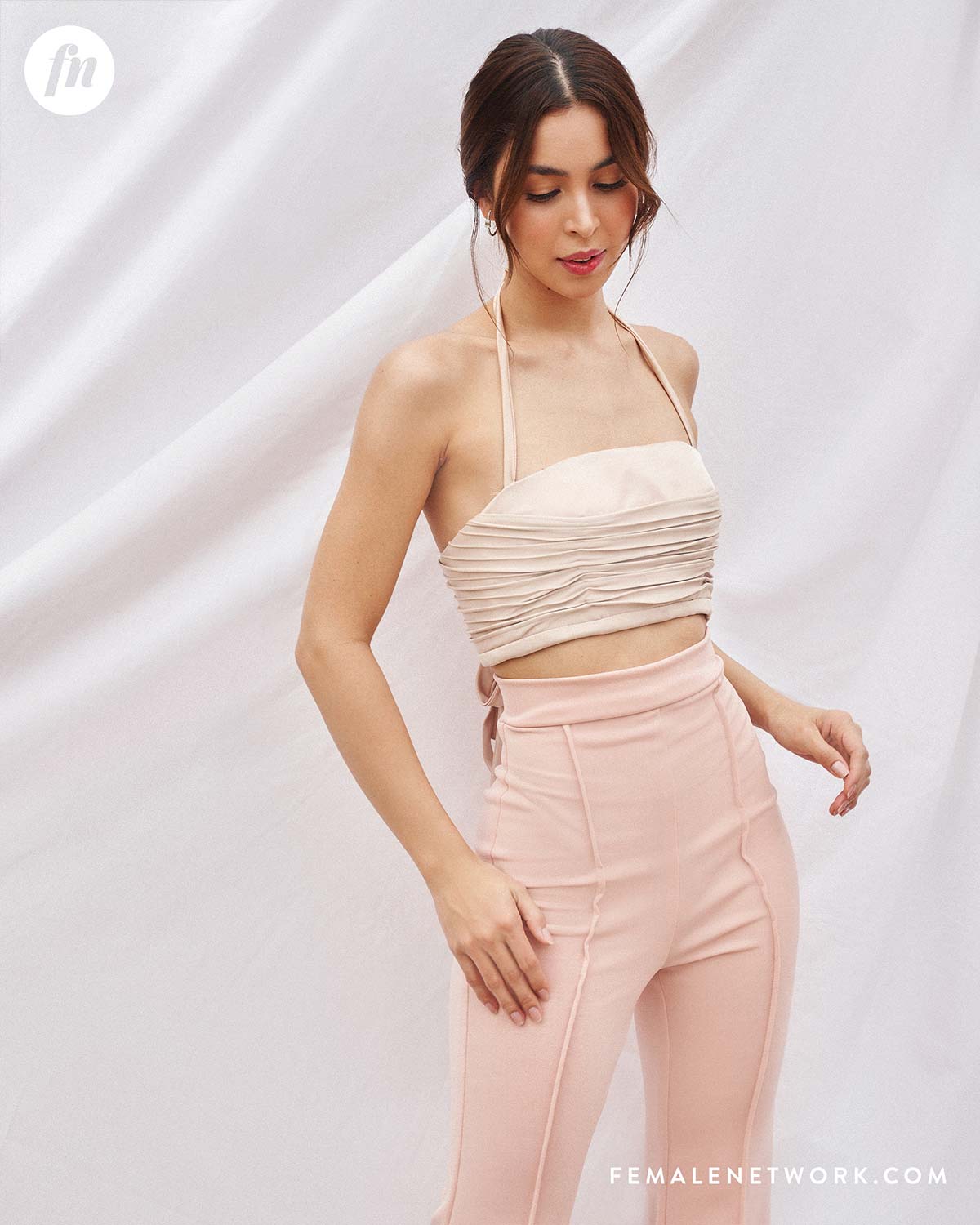 ADVERTISEMENT - CONTINUE READING BELOW
If you're an avid buyer, though, fret not. They're launching an upcoming swimsuit collection in celebration of their first anniversary. Consider it Julia's treat in response to the overwhelming public support, a testament to how hands-on she is with her business. "Even though I'm traveling or doing something that I'm busy with, I kinda make sure that I'm very much updated and aware of everything that's going on. I love being hands-on because it's a brand that represents me and my personality, and how I communicate to people is so important."
Strong Support System
Julia's business venture couldn't be more well-timed, as she delved into it almost the same time that her sisters Dani and Claudia wore their CEO hats for their respective businesses. "I think it's also because of the timing, given that we're all adults now. We all know that we wanna have businesses at some point in our lives. It's about the right time, age, and knowledge of things. We're all at that point that we're now older to handle such big responsibilities."
ADVERTISEMENT - CONTINUE READING BELOW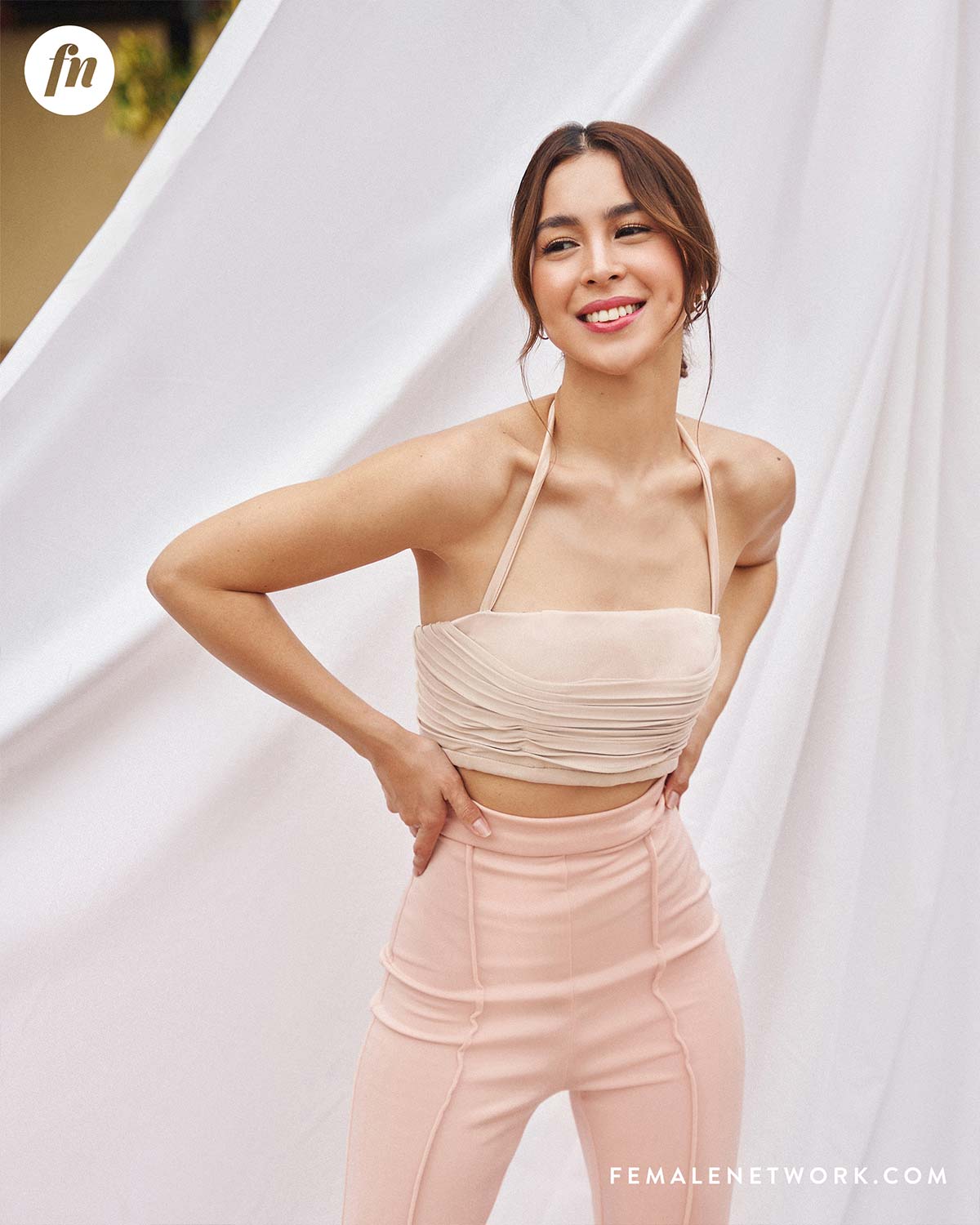 ON JULIA: Nude Top and Pink Trousers, CARL ARCUSA;
Pink Heels Casadei, NIRVANA CLOTHING
She shares more about their enviable bond, aware that in an industry that pits women against each other, they've got each other's backs. "We're supportive of each other. We really are tight-bonded. I love having entrepreneurial siblings and a mom. We learn from each other. We give each other advice. We try on our products and give each other reviews. We give each other ideas on what else we could do. We love to collaborate. And I'm just glad that we're all here now, and we're able to do something that we've always wanted to do."
ADVERTISEMENT - CONTINUE READING BELOW
It's no secret that Julia is a certified mama's girl, never failing to dedicate the sweetest messages on social media for her mom Marjorie Barretto. When asked about the most important business lesson she learned from her, she mentions the value of staying gritty despite juggling various responsibilities. "She will constantly and up to this day will always tell me not to lose motivation and grit. Because sometimes, life happens and we get so busy. So she's always there to remind me to stay inspired and motivated and to always look for ways to grow the brand, which has really helped me."
Aside from her ever-supportive family, Julia has her beau Gerald Anderson to thank. "Since being with him, I think just seeing his drive and determination, how quickly he moves to make the process fast—those motivated and inspired me to create the Juju Club. I'm super grateful for the support and all the advice I get from him. I'm grateful he's there during the ups and downs and the twists and turns of this business nuance. There's still a lot to learn, but I'm grateful I have him by my side."
ADVERTISEMENT - CONTINUE READING BELOW
Wise Beyond Her Years
At the age of 25, Julia's got an untouchable aura that contains both glamour and kindness. And while she may still have that childlike laughter that reminds us of her child star days, there's no doubt that she's all grown up now.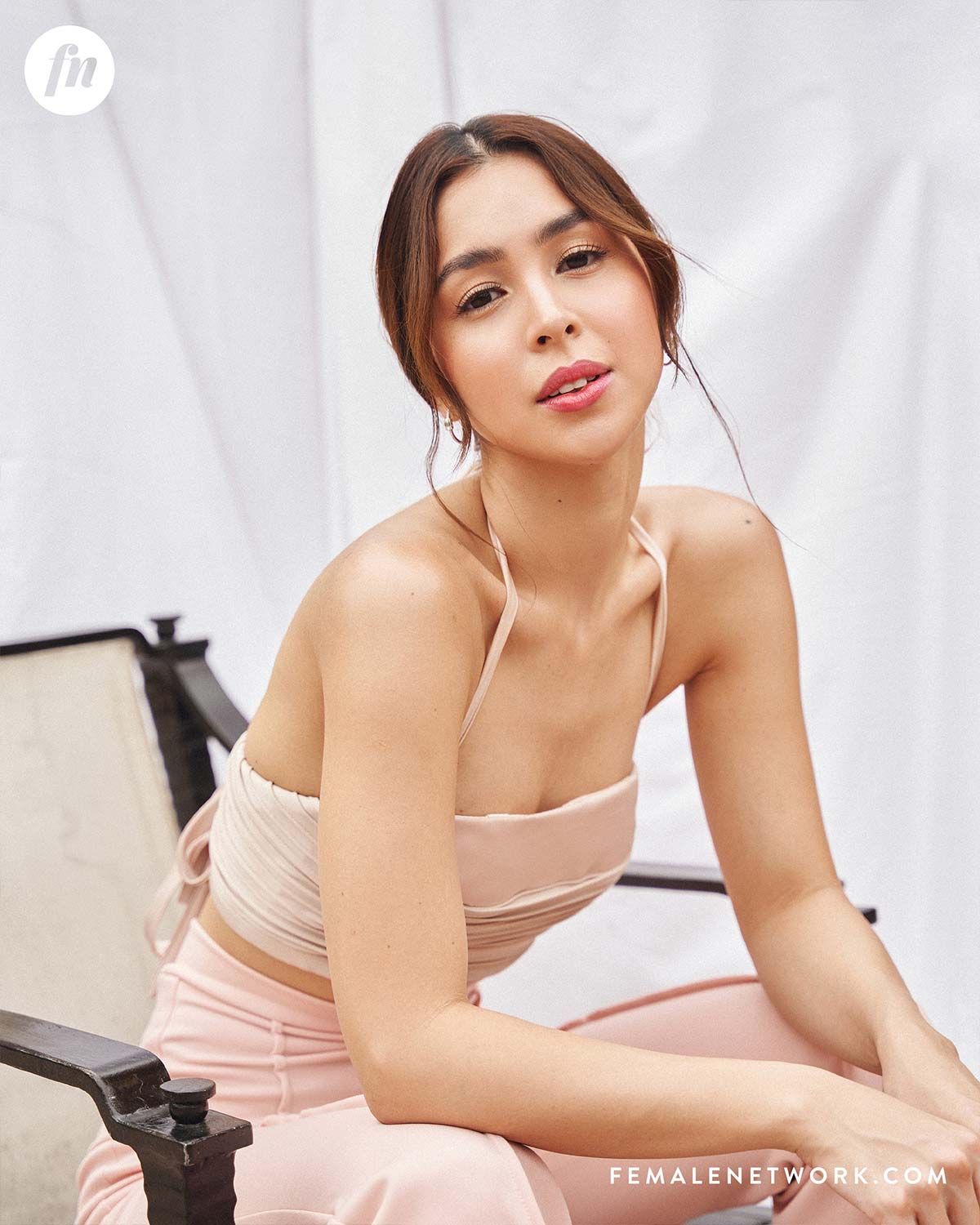 ADVERTISEMENT - CONTINUE READING BELOW
For three years now, she's been living on her own—relying on no one but herself when it comes to her financial obligations. Despite the fruits of freedom, she reveals that her life is no bed of roses. "It is stressful, actually. Because now, you're independent, and you have nobody to depend on when it comes to things. This is serious stuff, and I don't take this lightly, especially my finances."
Part of adulthood is making thoughtful consumption choices, one habit that Julia has learned to improve over the past years. "Now that I take care of absolutely everything in my life, I've become wiser in spending. I choose my battles now. I do like to reward myself but not in the way of ridiculously shopping anymore—I like to treat myself with two bags and maybe a pair of shoes. But I always allot more for investments that I know will grow and appreciate. I know my future self is going to thank me for it."
ADVERTISEMENT - CONTINUE READING BELOW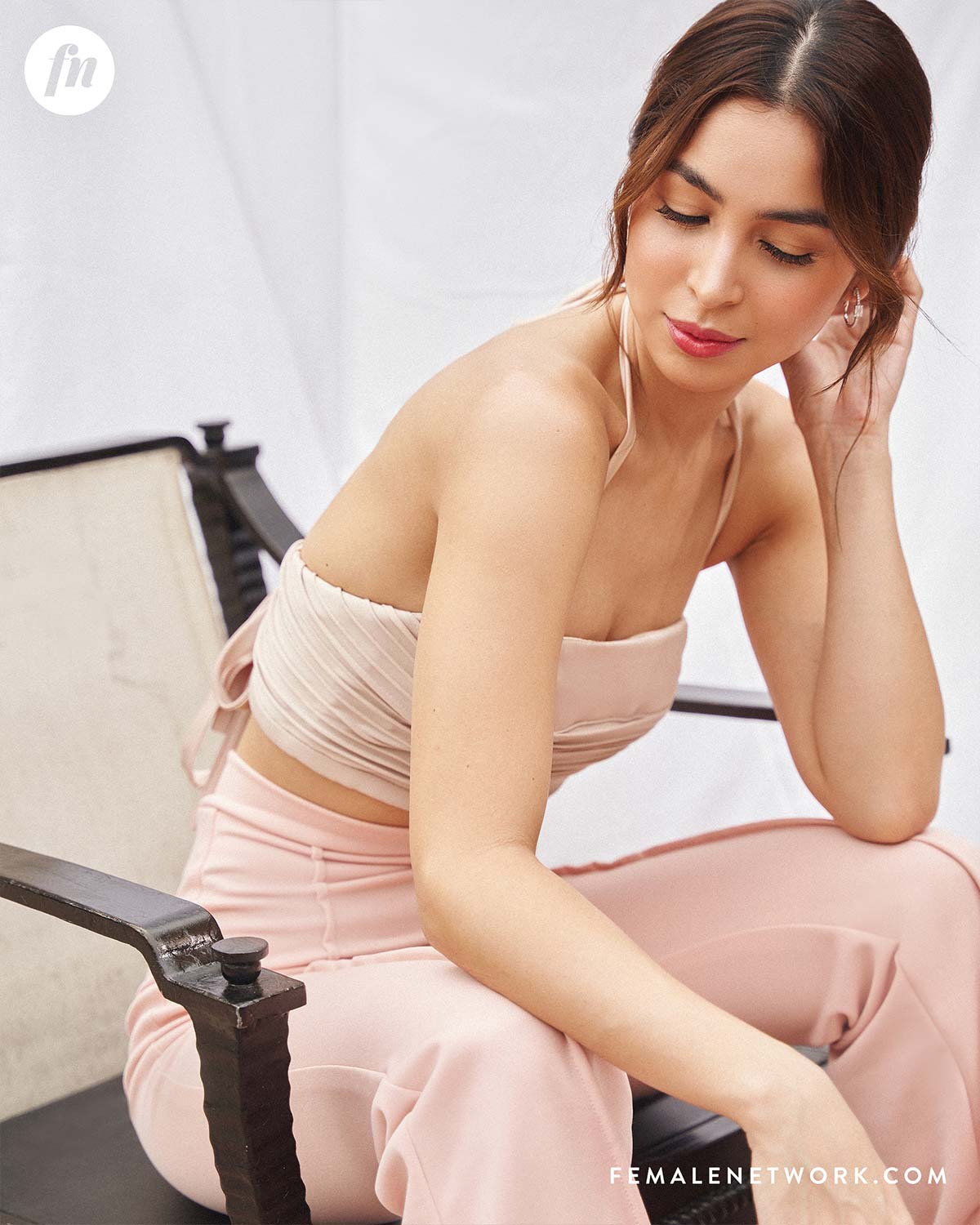 Her wisdom might suggest that she always had it all figured out, but her charmed life didn't come with zero adversities. For one,  it's no secret that her mom and dad had a controversial separation, but contrary to what our conservative society might think, Julia shares that her parents' fallout pieced their family together rather than broke it. She says, "We didn't have a normal family setup growing up, but I don't think it has ever affected me in a way that it usually would affect some kids. It's because when my parents decided to split up, I was actually for it. Even my siblings would agree to that."
ADVERTISEMENT - CONTINUE READING BELOW
She continues, "They think children don't notice things. But we do, you know. We're pure, we feel the energy, and we're sensitive to these things. So when they told us that they were gonna decide to split up. It was definitely a decision that we supported, and up to this day, we couldn't be more thankful for that decision of theirs because it has brought more peace into our lives growing up. It has shifted our environment into a healthy one."
Life on Her Own Terms
Looking ahead to the next stage of her career, Julia is pacing up with her own rhythm when choosing ventures that set her soul on fire. "I think being in a business for so long, I have always depended on people to work through things for me. Like recently if I'm being honest, I just really had to unlearn letting people control my time. So now, I feel like, it's important for me to take over and really have more control over it."
ADVERTISEMENT - CONTINUE READING BELOW
Further, she stresses that sticking to your gut is more important than fitting yourself in a box when it doesn't feel right. "I've always stayed true to who I am. I have always stuck with my own beliefs and opinions. And I've just come to the conclusion that everyone's not going to agree with you and whether you're saying the right thing or the wrong thing, someone will always have something to say so might as well say what you mean or what you believe in."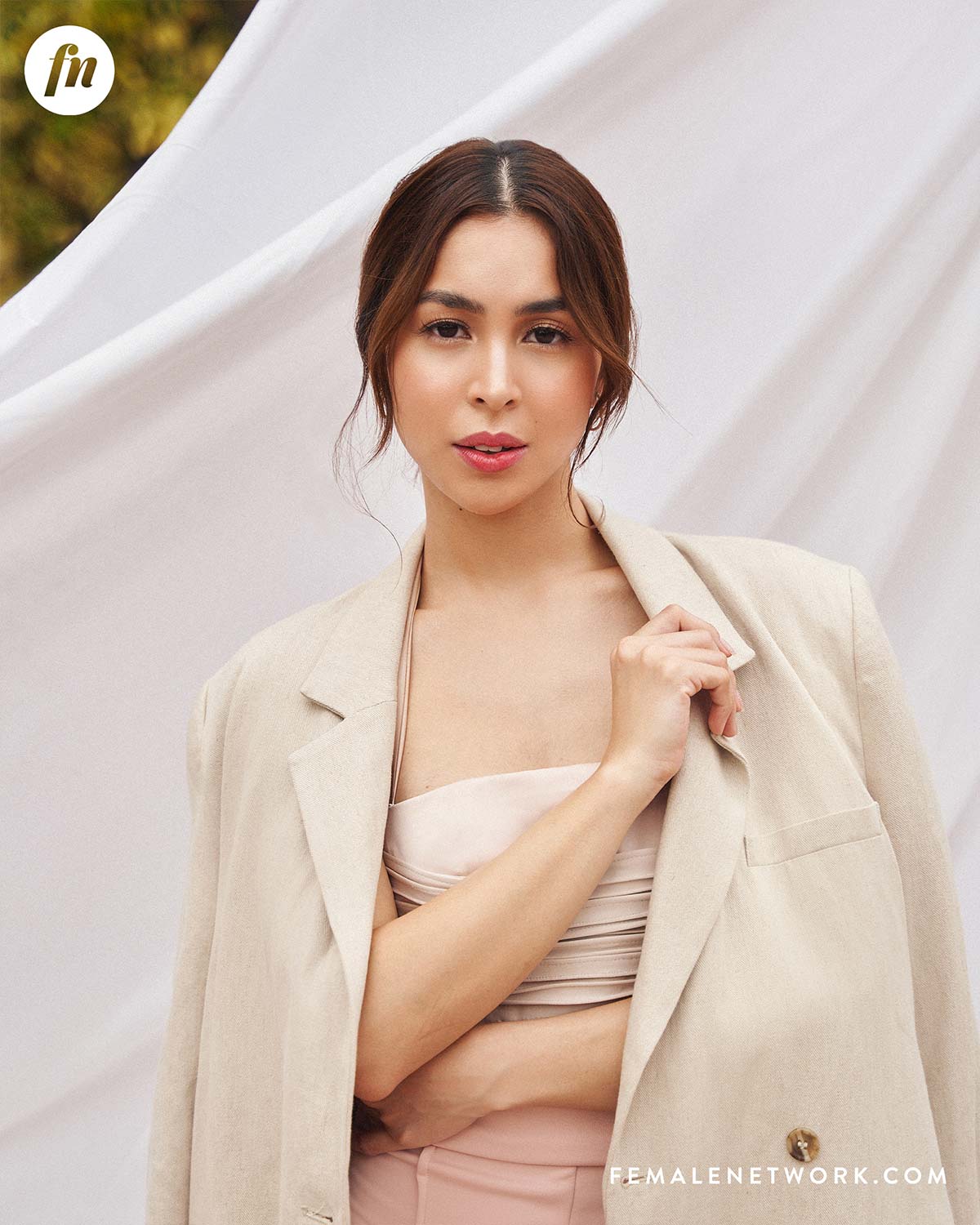 ADVERTISEMENT - CONTINUE READING BELOW
For Julia, there's no real grand, overarching path to success—you just grow through what you go through. "There's going to be a lot of challenges along the way, but it should give you more reason to keep going because it means whatever is the end of the road, it's gonna be worth it. Because nobody knows the amount of work that I had to put in, the things I had to endure to get here. I'm so excited to keep moving forward and get to that place and look back and say, 'Thank God I didn't give up.'"
Produced by: Steph Sison, Em Enriquez, Ira Nopuente, Andie Estella, and Cheska Santiago
Co-Produced by: Reg Rodriguez, Patricia Melliza, and Leika Golez
Photographed by: Renzo Navarro
Photographer's Assistants: Alexis Wang and Dom Pamatmat
Art Director: Bacs Arcebal
Associate Art Director: Pau Moyano
Sittings Editor: Marj Ramos-Clemente
ADVERTISEMENT - CONTINUE READING BELOW
Styled by: Cath Sobrevega, Gail Ong, Justin Mendoza, and Charishka Mutya
Makeup by: Anton Patdu
Makeup Artist's Assistant: Bettina Erquieza
Hair by: RJ Dela Cruz
Nails by: Mimi Qiu Luxury Nails
Shoot Assistants: Katrina Maisie Cabral and Cass Lazaro
Words by: Cass Lazaro
Shot on location at: Newport World Resorts