On October 5, entertainment news anchor and reporter Gretchen Fullido filled sexual harassment charges before the City Prosecutors' Office of Quezon City against former ABS-CBN News Executive Cheryl C. Favila and News Segment Producer Maricar P. Asprec.
Lawyer Marvin B. Aceron said in a Facebook post: "Fullido alleged that Favila and Asprec sent her text messages that were loaded with sexual innuendos, which amounted to requests for sexual favors. She further stated that when she rejected the advances, the two retaliated and made it difficult for her to work as a reporter and news anchor for TV Patrol. It was a cycle that was going on for almost three years."
ADVERTISEMENT - CONTINUE READING BELOW
While ABS-CBN has let go of Cheryl for "gross misconduct" and has dismissed initial sexual harassment complaints, Gretchen decided to pursue the matter in criminal court, while also filing libel cases against network executives Cecilia Drilon and Venancio Borromeo, and news reporter Marie Lozano, for allegedly hurting her reputation by saying that she filed the complaints "to leverage her employment status with ABS-CBN."
The Complaint
Gretchen was said to have submitted an initial complaint to ABS-CBN head of Integrated News Ma. Regina E. Reyes on November 6, 2016.
In a position paper sent to Female Network by Cheryl and Maricar's media coordinator Joanne Cristobal, their legal counsel Evalyn G. Ursua said that the complaint resulted in a meeting between Gretchen and the executive. "She [Gretchen] narrates that Cheryl Favila expressed sexual interest in her, made sexual advances, and, after she rejected those advances, abused her power in order to punish her. She claims that Maricar Asprec was a participant in all these. She claims that she endured all these for three years.
"Cheryl Favila and the producers and staff of TV Patrol created for her a hostile work environment. She claims that many of her stories were not aired without any valid reason, despite that her desk editors at newsgathering had already approved those stories. The non-airing of her stories was a result of Cheryl Favila's anger towards her. She endured this hostile work environment for three years."
The messages sent to Gretchen Fullido
The messages in question purportedly made Gretchen feel uncomfortable enough for her to reach out to management. One from Cheryl read, "Good morning! Tara Grets was my shower moment this morning…" There was also talks about giving her "full commitment" to Cheryl and being a "Thursday girl."
Pep.ph also listed several messages exchanged between Gretchen and Cheryl, as which were included in Gretchen's complaint submitted to ABS-CBN's ad hoc committee that initially investigated the issue:
Cheryl: Nothing really. I just want to say you were very sexy when you went up to me in the newsroom.
Cheryl: Parati naman akong game sa'yo. Ikaw lang ang maayaw. Hindi ko pa nakakalimutan ang rejection mo. #hugotko.
Cheryl: No. It's more of a guy thing. Pwede paglalapit ka, wag masyadong malapit? Unless tayong dalawa lang
Cheryl: Thank you, Gretchen! Pero gusto ko ng live rendition ng Happy Birthday song mo, na aka super sexy outfit ka. Hahaha! Birthday ko naman, di ba?
Cheryl Favila's explanation
Atty. Ursua noted in her clients' position paper that the messages were taken out of context.
"The words, phrases and sentences that made Fullido uncomfortable and thus she considered sexual harassment did not have any sexual meaning when they were expressed, in both intent and context."
Some of the message threads were:
"Good morning! Tara Grets was my shower moment this morning…"
According to Cheryl and Maricar's camp, Cheryl's "shower moment" was "an expression that Favila uses to refer to a contemplative time while taking a shower when her mind is clear and ideas come." Below is the conversation included in their position paper: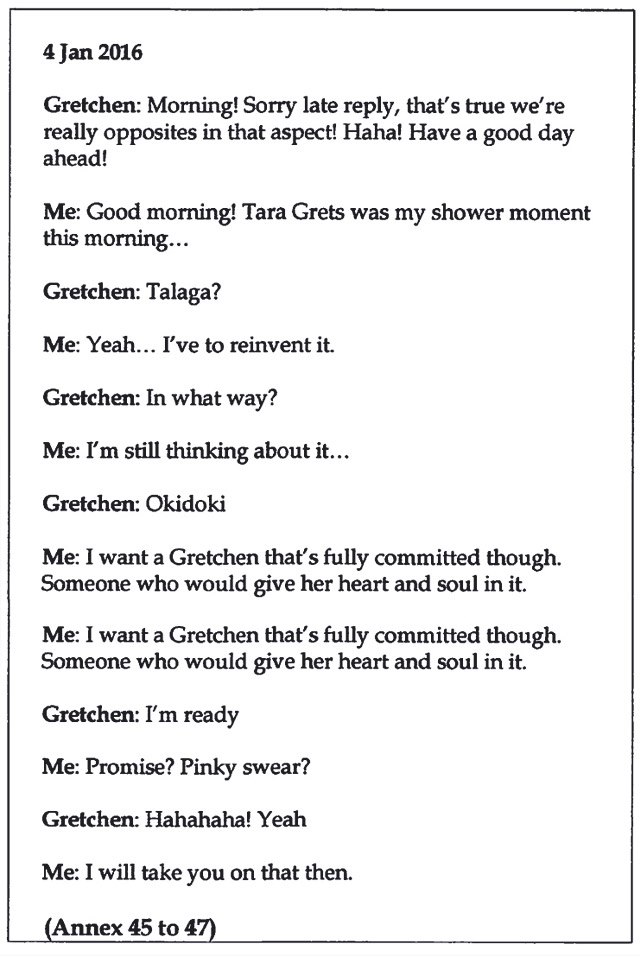 ADVERTISEMENT - CONTINUE READING BELOW
"Full commitment"
Atty. Ursua noted that Cheryl was actually asking for Gretchen's full commitment with regarding work. In a quote from one of the audio recordings of the hearings of February 28 and March 5, 2018, Cheryl said, "If you take [Fulido's selected message [as] it is, it looks like I was referring to a commitment to a romantic relationship. Let me be clear that the commitment I was referring to in ALL of my discussions with Gretchen Fullido was about work—for 'Tara Grets' to make it fly and to be able to pitch it as a stand alone show later on, and for her career as a reporter who could be honed as a good story teller with credibility."
"Thursday girl"
According to Cheryl, "Thursday girl" was a term used to friends she would hang out with on Thursdays, "or sometimes on a day other than Thursday, to have dinner and drinks."
Maricar, on her end, also explained that the newsroom had a language of their own, explaining the meaning behind phrases like "lambingin mo si Chair":
"That's a very normal term sa newsroom e. Ganoon din po yon kapag napapagalitan kami ng mga producers, di ba, parang, ahm, lambingin mo lang yan di nay an magagalit sa atin. Kahit magtanong po kayo sa newsroom. Yon po talaga yong mga terms na ginagamit namin."
What the law says
Section 3 of Republic Act No. 7877, or the Anti-Sexual Harassment Act of 1995 states the following:
"Work, education or training-related sexual harassment is committed by an employer, employee, manager, supervisor, agent of the employer, teacher, instructor, professor, coach, trainor, or any other person who, having authority, influence or moral ascendancy over another in a work or training or education environment, demands, requests or otherwise requires any sexual favor from the other, regardless of whether the demand, request or requirement for submission is accepted by the object of said Act.
"In a work-related or employment environment, sexual harassment is committed when:
"(1) The sexual favor is made as a condition in the hiring or in the employment, re-employment or continued employment of said individual, or in granting said individual favorable compensation, terms of conditions, promotions, or privileges; or the refusal to grant the sexual favor results in limiting, segregating or classifying the employee which in any way would discriminate, deprive or diminish employment opportunities or otherwise adversely affect said employee;
ADVERTISEMENT - CONTINUE READING BELOW
"(2) The above acts would impair the employee's rights or privileges under existing labor laws; or
"(3) The above acts would result in an intimidating, hostile, or offensive environment for the employee."
Where everything currently stands
Cheryl and Maricar's camp maintains that during the formal investigation, "Fullido admitted that there was no demand for sexual favor from respondents, but there were always innuendos… [her] admission that respondents never asked for a sexual favor from her deprives her complaint of sexual harassment of any merit since the law requires that there must be a demand, request, or requirement for sexual favor. When she claimed that there were always innuendoes, Fullido must be referring to what she had enumerated earlier…'full commitment, etc.'"
On the other hand, Gretchen's submitted complaint noted the following: "Complainant vehemently denies that she admitted that respondents never demanded any sexual favors for her. There was no explicit demand, but given the totality of events as narrated herein and as narrated in my submissions in the administrative complaint, the sexual favor was implicit and respondent Favila clearly made sexual advances upon Complainant."
Gretchen released a statement on October 7, 2018 through Atty. Marvin Aceron's Facebook page, saying, "All I can say is these are public records now. The public can do their research and verify. Please just pray for me in these difficult times."
Female Network is open to hearing both parties should there be any clarifications or any additional information regarding the matter.
Load More Stories