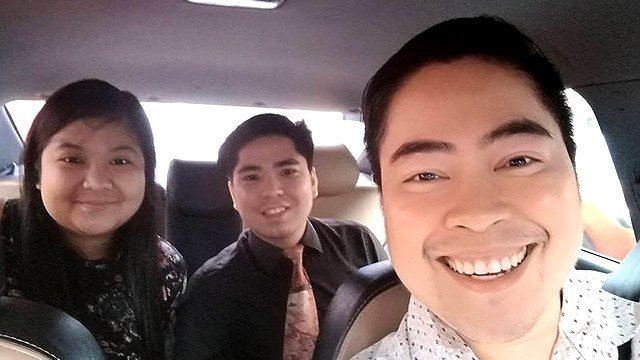 With Uber now suspended for a month and Grab apparently not having enough capacity to handle all passenger demand, the only option that seems to be left is to suck it up and go for taxis while hoping that the EDSA gods will grant you a smooth, uneventful trip.
ADVERTISEMENT - CONTINUE READING BELOW
Meanwhile, the Land Transportation and Franchising Board (LTFRB) has been under fire for suspending Uber. But amid all the chaos and finger-pointing, a selfless Samaritan is trying to help out by sharing his very own ride to total strangers in need—free of charge.
So what made him do it? According to Ganns Deen, who works as a radio Disc Jockey for 106.7 Saved FM, this random act of kindness is just his own way of providing a solution to the Uber mess that has left some 66,000 commuters struggling for rides.
"That was a number that we just could not ignore," he explains. "We knew we had to do something, and so I decided to offer a carpool to my Uber-using friends. However, no one showed up for my first meetup so I headed to work, then on the corner of Arellano and Ocampo, I saw this couple trying to flag down taxis. Two taxis rejected them in quick succession, and I felt really bad for them."
ADVERTISEMENT - CONTINUE READING BELOW
Just like us, DJ Ganns also has his fair share of bad experiences riding taxis.
"What we find difficult with taking regular cabs is that we're often asked—forced, most of the time, during rush hour—to add on to the fare, which is difficult. We imagine even more so for many Filipinos like us who try to be financially responsible and stay true to our household budgets," he shares.
He's also not happy with Uber's suspension since he sees it as a big inconvenience to everyone, including his family.
"2.3 million vehicles are now on Metro Manila's roads, and many of these vehicles are one-driver vehicles," he adds. "That space can be put to good use to ease the congestion, especially in the light of the sudden suspension of 66,000 Uber drivers. My wife takes Uber regularly, and she feels much safer in them, and she appreciates that we know how much we'll be spending for the trip. There's integrity in that, which is very important to us."
ADVERTISEMENT - CONTINUE READING BELOW
But Ganns believes that Uber crossed the line when they went against the LTFRB's suspension order.
"I agree that Uber deserves that suspension on the legal grounds of its violation of the circular. Ultimately though, I question the true intention behind the said circular, because this entire situation is literally where the rubber meets the road." 
Yet at the same time he feels for the public and understands what the rage is all about.
"Can we blame commuters for their outrage? No. Yes, there's money to be made, but at the end of day, people will pay for convenience and quality, neither of which is being offered by the current public transportation system or regular taxi companies. If it's not LTFRB's job to ensure that, and there is no synergy with whichever government agencies that can make it happen, we will continue to experience this kind of outrage."
Ganns concludes by saying that the LTFRB should strike a balance by holding both ride-hailing companies and traditional taxis equally accountable for the sake of the commuting public.
ADVERTISEMENT - CONTINUE READING BELOW
"If we're talking about accountability, yes, keep TNCs accountable. However, the LTFRB should be holding regular taxis accountable to the kind of service given by Grab & Uber drivers. A lot of the dismay we feel comes because regular taxis have long been in the position of power. They can choose who rides. They often jack up prices. They don't maintain their vehicles to the same standard. So, if they won't level up, where does that leave the Manila commuter? And why didn't the LTFRB renew the accreditation of 7,000 previously accredited Uber and Grab drivers in 2016? It's all mind-boggling." 
So far, Ganns is planning to continue giving free rides while Uber remains suspended.
"Right now, I intend to give free rides for the duration of the Uber suspension. This is when the generosity and faith of private car owners are needed the most," he said.
Amid all this, it's a good thing that there are still guys like Ganns out there who are willing to sacrifice a bit of comfort on their end to provide others with much-needed convenience. Here's his message to fellow motorists:
ADVERTISEMENT - CONTINUE READING BELOW
"My goal is to get as many Filipino private car owners as possible to step up for our fellow Pinoys in this difficult time. People can debate the LTFRB and Uber issue all they want, but meanwhile, people need help. We need to restore people's faith in humanity, and that's why I'm calling for #Bayanihan to be the hashtag behind it. It's Filipinos coming together to help other Filipinos. I'm just glad that I was the right person at the right time to serve these two. If they pay it forward, fantastic. To me, that's what the bayanihan spirit is all about."
This story originally appeared on Fhm.com.ph.
* Minor edits have been made by the Femalenetwork.com editors.
Comments
Load More Stories