Women's month is all about celebrating the people we've become, and how we continue to grow by nurturing and building one another up. Below, some inspiring women who keep pushing the boundaries of their careers and how we can learn from them:
ADVERTISEMENT - CONTINUE READING BELOW
Sanggre Productions
The original Encantadia sanggres, Sunshine Dizon, Karylle, Diana Zubiri-Smith, and Iza Calzado, reunite in a new fantasy film, Mystified. Not only is this the first time they starred in a project together since Encantadia aired in 2005, they also took matters into their own hands and worked behind the scenes as producers as well. See the newly released full trailer below:
Mystified is set to stream on iFLIX on March 29 at 9 p.m.
Jenny Jamora 
Actress, producer, and Red Turnip co-founder Jenny Jamora directed her first full-length play, 33 Variations, in 2015. Just recently, she helmed The Sandbox Collective and 9 Works Theatrical's staging of Every Brilliant Thing, a one-woman show starring Terresa Herrera and alternate Kakki Teodoro.
The play's run has been extended and they will be adding shows until March 17, 2019. See their schedule below:
Maggie Wilson
Host turned entrepreneur Maggie Wilson-Consunji just opened home furniture and lifestyle store Casa Consunji, located at Acacia Estates. At the launch of her partnership with GoDaddy, when asked for her advice to aspiring entrepreneurs in their 30s with no business background, Maggie says, "The internet is a great place to start a business because you don't need to open a physical store. It makes it that much easier for you to start something small. 
ADVERTISEMENT - CONTINUE READING BELOW
"So for someone who wants to start a business, who has never done it before, start small first. Sell a product that you believe in...  and start selling to your friends first. See how they react to your product... your friends should critique you really well. 
"If it's a small business, you don't need to put in a large sum or a large capital. I notice that here in the Philippines, a lot of small businesses are all homemade or handmade stuff, whether it's food, soaps, or accessories, so start small if you're scared to spend... And be open to advice from other people that have businesses.
ADVERTISEMENT - CONTINUE READING BELOW
"And don't be scared to try something [new]. This isn't my first business venture, it's actually my second... so it's okay to fail the first time, and so you learn from that; and the second one, you come back even better."
Sari Marsden 
"From a radio DJ, I became personal trainer (I still am!), a fitness physique champion, and now an Nike NTC Trainer, while, at the same time, attaining a professional executive coaching certification with the ICF," writes Sari Marsden in an interview with Female Network.
ADVERTISEMENT - CONTINUE READING BELOW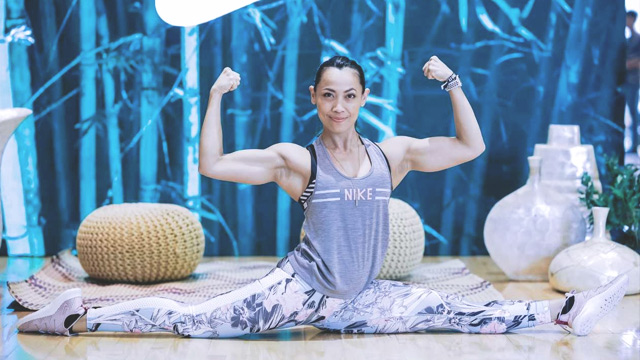 "My vision is to empower women to discover and embrace their core strength and beauty. I do it by integrating many passions in my life: personal development, nutrition, leadership, sports, health and fitness, and executive coaching.
ADVERTISEMENT - CONTINUE READING BELOW
"I work with clients from a wide range of backgrounds, across both corporate and personal contexts, so I need to be dynamic, and know how to create energy. Therefore, my training philosophy is this:
"I train my physical body to develop my desired leadership capacities; to stay on purpose, to flow, to persevere, to generate impact and to recover. My level of physical movement enables me to shift quickly, and to create and respond better in a wide range of situations."
Bianca Gonzalez-Intal
Bianca Gonzalez-Intal joins the She Talks Asia team, the women-led group behind last year's successful Body Love Conference.
ADVERTISEMENT - CONTINUE READING BELOW
According to co-founder Lynn Pinugu, Bianca has been heavily involved in the video content they've been putting out to raise awareness on their advocacies. 
ADVERTISEMENT - CONTINUE READING BELOW
This year, they're back with another event called #WeAreEnough, happening at the Globe Tower in BGC on March 16.
Load More Stories