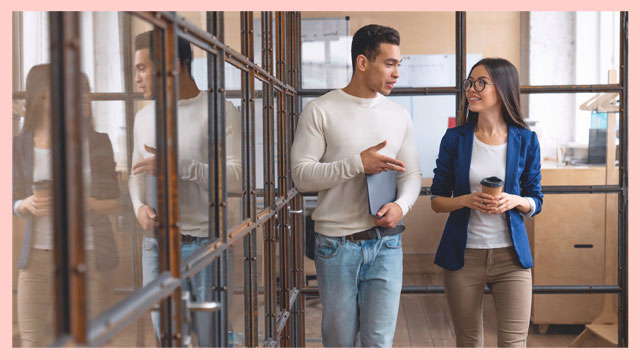 On October 28, 2019,  Republic Act No. 11313, also known as the Safe Spaces Law or the Bawal Bastos Law was passed. Led by Senator Risa Hontiveros, the chair of the Philippine Senate Women, Family Relations and Gender Equality Committee, it aims to end gender-based harassment in public and online spaces. The law includes catcalling, unwanted invitations, transphobic, homophobic, and sexist slurs, as well as persistent unwanted comments or gestures on a person's appearance.
Republic Act. No. 11313 also covers the workplace where harassment is also  common. It's important, especially in the workplace, to know what type of situation counts as harassment and what constitutes someone's consent. Even now there are people who think they are entitled to comment or take advantage of others simply because of their position, social standing, and worst of all, because they are perceived to be a more dominant sex.
ADVERTISEMENT - CONTINUE READING BELOW
This power play in the workplace can be traced to one's foundation. In fact, according to Philippine Commission on Women (PCW) Chairperson Dr. Rhodora M. Bucoy during the recent 18-Day Campaign to End Violence Against Women, "young boys, particularly those who are in a dating relationship, have the tendency to become abusive towards their female friends."
"It is an alarming trend that should not be ignored," she said. When left unchecked toxic masculinity can lead to chauvinism, and worse, acts of violennce. "There is a need for empowerment and education among the youth, so that they will have a better grasp of the realities of violence and its impact on the victims, their families and society in general."
The Bawal Bastos Law is a step towards the right direction, but education is still the best way to help fight toxic gender-ism that can lead to instances of harassment. The heart of this law, after all, revolves around respect, boundaries, and consent. 
What constitutes consent? And why is it important?
Consent should be expressly given. According to the Rape, Abuse & Incest National Network (RAINN), "consent doesn't have to be verbal, but verbally agreeing to different sexual activities can help both you and your partner respect each other's boundaries." A person under the influence of alcohol or medication, or who is under duress, is not capable of consent, and any consent that is vitiated with force, coercion, violence, or intimidation is not proper consent.
If you (or your friends) need a primer on consent when it comes to sex, we share yet again this simple guide by Emmeline May and Blue Seat Studios on what it means in different situations:
Giving consent also goes beyond the bedroom. In the workplace, it can be also apply to situations where one does something without the other's permission simply because he or she didn't bother to ask for it. These types of situations are very harmful, and only highlights the importance of knowing what calls for or should have been granted consent. In fact, The Balance Careers notes that some of the most common manifestations of harassment include sexual harassment, offensive photos, offensive jokes, assault, ridicule, and intimidation, and the following are examples of some of them that trample on the importance of consent:
1. Any situation that affects your well-being where your decision is overlooked
One important thing to keep in mind when making decisions is that all affected parties should be informed. One should never assume that everyone is okay with anything; as RAINN has noted, communication is the key to consent. So in a decision where you are an affected party, your input is just as important as everyone else.
2. When you're in the receiving end of innappropriate comments
Out of the blue, while you are working in the office, a co-worker decides to comment how tight your outfit is, and how it accentuates certain areas that is too distracting for them. That comment is already breaching the bawal bastos law. It is important for people to understand the value of boundaries.
3. When you experience insistent advances, whether romantic or not 
This can include having a co-worker who is very insistent on taking you out on a date, buying you food, or showing off how much effort they put into asking you out. The important thing to note is that effort isn't everything. Others might guilt trip you into it, saying that "Sayang naman effort niya." You are not obligated to date someone because of the effort they put into asking you out, the decision is entirely up to you and should be respected.
ADVERTISEMENT - CONTINUE READING BELOW
4. When someone reveals your personal information
It's not okay to share other people's secrets. If someone tells you something personal about them or if you tell someone something personal about you, that type of information should be kept between two people. And personal information doesn't just apply to secrets—even something as seemingly simple as giving your phone number to a client or another officemate should be run by you first. Before giving out information, it's important that its source had first given their consent for it to be shared.
5. When you're touched without permission
Not everyone is comfortable with a pat on the shoulder, or a tap on the arm. Getting consent before touching anyone or making sure that there is already an established trust there should be practiced.
The bottomline
Making sure that someone is comfortable in a situation before engaging is the key to understanding consent. It's a must for everyone to observe this practice. Admittedly, there needs to be a change in culture and mindset, especially for people who have not been educated about it growing up, but the good news is that with laws being implemented that aim to counter anything breaching consent and a generation gearing towards more practiced consent, we seem to be on the right track. 
Keep these situations in mind. They only have one thing in common, and it is that your input should be valued and not be taken lightly. The goal is to create an environment that harbors a sense of safety and security, and knowing your rights as well as discussing it with others should the situation arise can be one huge step towards that direction.
With additional reporting by Charlene J. Owen
Load More Stories