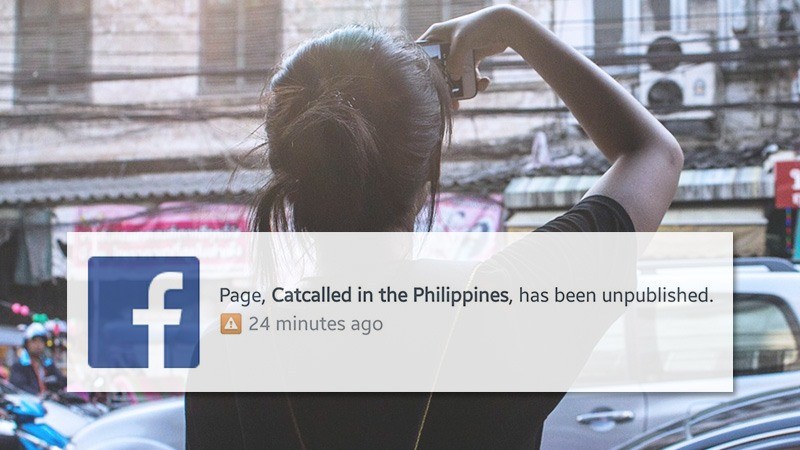 In June 2016, Raymond Peter Campiglio put up the Facebook page, Catcalled in the Philippines. He thought it would be a good way to empower women to share their stories and raise awareness about all forms of sexual harassment. As of February 6, 2017, Catcalled in the Philippines had 15,000 Facebook followers. That was also the same day that Facebook had taken down the page that had become an online refuge of sorts for women who had experienced sexual harassment.

Right before the page was taken down, Campiglio had called out two other Facebook pages—one for sexualizing a celebrity in order to  generate hateful misogynistic comments, and another one for a rape joke. The rape joke in question is truly offensive and has also been reported by other individuals, as shown in the post we're embedding below.
ADVERTISEMENT - CONTINUE READING BELOW
Campiglio was doing a good deed by calling out the said Facebook pages for inappropriate content. But it would seem that the owners of the Facebook pages that he had reported have rigged the social media platform's reporting system. Apparently, the admins of these pages would ask their supporters to report Campiglio or his page.

"I was reported for bullying behavior," Campiglio explained. He added, "I've been locked out of my account a lot of times for calling out vile pages. They get all their members to report me."

Here's the statement Campiglio posted in response to Catcalled in the Philippines being taken down:
Campiglio says he will soldier on. He also has this request for those sympathetic to his cause, "I hope you help (spread the story) of what happened to show people the depths and extent misogyny will go through to be in control."

This case alone shows us that sheer numbers can't determine what's wrong or right. In many instances, those who are doing what's right are outnumbered by those who are up to no good.
ADVERTISEMENT - CONTINUE READING BELOW
This story originally appeared on Cosmo.ph.
* Minor edits have been made by the Femalenetwork.com editors.
Load More Stories