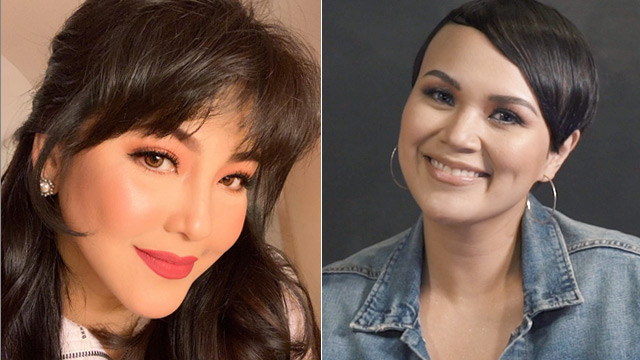 "I can be whoever I want to be, from broken to brave," sings Asia's Songbird Regine Velasquez in beauty brand BYS Cosmetics Philippines' newly released music video—and it's the only thing you need to see today if you're in need of a boost of motivation.  
ADVERTISEMENT - CONTINUE READING BELOW
In celebration of International Women's Month, BYS Cosmetics is in a mission to spread epowerment, self-love, and positivity, and so they've produced a music video entitled "I Am Beautiful" showing different scenarios where women of all shapes, ages, and sizes come into their own. It features the brand's ambassadors Nadine Lustre, Vivoree Esclito, Laura Barber, Alyssa Muhlach, and other celebrities and personalities like Georcelle Dapat-Sy and the songwriter herself, Abby Asistio.
"Being able to write for Ms. Regine Velasquez is truly an honor and privilege for me. I respect and look up to her as a woman, Christian and artist, and believe that she is the embodiment of what this campaign stands for," Abby shares in an exclusive interview with Female Network when asked what it was like working with one of the country's most honored artists. 
Right off the bat, the singer-songwriter says she "was both nervous and excited to let her listen to and record the song," but Regine, who Abby says kept an open mind all throughout the collaboration, was a breeze to work with. "It was great to know that she didn't just like [the song], but was very open to take in new ideas and suggestions from my team. She said she wasn't used to having lots of words in the lyrics but she went for it anyway and did it beautifully. She was friendly and super chill to work with."
Despite having three decades in the music industry under her belt, Regine was unafraid to break out of her comfort zone and that willingness reminded Abby of the importance of growth as an artist and as a woman. "Other than her excellence in her craft, watching her step out of her comfort zone given her stature, as well the way she related to all of us in a welcoming, non-intimidating way reminded me that at the end of the day, artists should always choose growth and treat everyone with warmth and kindness. These things stand out and impact the people you work with. She is Asia's Songbird but she is still so humble. No wonder she's been in the industry and is still "Reigning in Confidence" after 30 years."
In the music video, you'll see Abby, Laura, Alyssa, and Vivoree, each struggling with their own personal setbacks—whether it's dealing with a basher online or overcoming a nerve-wracking audition. It also shows clips of Teacher Goercelle passionately dancing to her own beat, as well as glimpse of Nadine standing tall in front of heaps of crowds at a red carpet for her movie premiere (a film project shot without her reel-to-real boyfriend, James).
ADVERTISEMENT - CONTINUE READING BELOW
What all these women have in common is how they all manage to overcome self-doubt in the end by turning it into a positive experience—even if it's as simple as wearing a lipstick that they feel good in. Because let's be real, there's nothing quite like putting on some makeup to pick yourself up when you're down, frustrated, brokenhearted, or even just puyat. 
Watch the full music video below: 
Load More Stories