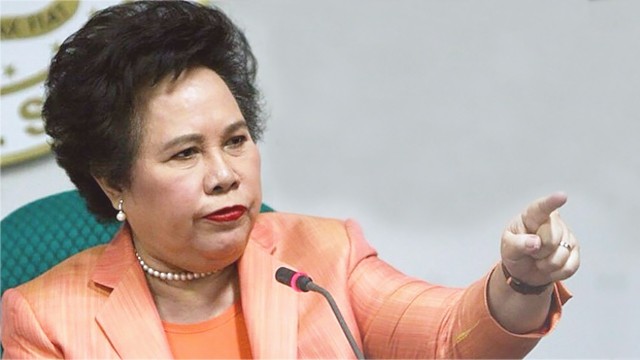 Former Senator Miriam Defensor Santiago was known to be a political wildcard. She was smart and outspoken, and had a touch of crazy that was more than needed to stay steadfast in her line of work. Having served in all branches of the government, she was a woman who achieved so much, and cut to the chase with sense and fervor backed by her desire to make things right.
ADVERTISEMENT - CONTINUE READING BELOW
Her death leaves a black hole not just in the political arena, but in the hearts of many who believed in her. We pay our tribute to this one-of-a-kind woman as we list three of her memorable battle cries, and how she inspired many to fight the good fight.
1. "I eat death threats for breakfast."
In 1988, Santiago was appointed by the late President Corazon Aquino to head the Commission of Immigration and Deportation. The CID, which was then known to take bribes and produce fake passports for illegal aliens, was met with swift and decisive reformation: fixers were thrown out and charges were filed against corrupt government employees. Her action brought her face-to-face with criminal syndicates, many of whom had ties to people in power.

Seth Mydans of The New York Times wrote, "Even before she assumed her post at the start of the year, she said, the attacks on her began. Powerful protectors of criminal syndicates denounced her in the press and on the floor of Congress, and death threats began, at an average of three a day."

However, she continued to "eat death threats for breakfast." Her iron will brought the CID its much needed turn-around, and garnered her the 1988 Ramon Magsaysay Award for Government Service.
2. "And don't play words with me – words are my livelihood."
When the shocking deaths of 44 SAF commandos happened in Mamasapano in 2015, a senate hearing was called to investigate Oplan Exodus. Appalled by the fact that former PNP Chief Diractor General Alan Purisima seemingly had a hand in the operation even while suspended by the Ombudsman, Santiago scrutinized his actions, saying that had not he meddled, the commandos may have still been alive.
"I humbly call to your attention. In jurisprudence, you overstepped your limits, you're on preventive suspention," she was recorded by the Inquirer saying when Purisima denied the allegations. "So what made you do that when you were under preventive suspension? And don't play words with me – words are my livelihood."
The former PNP chief later resigned from his post and took responsibility for the Mamasapano clash.
3. "I am very excited. I said yes, I have cancer. Now, I am entering another dimension of human life. That has always been my attitude."
In July 2014, Santiago announced that she was fighting Stage IV lung cancer, initially explaining to GMA Network that it was not metastatic.
ADVERTISEMENT - CONTINUE READING BELOW
"I believe in discipline in my life," she noted. "Even my cancer cells are showing excellent discipline."
For the following years, the former Senator continued to perform her function, and even ran for President during the last elections. After she lost the race, she finally decided to settle into private life.
During her campaign, one news anchor asked her how she wanted to be remembered. Santiago replied: "I want to be remembered only in the memories of my own family – that I was a caring grandmother, that I was always equitable, that I was always reasonable, that I was always supportive no matter what happened."
Load More Stories