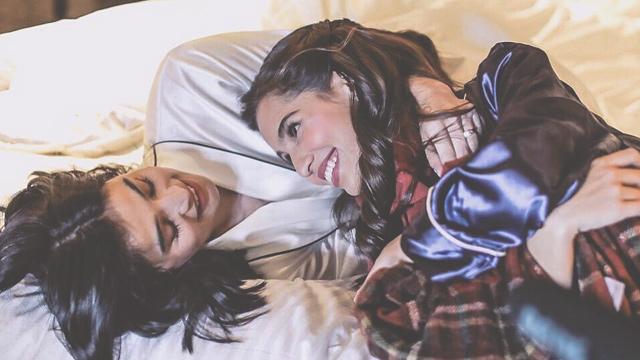 Stay connected with your friends, even when it's difficult to do so.
It may be harder than it's ever been to plan dinners and barkada reunions, but trust us, it's not gonna get easier—you have to make an effort. While it's natural to spend less time with your friends as you get older, catching up with people you've known forever helps keep you grounded. Who else will give you brutally honest advice? 
ADVERTISEMENT - CONTINUE READING BELOW
On the other hand, if you feel like you and your friends are have really grown apart, you also shouldn't feel guilty about branching out and finding people you really connect with. What matters is that you surround yourself with a tribe that can help you grow, and vice versa. It's not the number of years but the quality of your relationship that defines friendship, after all.
CONTINUE READING BELOW
Recommended Videos
Taking fashion and beauty risks will keep you young!
Continue to experiment with new looks, update yourself on the latest trends, and try something out of your comfort zone every once in a while. Sure, you may have already found your signature style in your 30s, and we're willing to bet that you have a surplus of basic blacks and chic whites in your office wardrobe. But trying something fun and a little risky from time to time can do wonders for your mood, creativity, and self-esteem. Remember, self-exploration chooses no decade.
ADVERTISEMENT - CONTINUE READING BELOW
Money can't buy happiness.
Remember when you were just a fresh grad and the smallest things like chipping in for groceries at home made you feel so grown up, independent, even fulfilled? Because even if you weren't earning a lot, what mattered was that you were finding your purpose. You spent early adulthood finding ways to stretch that paycheck, and that only opened you up to new adventures and street smart life hacks.
You never relied on money for your happiness then, and you shouldn't do so now. That being said, of course, there are also a lot of bad financial habits you should leave in your 20s. Here's where you can start. 
Before loving someone else, love yourself first.
Whether you realized this because of a bad breakup or not, we're guessing you still learned it the hard way (also because it really takes time to know what self-love is all about). You may know a bit more about it now, but the truth is you could have easily replaced that ex-boyfriend with something else without realizing it, like work, your kid, or your business. While it's not wrong to give your all when it comes to those things, you need to remember that you can only give a hundred percent when you yourself are in tiptop shape. Which brings us to...
ADVERTISEMENT - CONTINUE READING BELOW
Proper work-life balance is a daily commitment.
One intense, overtime sesh before your monthly report is fine. And a few working weekends here and there never hurt anyone. But if work is all you've been about the past weeks, girl, something needs to change! As much as you love your job, you shouldn't let it define your entire life. Put dates and daydreams before deadlines, and you might just find yourself even more productive than you've ever been.
It's okay to live a little when it comes to your diet.
We always talk about the different ways to eat better in your 30s, but you shouldn't let yourself become miserable because of it. It's all about knowing when to indulge yourself and when to be strict with your diet. If you don't know where to start, try Lovi Poe's 80-20 diet rule. "Eighty percent of the time, I'm healthy-eating, twenty percent of the time, I'm eating what I want. I don't believe in starving yourself and stopping yourself from eating certain kinds of food. It's nice to indulge yourself every once in a while."
ADVERTISEMENT - CONTINUE READING BELOW
Don't forget to try something new once in a while.
Remember that spontaneous Tagaytay road trip you went on when you were 21 just because? Or agreeing to go camping with your new officemates even if you hate being outdoors? Don't lose that thirst for new experiences. Besides, if you're feeling restricted because you're saving for a new car or your first condo, remember that you don't need to spend much to have fun. In fact, embrace the challenge of spending as little as possible and you might just find yourself getting into a new hobby or even starting your own business.
Always set crazy big goals for yourself.
You never know what can happen. In an exclusive interview with FemaleNetwork.com, Canva CEO Melanie Perkins, 30 (perhaps the youngest female CEO to be leading a $1 billion startup, according to Quartz), says "I think it's a sort of a muscle that gets practiced, the more that you can set a crazy big goal, and see that happen, the more you can get confident to set the next crazy big goal, and the next one... and what seemed crazy big and really hard in the early days may actually not be as hard as you start to do more and more, and flex that muscle. I think that's something that I learned at a really young age, was that if I set my mind to something, I could achieve it.
ADVERTISEMENT - CONTINUE READING BELOW
"Every single time you prove yourself or push yourself out of your comfort zone a little bit, then you get ready to take on the next one."
Comments
Load More Stories