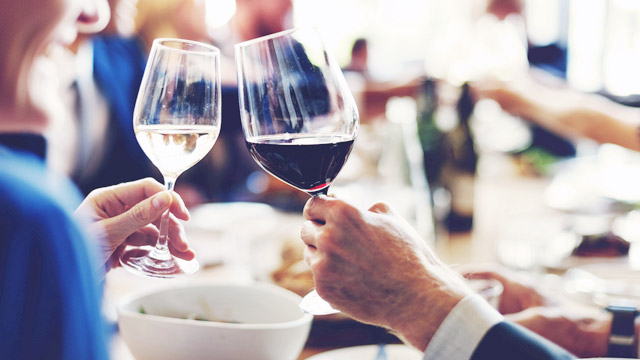 Aside from impressing your companions with your food and wine pairing know-how, knowing what wine goes with what meat also enhances your overall dining experience. It may seem intimidating at first, but trust us, there's an easy way to remember what goes well with what. The following tips should help you out:
ADVERTISEMENT - CONTINUE READING BELOW
Salad
If your partner ordered a salad, ask her to pair it with a dry white wine. Dry white wines aren't that sweet, so it won't overwhelm the salad's flavor. However, if there's fruit in the salad, best to pair it with something fruity, according to restaurateur Patrick Cuartero.
Dark and/or red meats
Bold-flavored meats such as beef and lamb are best paired with red wine. Red wine enhances the flavor of the meat but doesn't overpower it. Just remember red wine = red meat. "Choose a cabernet or shiraz. Pinot noirs are good too," suggests Cuartero.
Fish and poultry
Red wine would easily drown out the flavors of fish and poultry, so go for a bottle of white wine. According to Cuartero, it's best to "choose any chardonnay or pinot blanc." 
Cheese
As for cheese, effervescence is key. "Except with blue cheese, go for any sparkling white."
For other dishes, the expert suggests the following:
Pork
ADVERTISEMENT - CONTINUE READING BELOW
Recommended Videos
Depends on the preparation, so itâs either red or white wine.
Pasta
"My usual take is that I match the color of the sauce and the wine." Here's a cheat sheet:
Bolognese = red wine
Alfredo = white wine
Spaniard = red wine
Hollandaise = white wine
As for dessert, skip the wine and drink scotch.
This story originally appeared on Fhm.com.ph.
* Minor edits have been made by the Femalenetwork.com editors.
Load More Stories