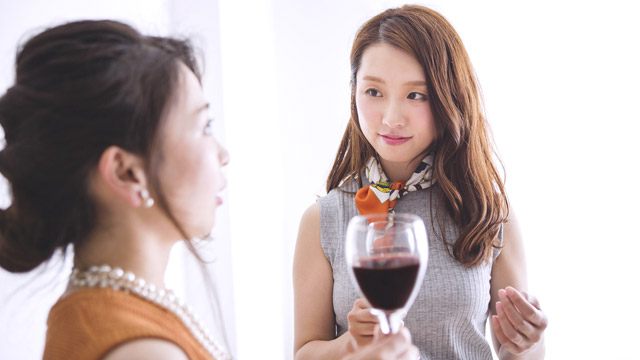 The earliest evidence of wine production goes back to 8,000 years ago. These days, many people drink wine for sheer enjoyment, but recent studies show the grape-based drink has more positive effects than previously thought. Wine provides numerous health benefits, it can affect how we feel, and it can even alter our moods. (That said, if you're intimidated by drinking wine at fancy events, don't worry. We've got you covered!)
ADVERTISEMENT - CONTINUE READING BELOW
Drinking red wine has its pros and cons.
Red wine has been long known for its heart-healthy benefits. But before you reach for the nearest bottle, remember that some varieties can be better than others. Cabernet Sauvignon and other wines from the Madiran and Côtes de Saint-Mont regions of France and from the Sagrantino and Nebbiolo regions of Italy are considered healthy variants. As far as mood and feelings go, red wine has been known to put connoisseurs in an elated and relaxed state… with a price. The red variant has a tendency to leave drinkers feeling a little too tranquil after a glass or two.
Whites are quite the opposite of its light and smooth texture.
Grabbing a white wine for comfort comes as a reflex for some, but according to the Telegraph, this may do quite the opposite, as white wine can cause drinkers to lower their guard. Depending on the situation, however, this can be a fun feature. The scientific reasoning behind it is that white wine naturally contains sulphites (or sulfites) which have been found to have anti-inflammatory and anti-depressant effects. Another reason for white wine's festive properties is its high percentage of sugar—white wine has 50 percent more sugar than red—with effects that lead to a sudden burst of energy more commonly known as a sugar rush
ADVERTISEMENT - CONTINUE READING BELOW
Recommended Videos
Rosé is as special as its red and white cousins.
As the in-between of red and white, rosé has almost the same benefits and drawbacks. It has magnificent health benefits such as raising good cholesterol and lowering the bad, it contains potassium that lowers blood pressure, it is low in calories, and it reduces the risk of heart-related diseases and stroke. 
This story originally appeared on Townandcountry.ph.
* Minor edits have been made by the Femalenetwork.com editors.
Load More Stories