I'm in my thirties, and I'm not the type of person who goes barhopping. The last time I gave it a shot (pun intended) was in Boracay. I was awful. I slept through everything, waking up only to transfer to another bar to find a comfortable place for a nap. Yes, I am a kill-joy, the corniest friend you'll probably ever have when it comes to an alcohol-filled night, but I am willing to give it the bar scene one last try if only to prove that I still got game.
ADVERTISEMENT - CONTINUE READING BELOW
I thought that the Bacardi Legacy Cocktail Tour would be a great opportunity to see if I'm still good for a bit of fun after 8pm. The bar crawl consists of visiting five top bartenders who are in the running to represent the country at the Global Bacardi Legacy Competition, which will be held in Germany. 
I'm game for nicely-made cocktails. In fact, I'm pretty ready for it (I even brought a water bottle just in case I get dehydrated) but I do hope that there won't be any EDM dancing, because that's where I draw the line.
First Stop: The Penthouse 8747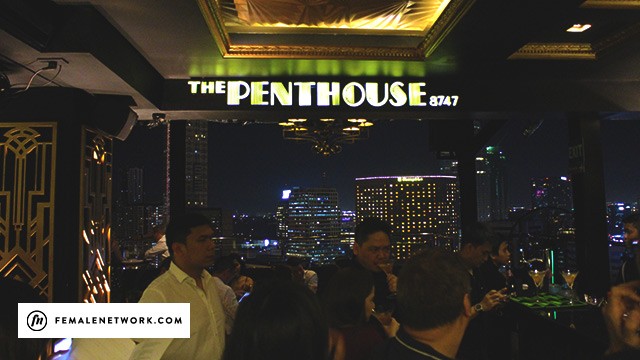 Located at the Lepanto Building in Salcedo Village, Makati, The Penthouse 8747 is a good excuse to get dressed up with its clapper-era vibe complemented by a beautiful view of Metro Manila.
At the bar, Alliuss Abrazado greets us with the first drink of the night. "When you say rum, [I want] the first thing [that comes] to your mind to be Rosa de Ron."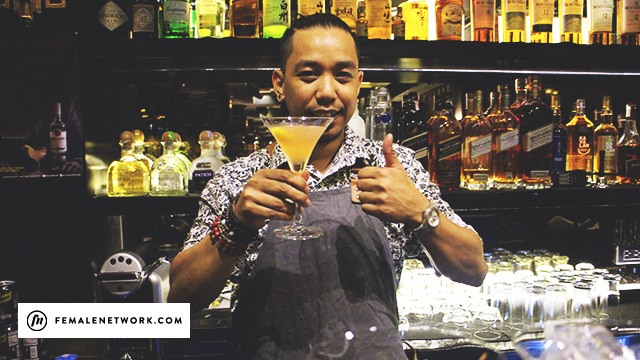 ADVERTISEMENT - CONTINUE READING BELOW
As he mixes together white rum, rose syrup, martini bianco, lemon juice, and angostura bitters, he goes on to say that his creation is inspired by his personal struggles, and like a rose, it's all about appreciating beauty inspite of the thorns. 
Well, this dainty looking mix definitely has thorns, so to speak, because I can immediately taste alcohol at first sip. Not a bad way to start the evening, actually, what with a nice view of the city down below.
But one citrusy cocktail isn't enough to down this tita-to-be. On to the next bar!
Second Stop: The Curator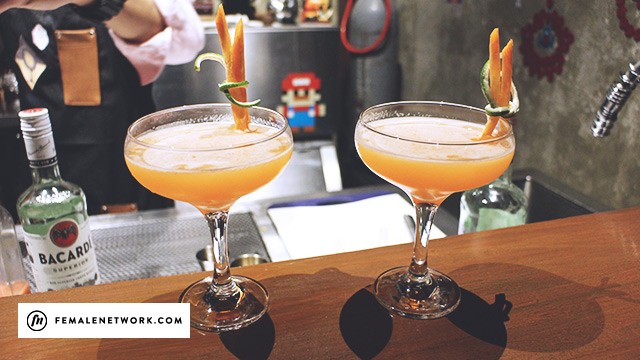 ADVERTISEMENT - CONTINUE READING BELOW
The Curator is one of those not-so-secret speakeasy bars in Makati that I can grow to like since before getting to it, you'll need to pass through a small café that gloriously smells of freshly-brewed coffee. The place is pretty small and cozy, made lovelier by the bubbly Orman Bag-ao who greets us with a huge smile.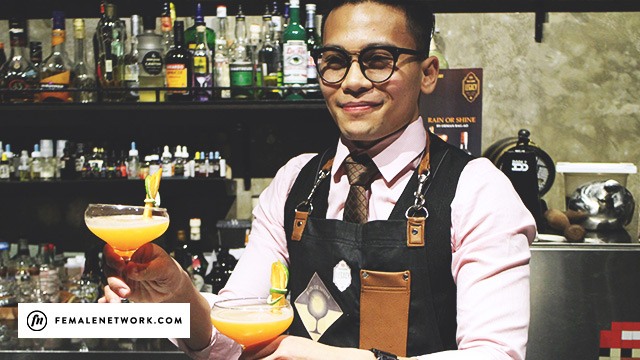 ADVERTISEMENT - CONTINUE READING BELOW
His legacy cocktail called Rain or Shine has its roots from the classic mojito (and we know how much women can enjoy a good mojito), but Rain or Shine takes a different, milder spin to it by adding guava juice instead of soda water to "lessen the acidity coming from the lime," Orman explains.
The alcohol blends well with his ingredients so much so that I feel that I can put Rain or Shine in a tumbler and drink it for detox (I'm kidding, of course).
"Rain or Shine sounds like 'ups and downs', [and] every one of us has struggles." Orman, a native of Davao, shares that he had to initially hide the fact that he was leaving his province to learn bartending in Manila from his parents. "I don't need a spotlight or a camera. Just having you guys here – I feel like I'm shining already."
ADVERTISEMENT - CONTINUE READING BELOW
A toast to your dreams, Orman. A good story always makes drinks taste better.
Third Stop: Exit Bar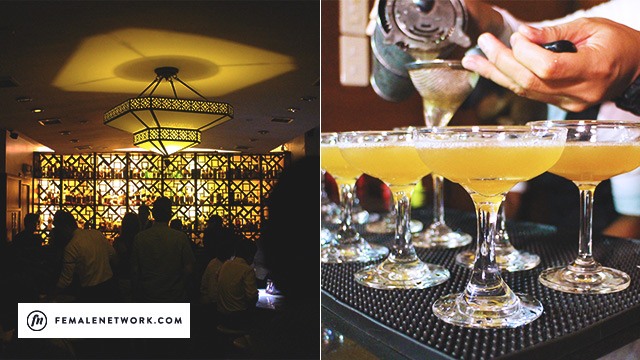 Tucked behind Plaza Café (which can serve you good sandwiches in case you get the munchies after an evening of drinks), is a faux fire exit which will lead you to Exit Bar, another cozy speakeasy in Makati. At the bar for the night is Ralph Allen Santos serving his Nos Uminos.
ADVERTISEMENT - CONTINUE READING BELOW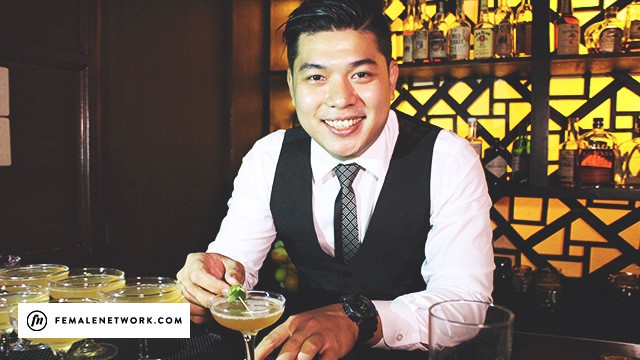 "Nos Uminos is a Spanish phrase for 'We Unite'," Ralph answers my question even before I ask. His drink is an homage to his late mother, who loved wine (rosé wine is one of the key ingredients of his signature drink). "Before, [we made our] living by cooking. We sell food, we had our mini-carinderia, we delivered food to different companies…"   
ADVERTISEMENT - CONTINUE READING BELOW
I get my drink and excuse myself from the bar to find a seat. Now on my third glass, I'm surprised that I'm not tipsy, but being the segurista that I am, I take a sip from my water bottle. (Am I seriously the only one carrying around a water bottle?)
Fourth Stop: OTO Bar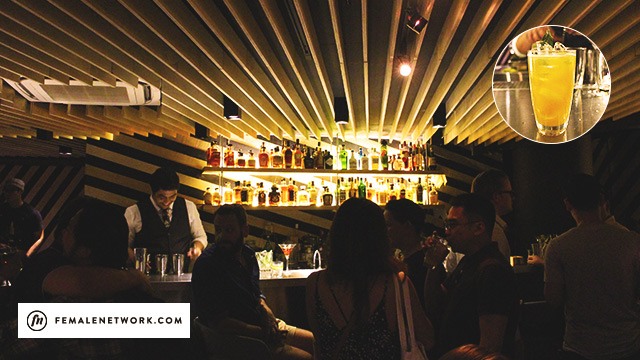 ADVERTISEMENT - CONTINUE READING BELOW
While I'm starting to feel sleepy, the interiors of the newly-opened OTO in Barangay Poblacion is still bustling with activity and a lot of patrons.
At the helm of the bar is Kenneth Bandivas. I'm not that privy to bar culture, but I can see that he is a veteran with spirits with the confidence he carries himself with. (I learn later on that he represented the Philippines in the Diageo World Class Bartender of the Year Global Finals in 2015.)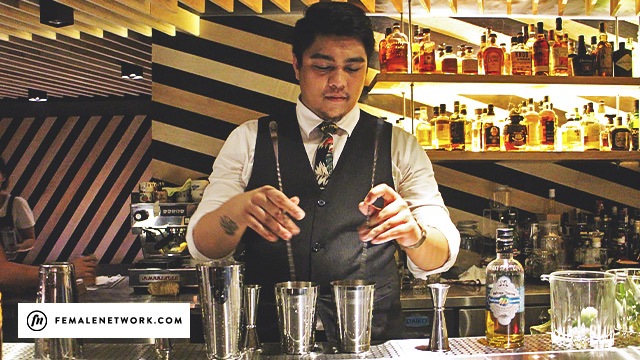 ADVERTISEMENT - CONTINUE READING BELOW
Ken is a painter, and his passion extends to his current craft. "If I'm painting, I'm looking at myself, I'm looking at the canvas. But here in the bar industry, you guys are the canvas," he shares.
Ken's drink, Sonrier is a different experience. It's quite refreshing—something that I can drink by the pool while re-reading Banana Yoshimoto's Kitchen for the nth time, or maybe while browsing through photos of my cat on my phone.
It's a bit past ten, and the voices of the people around me are starting to get louder. Admittedly, there's a slight buzz in my head now. Ah, I honestly almost forgot what being tipsy feels like. It's been so long that I find it a miracle that I'm not sleeping in bar corners like a horrible replay from my Boracay escapade.
Maybe I'm not such a kill-joy after all!
ADVERTISEMENT - CONTINUE READING BELOW
Fifth Stop: Bar Mathilde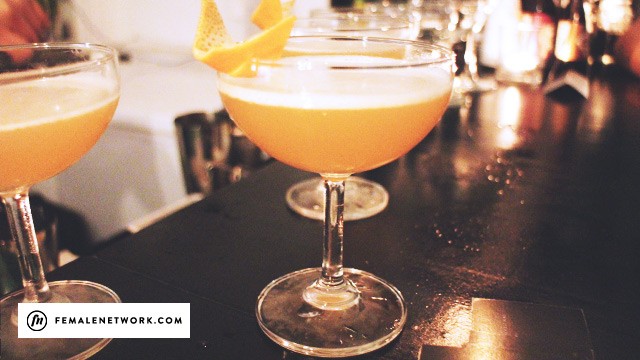 Probably the most unassuming and coziest of all five bars is the Bar Mathilde along Kalayaan Avenue in Makati. It seems to have been an old house transformed into a nook for casual drinkers who are done with the party phase of their lives. The dim, candle-lit interiors is quite welcoming after a long night, and is quite perfect for a quick brush with philosophy before turning in.
ADVERTISEMENT - CONTINUE READING BELOW
Yes, philosophy. Bartender Larry Guevara used to study philosophy in a seminary. The alcohol from the previous four drinks has slightly kicked in, and discussing the meaning of life with a former sacristan before 11 in the evening seems like a good way to end the night.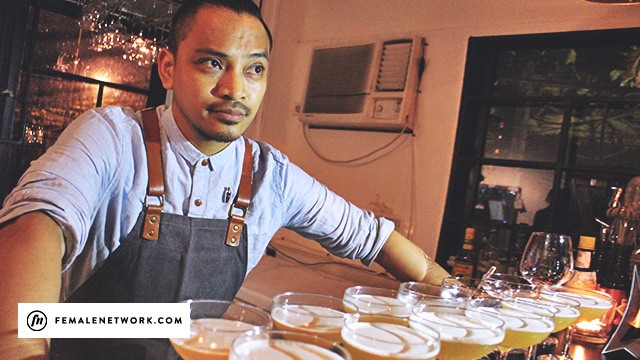 ADVERTISEMENT - CONTINUE READING BELOW
"I was supposed to become a Catholic priest," he laughs. "[But then] I realized that there are more spirits behind the bar."
His Hemmingway Daiquiri-inspired La Mision is "sweet, with a little touch of spiciness."
After a little mishap involving me and a stool that ended up with me getting a bruised shin, I sit on one of the sofas, alernately drinking La Mision and water. Am I tipsy? Am I tipsy? It's pretty hard to distinguish sleepiness and tipsiness, but just to be sure, I take my leave after all the goodnight beso. Going down the stairs, I slide my hand on the wall just in case I hit my shin against something again.
Winding down
Boarding my ride at the end of the tour, I realize that while I am still on my way to tita-hood (what with my bottled water and my sleepiness), there are actually nice places within the metro where women like me can kick back with a good drink in peace without having to jump into the clubbing scene. These five bars are perfect venues for long, unrestrained, and unapologetic conversations about anything under the sun. I love the fact that they don't have loud, pounding music, and I think every woman should experience getting tipsy on a classy drink in an even classier speakeasy bar at least once in her life. 
ADVERTISEMENT - CONTINUE READING BELOW
Will I do this again? Most definitely, but maybe I'll finish at around 10:00 pm, instead of pushing it until midnight. Tita-hits, you know.
Load More Stories