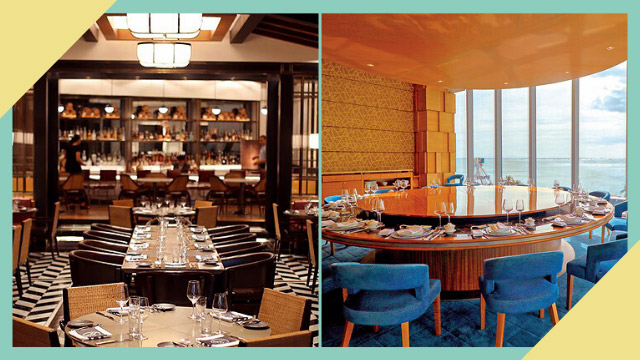 Single folks, avert your eyes because we're about to get cheesy. Anywhere with someone you love is bound to be a great date-and if it turns out to be a bad night, well, hopefully, you can laugh about it afterwards. Extra special occasions like anniversaries or a proposal (or heck, just because you want to treat your S.O.), deserve a bit of a splurge, though. How about a romantic night at a hotel restaurant? Dining at any of these places is no walk in the park for your wallet, but impressive interiors and top-notch food make for an unforgettable date.
ADVERTISEMENT - CONTINUE READING BELOW
Here are 10 hotel restaurants to check out on your next date night:
CRU Steakhouse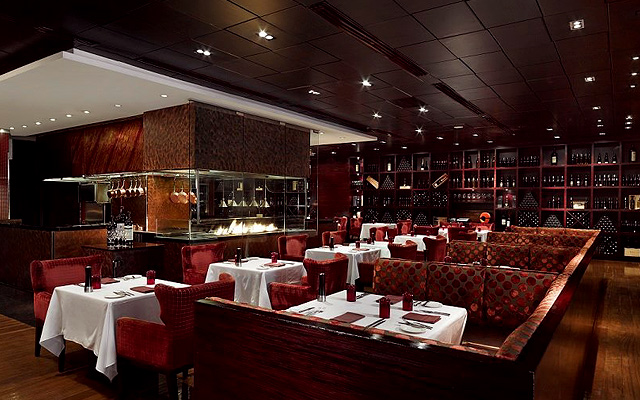 CRU Steakhouse looks like the perfect restaurant for an anniversary dinner-or perhaps, a proposal-with their interiors' dramatic vibe courtesy of dark wood and red velvet chairs. What we do know is treating your special someone to a steak here is guaranteed to make them fall a little more in love with you. At CRU, all their beef is dry-aged in a special cooler for maximum flavor. Have their signature U.S. Certified Angus Beef Prime Rib-Eye (P2,650/250 grams, P3,200/350 grams, P4,650/500 grams)-an order already includes two sides, like creamed spinach, whipped potatoes, or macaroni and cheese. Throw in an order of Seared Goose Liver (P810), or foie gras served with brioche pudding, a pumpkin mousseline, almond gremolata, and an apple-cherry relish, and you and your partner have got yourselves a memorable dinner.
CRU Steakhouse is at G/F Manila Marriott Hotel, 2 Resorts Drive, Pasay City.
Benjarong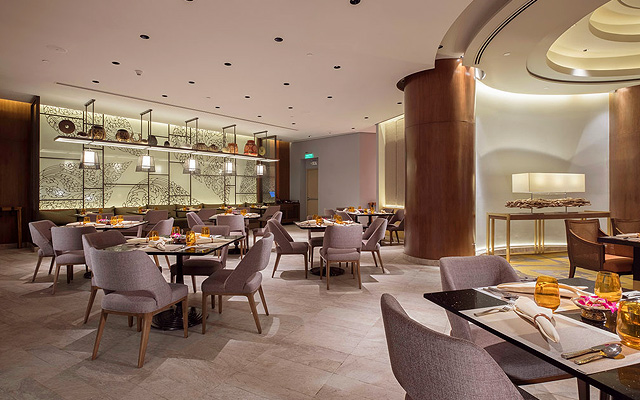 If your date loves Thai food, treat them to Benjarong, which is easily one of the best Thai restaurants in the Metro. Dusit Thani Manila's Thai restaurant boasts newly revamped interiors that exude a serene yet upscale vibe. Start off your dinner with Tord Man Gung (P425) or perfectly fried, crispy shrimp cakes. Then go for the classics: The Pad Thai Gung Sod (P595) has the perfect balance of sweet-savory and a vibrant sour note thanks to tamarind sauce, while the Gaeng Khieo Wan Gai (P525) or green chicken curry has comforting spiciness that pairs well with jasmine rice.
ADVERTISEMENT - CONTINUE READING BELOW
Benjarong is at G/F Dusit Thani Manila, Ayala Center, San Lorenzo, Makati City.
Finestra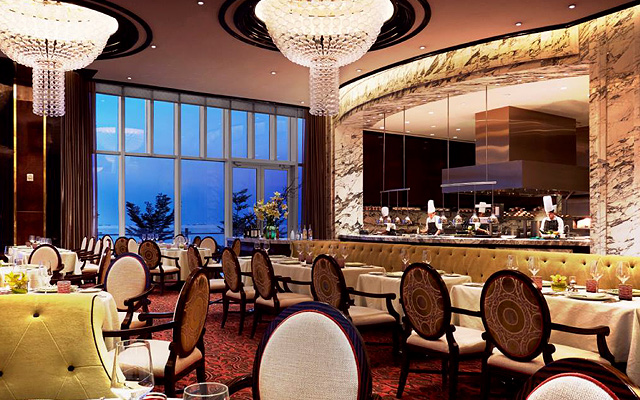 Plush booths, a marble-framed open kitchen, and a gorgeous view of Manila Bay makes Solaire's Italian steakhouse a classy yet not overly stuffy vibe. For the steak lover, Finestra offers not just the usual USDA Angus beef but also Japanese Omi Wagyu beef, which is one of the oldest purveyors of Wagyu beef in Japan, and American Wagyu from Snake River Farms, known for producing steak with intense marbling. Or you can have all three kinds of beef with the Meat Sampler (P9,500), which will get you USDA Angus Beef Tenderloin, Snake River Farms Flank Steak, and Japanese Omi Sirloin. Pair your steak dinner with Pan-seared Gnocchi, Provolone Cheese, Truffle, Parmesan Gratin (P400)-the only downside is you might not have the energy for anything else after this frankly sinful dinner.
ADVERTISEMENT - CONTINUE READING BELOW
Finestra is at Solaire Resort & Casino, Aseana Avenue, Entertainment City, Parañaque City.
China Blue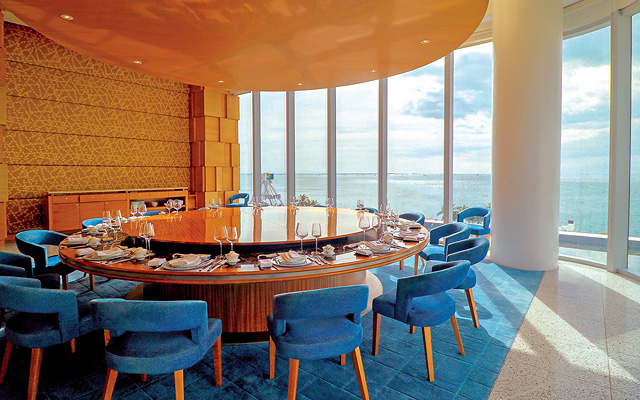 Conrad Manila's modern Chinese restaurant sets a romantic mood with a picturesque view of the ocean, which they pair with glittering blue chandeliers. Don't expect your usual Chinese fare as Chef Jerome Leung whips up his own, modern renditions of classics, and plates them beautifully, too. Start your meal with a cup of their Premium Dragon Well Long Jin, Green Tea (P280), with only the subtlest earthy flavor of handpicked green tea, before diving in. Then indulge in the Goose Liver Mousse, Cherries, Squid Ink Crumble (P990), which look dainty on the plate but loaded with rich flavors. The Wagyu Beef Cheeks and Tendons With Radish Served in a Hot Pot (P1,680) is also impressive, with the beef practically melting in your mouth.
ADVERTISEMENT - CONTINUE READING BELOW
China Blue is at 3/F Conrad Manila, Seaside Boulevard corner Coral Way, Mall of Asia Complex, Pasay City.
Raging Bull Chophouse & Bar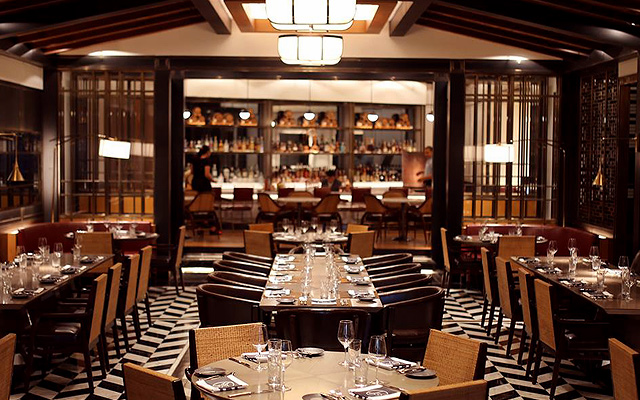 If you and your S.O. have a big appetite for all things meaty, Raging Bull Chophouse & Bar should be up your alley. The steaks here are made for serious carnivores: The Tomahawk Wagyu (P8,950) is served bone-in and big enough to be shared between two. Seared on a Josper grill, the steak is smoky and flavorful enough-thanks to generous marbling-to just need a sprinkling of salt. For a proper surf-and-turf dinner, throw in an order of Half Boston Lobster (P1,750).
ADVERTISEMENT - CONTINUE READING BELOW
Raging Bull Chophouse & Bar is at 3/F West Wing, Shangri-La at the Fort, 30th Street corner 5th Avenue, Bonifacio Global City.
Mirèio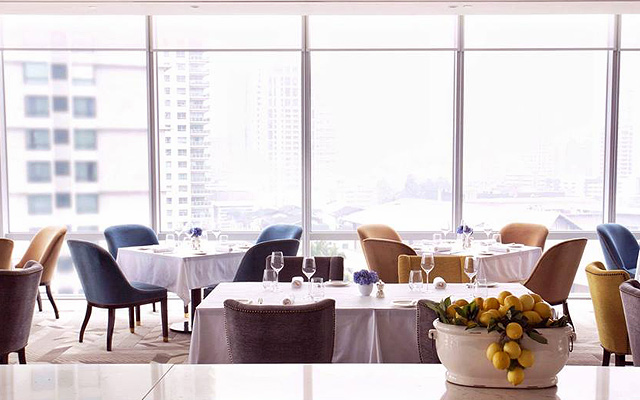 It doesn't get more romantic than a French dinner, so Mirèio should be top-of-mind on your next date night. The French brasserie is an homage to sunny Southern France, from the Art Deco interiors to the striking paintings of life in the countryside. The menu, too, is inspired by Provence, France; start with an order of Fine De Claire Oysters (P1,460/five pieces) served on ice with shallots, vinegar, and lemon wedges, or indulge in Caviar (P3,810/20 grams, P4,370/30 grams), served with blinis (or tiny pancakes) and whipped cream. Seafood is Mirèio's specialty: Be sure to have the Palawan Red Mullet (P1,000), cooked to be perfectly flaky, and fresh and bright thanks to thyme and citrus.
ADVERTISEMENT - CONTINUE READING BELOW
Mirèio is at 9/F Raffles Hotel, 1 Raffles Drive, Makati Avenue, San Lorenzo, Makati City.
Yurakuen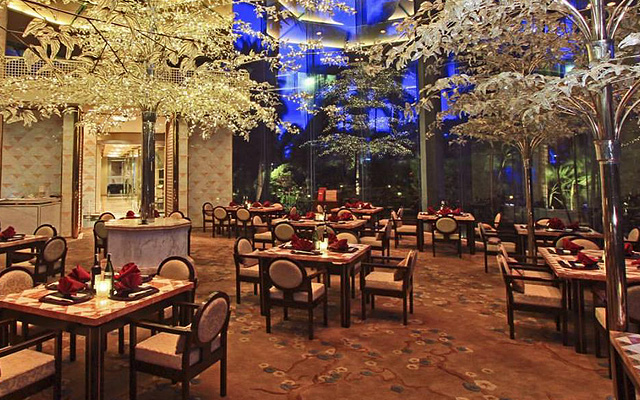 Stepping inside Yurakuen is like entering a Japanese garden, from the sound of the flowing "river" outside to the awe-inspiring crystal cherry blossom trees. The food is just as gorgeous: The 5 Kinds Sashimi (P1,680) will get you fresh tuna, salmon, cuttlefish, sea urchin, and lapu-lapu or maya-maya-all so fresh and sweet, you'd think they came straight from the sea onto your plate. Yurakuen is also known for its teppanyaki, and watching the chefs masterfully cook up a storm in one of the teppanyaki rooms is sure to make for an unforgettable date.
ADVERTISEMENT - CONTINUE READING BELOW
Yurakuen is at G/F Diamond Hotel, Roxas Boulevard, Manila City.
La Piazza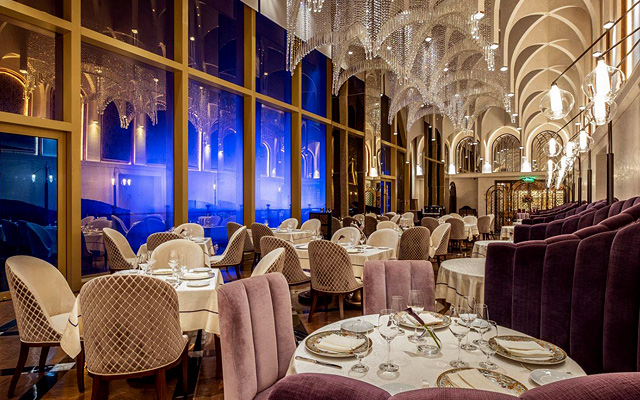 Compared to the rest of Okada's more vibrant interiors, La Piazza feels more subdued, with marble-and-gold interiors and glittering chandeliers, making it perfect for a romantic dinner. The Italian restaurant has two dining areas: For a more casual vibe, head to the Trattoria with booths and a view of the bar. A few steps away is the Ristorante, with plush seats and an unobstructed view of Okada's fountain. La Piazza keeps things classic when it comes to their Italian menu. Do as the Italians do and start with antipasti like Crudo e Mango (P648), or sweet-salty bites of Parma ham and mangoes. Then get a pasta-you can't go wrong with a classic like Ravioli (P648) with ricotta and spinach-and a pizza like the Picante (P568) with mozzarella and fresh chilies. 
ADVERTISEMENT - CONTINUE READING BELOW
La Piazza is at Crystal Corridor, UG/F Pearl Wing, Okada Manila, New Seaside Drive, Entertainment City, Parañaque City.
Sage Bespoke Grill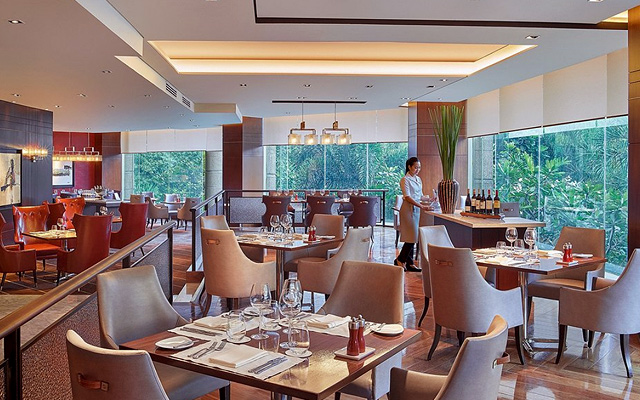 Dim lighting, leather high-back chairs, and tastefully swanky decor make Sage Bespoke Grill a great choice for an extra special, romantic steak night. Makati Shangri-La's steakhouse grain-fed Australian beef, American Angus, and Wagyu, plus fresh seafood. The Grain-Fed Australian Ribeye (P2,500/300 grams) is flavorful even without sauce, thanks to generous marbling and a quick sear on the Josper charcoal grill for a note of smokiness-though every order of steak comes with a complimentary sauce and side. Make it a proper surf-and-turf and pair your beef with Maine Lobster (P3,600).
ADVERTISEMENT - CONTINUE READING BELOW
Sage Bespoke Grill at 2/F Makati Shangri-La, Ayala corner Makati Avenue, San Lorenzo, Makati City.
Homare
Looking for a five-star authentic Japanese restaurant with an intimate setting? You can keep it casual with unli sushi and beer or opt for their fondue set that's good for two. Aside from go-to classics like tempura, you can get meat fresh off the grill with a "delightful barbeque experience" using their Yakiniku Hibachi.
ADVERTISEMENT - CONTINUE READING BELOW
Homare is at Bellevue Manila, North Bridgeway, Filinvest City,
Alabang, Muntinlupa.
Load More Stories