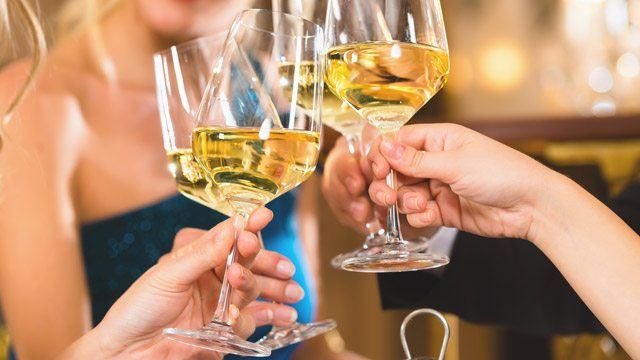 You've probably experienced being in a corporate function or attending an evening of cocktails with bosses during which you've been offered wine. Chances are, when shown several choices, you just picked a random bottle, all the while pretending that you know exactly what you'll be drinking.
ADVERTISEMENT - CONTINUE READING BELOW
Yes, I've been there. I am very much guilty of fake-swirling my glass as if I knew what it does, and fake-sniffing my wine as if I knew what scents I was looking for—which is why I am so grateful for the Tasting 101 talk by Wine Expert Carla Reyes of Planet Grapes at the Shangri-La Mall, during the recent Me Time at the Shang event.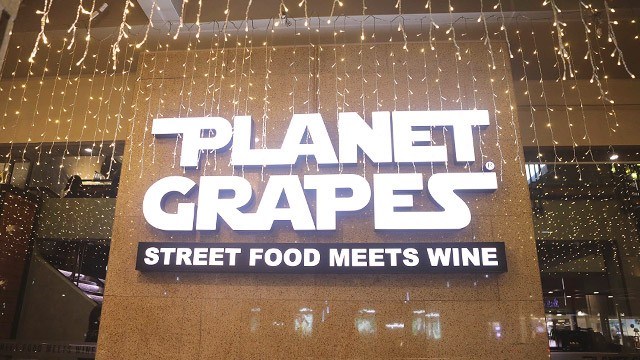 ADVERTISEMENT - CONTINUE READING BELOW
Recommended Videos
Planet Grapes is actually a pretty good place to start learning about wine. Their tagline "Street Food Meets Wine" says it all; it doesn't aim to intimidate you, but encourages you to enjoy wine with interesting food pairs, like kwek-kwek, chicharon, longganisa, and other local favorites. Ms. Carla Santos noted that knowing what you're drinking isn't about looking shala, but about helping you enjoy it more through the food that goes with it.
For the wine noobie (like me!) she explained that there are 3S's that you should remember. "I'm sure that you may have come across these 3S's. Some people say it's 4S's, 5S's, but we'll keep it simple with 3S's which stand for…'See,' 'Smell,' and 'Sip.' These basically refer to the senses that you're going to use when you taste and enjoy wine."
See: the color of the wine
Of course, you will need to know what kind of wine you're drinking, which will help your palette prepare for what you're about to put in your mouth. Moreover, how your wine is served also tells you much about it—moisture on a glass of white wine means that it's been served correctly as white wines should often be served chilled, while red wines should not be served as cold as their white counterparts. "As a customer, you [should] demand that your wines be served at the perfect serving temperature because you [will] derive a more satisfying experience from it."
ADVERTISEMENT - CONTINUE READING BELOW
Smell: the aromas of the wine
"When you think about it, right before you eat, you like smelling … what your food and drink has to offer," Ms. Carla explained. "Hold your glass of wine by the stem, and then take a deep, deep sniff into it… Put it down on the table, then make little circles on the table… [that's] swirling the wine."
Yes, there's a reason why all those classy kontrabidas on TV do it. Swirling "exposes your wine to air." Smelling the wine afterwards will help show more of its "personality" and give you a slightly different experience—you'll probably pick up interesting notes of berries, citruses, and even salt, depending on what you're drinking and where it hailed from.
"[Smelling your wine is] like you're whetting your appetite. You know, you can always just chuck it, but you're missing out on [so many things]. It's like you're warming yourself up to enjoy the flavor and the aromas that the wine has to offer."
ADVERTISEMENT - CONTINUE READING BELOW
Sip: the flavors and texture of the wine
Sipping (not chugging, mind you) completes the experience. Don't swallow your wine right away; instead, let it swirl a little in your mouth to reveal its different flavors. You can also "aspirate" it, as Ms. Carla explained. "[This is] a little trick you can try, so that when you sip or taste your wine you can get even more out of the whole experience."
Aspirating requires you to hold the wine in your mouth, inhale air through your mouth (touch the tip of your tongue to the bottom of your upper front teeth to keep things from spilling), and exhale through your nose. Doing so enables you to "smell and taste the wine at the same time."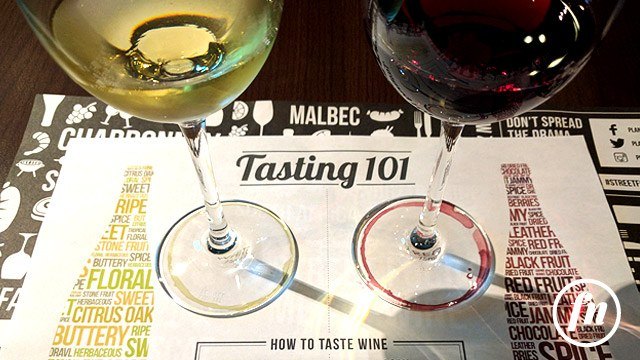 ADVERTISEMENT - CONTINUE READING BELOW
Basically, the whole point of all these rituals is to get to know and enjoy what you're drinking. These weren't made to impress anybody (though they might), and the perks of properly enjoying your wine can make your experience better than ever. So the next time you have a formal event where wine is served, you can now hold your head high and feel more confident about ordering what you want. Go swirl that glass, girl!
Planet Grapes regularly holds basic wine appreciation workshops. For more information visit their website, or head on to their Shangri-La Mall branch.
Load More Stories