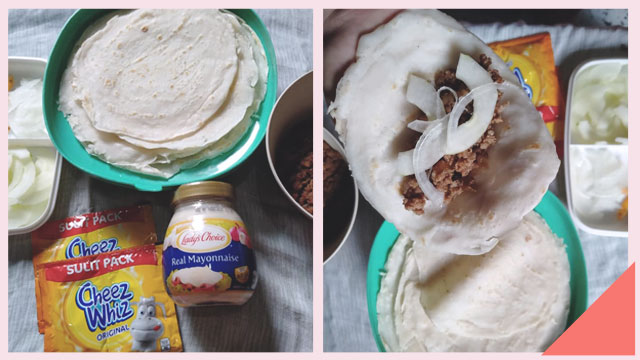 Don't you just miss getting snacks outside? As much as we want to instantly satisfy our cravings, we gotta stay indoors and watch our budget during these times. On the bright side, we get to be practical by searching for merienda hacks that can save us the hassle!
ADVERTISEMENT - CONTINUE READING BELOW
Facebook user Leslie Villanueva Alcaraz can back us up with her homemade shawarma recipe that she shared in a post, which has over 52,000 shares as of writing. 
She says you can prep the snack in just 30 minutes and spend around P150 to make six shawarmas for you and your loved ones. Tipid, di ba?
In her post, she gives us a step-by-step guide in making the pita bread, cooking the ground pork, and preparing the add-ons.
Pita Bread Ingredients and Instructions
The pita bread requires mixing flour, baking powder, salt, oil, and water altogether.
Then you pour it on a pre-heated Teflon pan or nonstick pan until the pita gets its circular shape.
You can flip the pita when you see brown dots to make sure it's cooked the way you want it to.
For the meat, Leslie says we can use ground pork or ground beef. You just need to sauté onion in the meat.
Add beef cube and oyster sauce.
Let it simmer until it becomes dry.
When you're done, you can slice the usual add-ons like tomatoes, cucumber, and onions. After that, you're ready to assemble!
ADVERTISEMENT - CONTINUE READING BELOW
Get a pita bread and use it to wrap the meat and sliced add-ons. Don't forget to put cheese and mayo sauce and voila, shawarma craving satisfied!
Here's the complete recipe:
ADVERTISEMENT - CONTINUE READING BELOW
Load More Stories