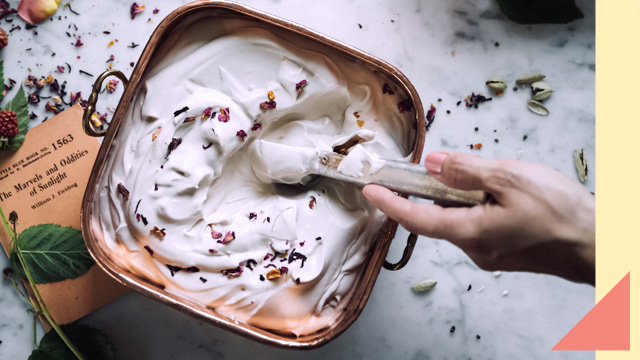 These days, you can make anything even with minimal resources—all you really need is patience. First, there was dalgona coffee, something that originally needed a mixer or at the very least, a whisk, but was successfully created by many using only a fork! Next came banana bread, which sounds more complicated, I know, but could actually be made without baking. There's also this three-ingredient peanut butter cups recipe, two-ingredient pasta combos, and three-ingredient cookies and cream dessert!
ADVERTISEMENT - CONTINUE READING BELOW
Did you know that good ol' ice cream is something you could easily make in your own kitchen as well? And it's not as complicated as you think. 
Using only two ingredients
Yes, it's possible to make ice cream with only two ingredients-and there's a good chance these are already in your kitchen. You'll only need: whipped cream and sweetened condensed milk. The best part? There's no churning involved!
Traditionally, ice cream needs a base made of heavy cream, sugar, and eggs to help thicken the custard. Then it's cooled and churned in an actual ice cream maker before it's put in the freezer. Churning breaks up the ice cream so you don't end up with one giant block for dessert, lol. This recipe, however, skips all that-it is the master of all hacks because the sweetened condense milk acts as the base and the whipped cream gives it that airy texture.
All you need to do is whip the cream then fold it into the condensed milk before you freeze it for a few hours. Feel free to add your go-to toppings. I usually just go with frosted flakes or chocolate chips.
In a plastic bag
If you want to take it up a notch and go for a recipe with more ingredients, try this one by Delish. This one involves using resealable plastic bags—so not having an ice cream mixer is still not a problem.
Ingredients:
1 cup half-and-half (whole milk and light cream)
2 tbsps granulated sugar
1/2 tsp pure vanilla extract
3 cups ice
1/3 cup kosher salt
Toppings (fruit, chocolate, candy)
Directions:
1. Take a small resealable plastic bag. Combine the cup of half-and-half, sugar, and vanilla extract. Make sure there's no excess air inside before sealing the bag.
2. Combine the ice and salt in a bigger resealable plastic bag. Place the smaller bag inside the large bag. Shake aggressively for 10 minutes. The ice cream should gradually harden.
ADVERTISEMENT - CONTINUE READING BELOW
3. Remove the ice cream from the bag and enjoy with your chosen toppings.
How To Make Ice Cream At Home: Milo ice cream
Now that you've learned how to make ice cream two different ways, add a twist by incorporating a beloved flavor from your childhood: Milo!
Ingredients:
740 ml all-purpose cream
410 ml evaporated milk
450 ml condensed milk
2 cups Milo powder
Ice
Toppings
Directions:
1. Before you actually make the ice cream, make sure the all-purpose cream, evaporated milk, and condensed milk were chilled overnight. Also, keep your beater in the freezer for one hour before beginning.
2. In a large bowl, combine the evaporated milk and the Milo powder. Use a whisk to mix it well. Gradually add the condensed milk. Make sure you're continuing to mix. Put the bowl in the refrigerator and leave it to chill while you're whipping your all-purpose cream.
3. Put ice in a big basin and place a stainless pot on top of the ice. Scoop the all-purpose cream from the can to the pot. Mix on high speed for 10 minutes.
ADVERTISEMENT - CONTINUE READING BELOW
4. Take the mixture you created earlier and carefully pour it into the whipped cream as you continue to whip. Do this for another five minutes.
5. Depending on how you choose to serve this, you can now transfer everything into an ice cream tub or into individual plastic cups. Though it is only optional, I suggest adding toppings to your creation: sprinkles, chocolate chips, or caramel!
6. Kusina Chef also shows us that this can be easily turned into popsicle sticks. Cover the cups with foil and insert the stick halfway. Freeze everything overnight.
Source: Kusina Chef 
This story originally appeared on Cosmo.ph.
Load More Stories