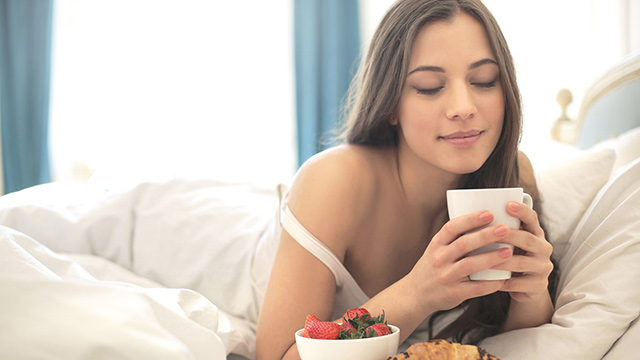 Now that you're in your 30s, good health is definitely a priority. Your 20s are finally catching up on you and gone are the days when you can live off junk food whilst still feeling great. Set yourself up to improve your health and overall well-being by incorporating these simple everyday foods that pack a vitamin punch to your diet. That way, you can still continue to feel and look young in the years to come.
Beans: More than just the musical fruit
A lot of people shy away from beans, but they're loaded with nutrients. Beans and other legumes are rich in folate or B9, a vitamin that not only helps with a baby's development if you've got a bun in the oven, but also for your own DNA and cell repair. Having half a cup of garbanzos can give you all the folate you need in a day. That's equivalent to a generous serving of hummus—yum!
ADVERTISEMENT - CONTINUE READING BELOW
Beans and legumes are also a great source of copper, phosphorous, magnesium and potassium. It can also reduce calorie intake since it's high in soluble fiber which can keep you feeling satiated for longer.
Dark Leafy Greens: There's no escaping it and here's why you shouldn't
It should come as no surprise that green leafy vegetables are on the list. Adding more greens to your diet provides heaps of vitamins and minerals that you need on the daily. They are loaded with calcium, which makes it a good alternative for those who are lactose intolerant or vegan. More than just for bone health and avoiding osteoarthritis, calcium could also protect you from cancer and heart disease.
Dark leafy greens are also high in vitamin A. This helps you regulate your immune system and fight off infections and other diseases. When it comes to eating greens, the sky is the limit. They have no cholesterol and are low in sodium so you can have as much as you can on any given day.
FN TIP: Worried about where to source your kale? These vitamins and minerals are also found in your local greens like kamote tops, alugbati, kang kong or saluyot.
Dark Chocolate: Hallelujah!
High quality dark chocolate is both incredibly delicious and nutritious. One ounce can give you a significant dose of iron. Iron is an essential element for blood production and helps with carrying oxygen throughout your body. This is especially important when Aunt Flow comes to visit. Dark chocolate is also rich in flavanols, which can boost your focus and memory.
In fact, dark chocolate is said to be a more concentrated source of flavanols than fruit juices with blueberries or acai. However, not all chocolate are created equal. The flavanol content in dark chocolate is much higher than that of milk chocolate. Stick to 70% cocoa or higher to get the most nutrients out of your treat.
Fresh Fruit: Nature's anti-aging secret
Free radicals that may enter our body from processed food or the environment oxidizes our body's molecules. Continuous oxidation is what causes aging and it happens both on your skin and under it. Fruits are packed with antioxidants that help reduce the effects of free radicals. They are also full of vitamins C and E that nourish your skin from within. These help tissue grow and repair itself and regulate retinol levels which help ward off those fine lines.
ADVERTISEMENT - CONTINUE READING BELOW
Fruits also contain potassium, phytonutrients and natural glutathione that work to keep your skin taught, moisturized and hydrated. They are also a great source of prebiotics that feed your gut microbiome, improving your overall health. Swap out your usual snacks for a bowl of fresh fruit for an excellent dose of vitamins that will give you that glow from within.
Camille Romero Montenegro is a nutrition coach at Baron Method and a certified yoga instructor. For classes and consultations, contact her at cmf.romero@gmail.com.
Load More Stories