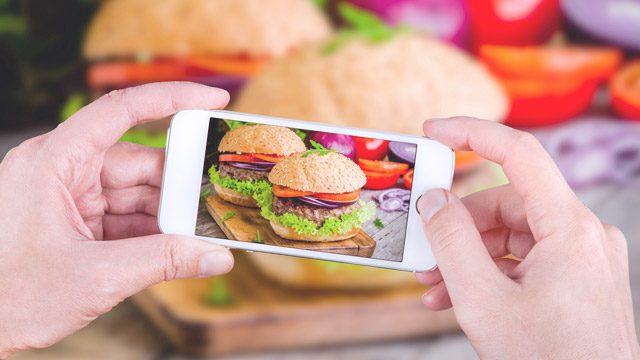 "You are what you eat."
The adage has never been truer in this society whose people now spend an average of four hours daily scrolling through their Facebook and Instagram feeds, documenting their every move for all their followers to see. What we eat has become a social representation of who we are. In the same way that it matters where we're seen eating and what we're eating. People flaunt their food as symbols of their wealth or beacons of a lavish lifestyle, one characterized by constant travels and members-only clubs. And if your #foodporn posts tick off at least one of those items above, then food is no longer merely a material form of nourishment anymore—it's become a social statement.
ADVERTISEMENT - CONTINUE READING BELOW
CONTINUE READING BELOW
Recommended Videos
The more exclusive the food find, the better, in the Instagram world. Although there is no doubt the flavors are interesting and the food items are worth lining up for, they remain icons of indulgence. Instead of stating that you are flying business class on Philippine Airlines, you may simply post a well-curated flatlay of a passport alongside a bowl of arroz caldo and it's understood. No questions asked.
While "Instagram Food" serves as currency in social media, one simply can't snap and dash. You're expected to eat the dish after spending five minutes finding the best filter for the photo and adjusting its light. Which leads us to another dilemma: The Instagram Food phenomenon is making us pack on pounds. Similarly, it's been scientifically proven that just looking at food, already makes a person hungry. Eating with one's eyes is this generation's version of gluttony.
ADVERTISEMENT - CONTINUE READING BELOW
Below, a list of food culprits associated with the jet-set lifestyle or coveted membership clubs and other exclusive venues:
Arroz Caldo
Where: Philippine Airlines Mabuhay Miles Lounge
One who has never flown Business Class on Philippine Airlines may not know that the arroz caldo is not served as it is in the photo below. It's served at a bar where passengers ladle their own bowls, with toppings like dilis, egg, garlic, and chopped spring onions available for their choosing.
Noodle Bar
Where: Cathay Pacific The Pier First and Business Lounge
Apart from the Noodle Bar, The Pier also offers a variety of dim sum, which is also as popular.
Raisin and Banana Bread
Where: Baguio Country Club
One needs a membership or a referral to enter the gates of Baguio Country Club. Once inside, members gather at the bakery to hoard loaves of raisin and banana bread, among other baked goods. 
ADVERTISEMENT - CONTINUE READING BELOW
Irvins Salted Egg Chips
Where: Irvins Singapore
There may be countless other imitations of salted egg chips but a true gourmand would know the Singaporean brand Irvins to carry the original. Some stores sell a maximum of five bags per customer.
Chocolate Crinkles
Where: Asian Development Bank
To get inside ADB premises, non-employees need an appointment and must go through stringent security measures. Only then can one head to the canteen and purchase the chocolate crinkles Spot.ph has named the "best in Manila."
Garrett Popcorn
Where: Chicago, Tokyo, Hong Kong, Singapore, and elsewhere
The blue tin cans are icons in itself. This gourmet popcorn brand mixes cheese and caramel in perfect sweet and salty combination. The lines go out the door.
Ichiran Ramen
Where: Hong Kong, Japan, New York, Taiwan
More than the ramen which is delectable if you have it concocted right, Ichiran lures in its customers with the novelty of having a solitary meal in one's own tiny cubicle, undisturbed by servers and those around.
ADVERTISEMENT - CONTINUE READING BELOW
The Last Chukker's Brick Oven Pizza
Where: Manila Polo Club
You need a Polo Club membership to dine at The Last Chukker, well-known for its crisp brick oven pizza, chicken cooked beneath a brick, and paella, among others.
Shake Shack Burgers
Where: U.S.A., Japan, South Korea, United Kingdom, and more
Dubbed the East Coast equivalent of In 'N' Out, Shake Shack has expanded to other countries quicker than the aforementioned fast food chain had. While it has yet to make its way to the Philippines, a trip to the South Korean or Japanese branches may help sate cravings.
Fried Chicken with Grilled Corn, Mashed Potatoes, and Bacon Gravy
Where: Manila House
One needs a membership at the exclusive Manila House to eat at its various food establishments. Fortunately, you're now allowed to take photos and post them on Instagram, something that hadn't been allowed when the club first opened.
Porto's Cheese Rolls and Potato Balls
Where: Porto's Bakery, California
ADVERTISEMENT - CONTINUE READING BELOW
Even if Porto's baked goods are semi-perishable, Filipinos still take boxes of it back to the Philippines and hand-carry them on the plane.
Highlander Steak
Where: The Highlander Steakhouse, Tagaytay Highlands
You need to be a member of the exclusive golf club or a homeowner at Tagaytay Highlands to have that hefty steak at the log cabin-inspired restaurant.
This story originally appeared on Townandcountry.ph.
* Minor edits have been made by the Femalenetwork.com editors.
Load More Stories