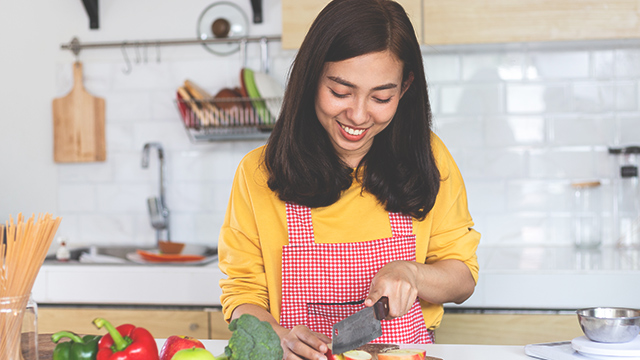 We've all been guilty of eating out too often, especially since we don't really have time to prepare our own meals. While it's not a crime to indulge every now and then, all this spending is eating away at your savings—not exactly a great way to kick-start the holidays, considering you still need to go gift shopping. But take note: Just because you stop eating out doesn't automatically mean that your expenses will go down. Here, a few concrete ways to help you keep your food budget in check.
1. Prep all your meals on Sundays.
Figure out what you're going to have for baon for the entire week ahead, and prepare them on a Sunday, when you have the most time on your hands for yourself. This lets you avoid eating out and overspending. It also makes sure that you'll start your day right and you can actually take it easy and enjoy your breakfast in the morning since your meal was already prepared. Meal plans also push you to be more creative in the kitchen—you don't want to eat the same dish every day of the week, do you? The trick is to use the same ingredients—like your meats and veggies—across some of your meals, but marinate or cook them differently. Feel free to invite your friends over to make meal prepping both fun and easy.
2. Keep it simple.
While it's fun to try out new and extravagant recipes, it's more practical to stick to making simpler meals, which require easily available and very few ingredients. For one, you'll be less stressed in the morning if you stick to a simple meal like corned beef and pandesal as compared to having to prepare complicated meals like waffles or breakfast muffins. Don't be tempted to buy one-off ingredients like almond extract or lavender jelly—you'll probably only get to use them once or twice before they start to collect dust at the back of your pantry.
3. Streamline your grocery list.
With so many things on offer at the supermarket, it's easy to end up buying more than what you need. Make a grocery list and stick to it. This lets you avoid overspending at the supermarket and get a sense of how much you're actually spending on groceries, which in turn. helps you adjust your budget accordingly.
4. Use cash instead of card.
The fact that you're not relying on credit helps keep you more conscious of your spending. When you're handing over actual bills, you're more aware of how much of your hard-earned cash you're shelling out, making it harder for you to give in to more frivolous purchases. For more of a challenge: Try bringing only a certain amount with you to see if you can limit yourself to that strict budget.
5. Choose versatile, budget-friendly options.
The average career woman likely spends around P150 per meal per day. Even if she skips breakfast, she'll still go over P2000 per week (she'll be spending P2,100). Now that you're making a conscious effort to minimize your spending, you should be more sensitive about differences in price points for the same food product. While some corners are cut for the most part for budget-friendly options, know that there are ones that don't sacrifice quality for price and are very versatile, so you can make many different dishes out of them.
Argentina Corned Beef is one example. At P50.95 for a 260-gram can, it can make up to four meals; you can use it in sandwiches, omelettes, and pasta, and you'll only spend a total of around P30 to P50 per meal*—at most around P75 if you toss in other ingredients like cheese, lettuce, cucumbers, and tomatoes. The affordable price tag also means it'll be easy to buy a bunch and prepare different meals for your family. As long as you follow your budget, you won't have trouble keeping costs below P2000, which means you'll have a bigger budget for things you've been coveting for a while, or for experiences you've been wanting to try—be it that designer bag or a solo vacation to Maldives.
*A kilo of rice is P50; serves 10. Eggs are P6 a piece. Bread that comes in six pairs costs P60.
To learn more, follow Argentina Corned Beef on Facebook.
This article was created by Summit Storylabs in partnership with Argentina.