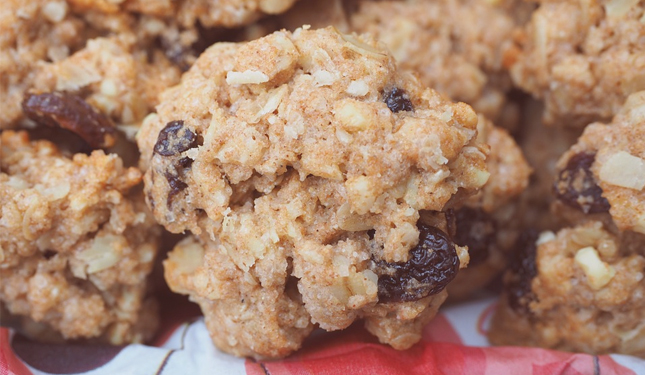 Raisins are good for you. They are so packed with fiber, antioxidants, vitamins, and minerals that they're actually one of the best things that you can snack on. Although not everyone likes them, there are recipes which can help make even the biggest raisin critic do a 180-degree turn. As Chef Miko Aspiras noted during a recent California Raisins event, "[Raisins] are naturally sweet, consistent in size, texture, and chewiness... They can also be an alternative sweetener if you wish."

Check out these dishes which you can try.

California Raisin and Nut Knackerli (by Chef Peachy Juban)

Ingredients
ADVERTISEMENT - CONTINUE READING BELOW
20g California Natural Raisins

20g California Golden Raisins

250g White chocolate couveture (tempred)

20g Pistachios (shelled and dry roated)

20g Almonds (shelled and dry roasted)

Method
Scatter raisins and nuts on chocolate molds.

Pour melted chocolate over the raisins and nuts to fill the cavities.

Allow chocolate to set fully. Chill if necessary.

Tap out and keep in a cool place until ready to serve.

Alternatively, pipe melted chocolate into thick strips or circles onto a parchment paper. Before the chocolate sets, arrange the raisins and nuts on it. Allow chocolate to set fully. Chill if necessary.


Califorina Raisin Cookies (by Chef Miko Aspiras)

Ingredients
170g California Raisins

100g brown sugar

25g white sugar

112g unsalted bytter (softened but not melted)

2 pc egg whole

195g all-purpose four

2g baking soda

2g iodized salt

1g baking powder

2g vanilla extract

Method
Sift all dry ingredients together, set asid.

Using a hand mixer or a standing mixer, cream the butter, white and brown sugars using a paddle attachment until mixture is light and airy.

Add in eggs one at a time, then add in the vanilla extract.

Using a rubber scraper or spatula, fold in dry ingredients lightly and evenly.

Lastly, fold in raisins.

Spread mixture in a flat baking tray and chill until dough is firm.

Scoop cookie mixture (30g each) on a non-stick baking tray.

Bake at 170

°C

for 6 minutes.
CONTINUE READING BELOW
Recommended Videos

California Raisin-Rice Wine Chicken

Ingredients
80g California raisins

250ml Chinese rice wine

1 chicken, cut open

4 ginger slices

2 stalks spring onion

Marinade
3/4 tbsp salt

1 tbsp hua diao wine

1 tbsp ginger juice

Method
Soak raisins in rice wine for 12 hours.

Marinade chicken for about 3 hours. Add ginger and spring onion to steam over high heat for about 20 minutes until cooked.

Mix gravy from Step 2 well with rice wine-soaked raisins. Pour onto steam chicken. Cool then refrigerate and let is soak overnight to absorb the wine-raisin fragrance.
Load More Stories