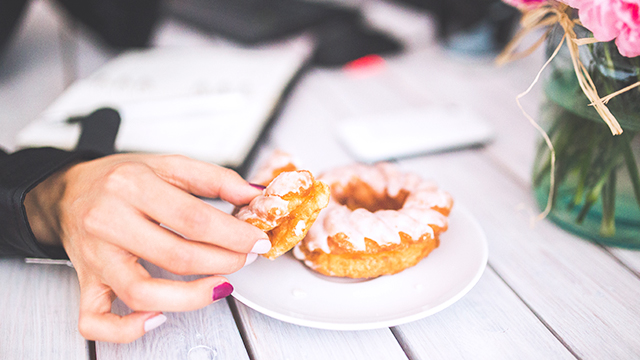 Christmas may be done, but the BFF parties and family reunions still rage on. If you find yourself worrying about how to avoid the holiday weight gain this year, here are some things you can do to keep those pounds at bay. Read on for easy, no-diet tips that won't get in the way of celebrating and enjoying the season:
ADVERTISEMENT - CONTINUE READING BELOW
1. Eat before the party.
Some people believe that it's better to save the calories for later. However, starving yourself leads to binge eating. Make sure to eat enough throughout the day and grab a healthy snack before the party. That way, you won't feel the urge to eat everything on the buffet table and you can indulge without over-eating.
CONTINUE READING BELOW
Recommended Videos
2. Stock up on healthy food at home.
Make it a habit to incorporate more fruits and vegetables into your regular meals. When your body receives enough nutrition throughout the day, your cravings naturally lessen and it will be easier for you to say no to the sugar-laden holiday treats.
3. Start with fruits and vegetables.
Citrus fruits like oranges, pomelos and lemons contain vitamin C that can help give your metabolism an extra boost. Starting your meal with these or other fiber rich vegetables like broccoli, spinach or squash will help you digest your food better and may even increase your daily calorie burn.
ADVERTISEMENT - CONTINUE READING BELOW
4. Scan the buffet before putting food on your plate.
Take a few moments to survey what is worth the treat. Like anything, eating in moderation involves planning ahead. Don't start mindlessly loading your plate. You'll thank yourself later.
5. Pause in between servings.
Sometimes it just takes a while for our stomach to tell our brain that it's full. Try indulging in conversation and waiting 10 to 15 minutes before going for seconds. You might be pleasantly surprised that you won't feel like getting up for another plate anymore.
6. Indulge in only the most special holiday treats.
Stay away from those store-bought cakes and cookies, especially those that are available all year round. Instead, indulge in homemade treats that are special to your family such as lola's fruit salad or your tita's leche flan.
7. Stick to water and avoid liquid calories.
Sugary drinks such as juices and sodas as well as alcoholic beverages are huge culprits for expanding the waistline. Drinking enough water will help fill you up and can even help keep those cravings at bay.
ADVERTISEMENT - CONTINUE READING BELOW
8. If visiting others, bring a nutritious low-calorie dish to share.
 Sometimes, the only way to have a healthy option at a dinner party is to bring it yourself. Try bringing a fruit platter or a veggie tray with healthy dips for a nutritious change. Of course, you will probably still want to try out the other options, but make your own healthy dish the main part of your meal.
9. Don't let go of your exercise regimen.
Getting busy is no excuse. Prioritize your gym time or if working out at home, find a program that suits your needs. Try Pop Sugar Fitness on YouTube for 15-minute options such as this to squeeze into your day:
Camille Romero is a Holistic Health Coach and Yoga Instructor. For classes and consultations, contact her at cmf.romero@gmail.com.
Comments
Load More Stories