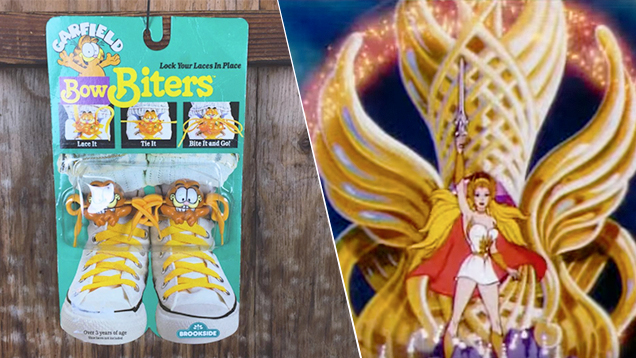 The 80s was a spectacular time of change (and shoulder pads), and if you were born in this decade, you probably remember the neon gaudiness that it brought about. Here are a few of the good things that we'd love to add back, and if you have others to add to the list, comment them below!
ADVERTISEMENT - CONTINUE READING BELOW
1. Bow Biters
These kept your shoelaces tied! Bow Biters have recently been revived and you can still buy vintage designs from specialty shops, but they're very hard to come by locally.
2. Old school cartoons
Astroboy, Jem and the Holograms, He-Man and She-Ra, and of course, Voltes V -- who doesn't miss the shows that got us all excited during the weekends?
CONTINUE READING BELOW
Recommended Videos
3. Classic song hits
Song hits were cheap magazines that listed lyrics and chords of popular tunes back in the day. These were the heart of your older cousins' inuman sessions as they busted out some Micheal Learns to Rock. The lyrics may not be spot on, but they were lots of fun.
4. Writing letters and sending greeting cards
It was always more personal back in the day, no matter how far you were. Sending and waiting for letters always managed to close the distance between loved ones, whether you're getting in touch with relatives or writing to your new pen pal (some song hits had a list of people who were looking for pen pals).
ADVERTISEMENT - CONTINUE READING BELOW
5. A&W ice cream waffles and root beer floats
The A&W resto in the old SM – or "Shoemart"-- Annex served really great desserts!
6. Brown Cow Chocolate Syrup
Brown Cow made milk a hundred times better that sometimes, you left the milk out and just drank the syrupt from the bottle.
7. Chickadees
These tindahan snacks always had freebies like rubber poppers and fake tattoos.
8. Streets with minimal traffic
Remember Ayala back in the 80's? You could go from one end to the other in less than ten minutes.
ADVERTISEMENT - CONTINUE READING BELOW
Comments
Load More Stories