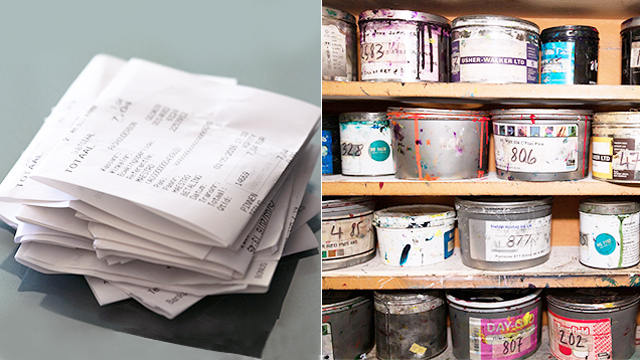 One of the best things about decluttering is that it has the power to give you a fresh start. This is probably why most people schedule spring cleaning at the end of December—it symbolizes a clean slate, a first step that signifies you're ready to welcome another year without clinging to things that belong in the past. Make the most of the holiday break by taking a good look at all the stuff you've amassed in the past 12 months, then getting rid of items you won't be using anymore. Let the list below guide you:
1. Invitations to parties or events you didn't attend
Unless the invite marks an important memory or you want to save it as a peg for something you are hosting, these cards, envelopes, and sheets of parchment have no place in your home.
2. Cans of old paint
We're all guilty of keeping leftover paint in our basements or storage units thinking we might use it in the future. However, the chances of using the same shade to patch up your walls are very slim since pigments fade over time. Feel free to keep paint you bought within the year for touch-ups, but the rest can go.
ADVERTISEMENT - CONTINUE READING BELOW
3. All the contents of your junk drawer
Everyone has a drawer or bin at home that is full of random bits and bobsâspare batteries, stretched-out hair ties, thread, matchboxes, and even lost keys. Before the new year begins, give your junk drawer a fresh start by dumping everything inside without questions asked.
4. Receipts
Whether it's at the bottom of your purse, stuck to the fridge or in a drawer somewhere, there's no doubt that you have a hodgepodge of faded receipts lurking around your homeâtrack all these down and throw it out.
Tip: If it's a receipt for a big purchase such as gadgets or furniture, keep it until you've paid the total amount!
5. Outdated takeout menus
Skip the hassle of having flyers and papers clutter up your kitchen by ordering food via smartphone apps. You can also toss the ones you have on-handâespecially if they are more than a year old as restaurant menus change quite often.
6. Chipped dishes
Before you lay out your Christmas table setting, take the time to purge your cabinets of chipped, coffee-stained or yellowing dishes before running to the store to replace them with a fresh batch of plates and mugs.
This story originally appeared on Realliving.com.ph.
* Minor edits have been made by the Femalenetwork.com editors.
Load More Stories