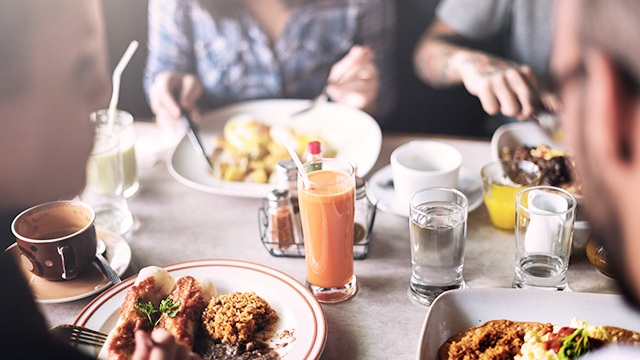 A nice meal with even nicer company is always welcome especially after the stress of a loaded workday. However, eating out can also give you the possibility of eating too much, and even if you're skipping those oily fries and that strip of pork chop fat, chances are you're less aware of what you're indulging in than when you prepare your own meals at home.
ADVERTISEMENT - CONTINUE READING BELOW
If you and your friends love doing chika over a good meal, then try to remember these tips so that you can be deliciously satisfied even while eating healthy:
1. Suggest a restaurant with a good menu…
Or at the very least, a varied selection. This will give you healthier, and hopefully tastier options to choose from. If you can find a restaurant that serves MSG-free meals, all the better.
2. Order the right amount of veggies, meat, and grain.
Take this tip with you when you eat at buffet restos. According to the Harvard School of Public Health, a healthy eating plate consists of fruits and vegetables (1/2 of your plate), whole grains (1/4 of your plate), and protein (1/4 of your plate). You can also do the same estimate with ala carte dishes: Order a good helping of salad with your grains and meat.
3. Pass on artificially sweetened drinks.
If you can, opt not to order artificially sweetened drinks even if they claim to contain zero sugar. You can indulge in a cup of hot tea or natural fruit juices, but it's still best if you drink water.
4. Don't overeat.
It's so easy to overeat especially if you hang out in one restaurant the entire evening. The trick is to let your tummy rest after having a huge and heavy meal. SFGate notes that it takes the brain around 20 minutes to register that your stomach is already full, so if you feel the urge to eat another serving after you've just had one, wait a bit.
5. Enjoy dessert.
While you shouldn't go overboard on sugar, you shouldn't deprive yourself either. Enjoy just enough to satisfy your sweet tooth, then end your meal with a hot cup of coffee or tea.
Load More Stories