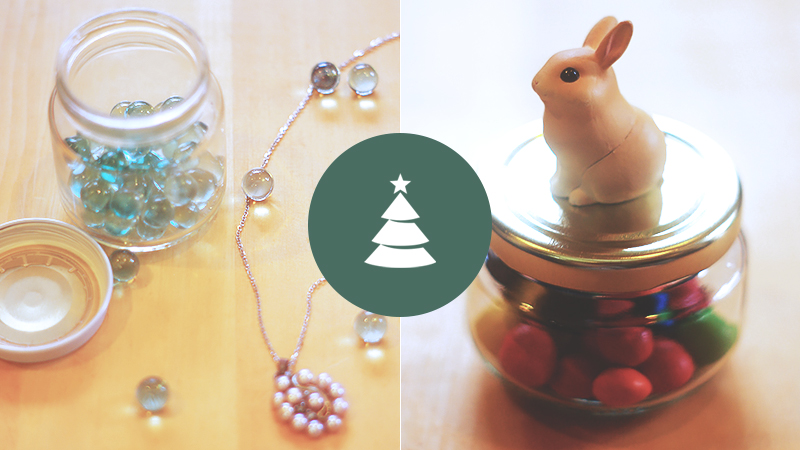 Still worrying about that incomplete Christmas gift list? No worries! You can always try these handmade hacks that will make anyone who receives them feel special. After all, it's the thought that counts!
1. Candy Jar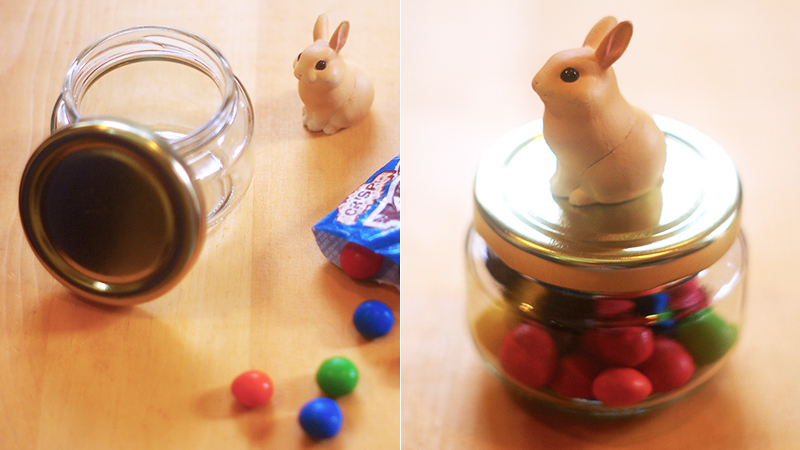 IMAGE Crystal Rey B. Valiente
ADVERTISEMENT - CONTINUE READING BELOW
CONTINUE READING BELOW
Recommended Videos
Give cookies, chocolates, candies and other sweet treats in adorable, reusable jars!
Step 1: Clean a small bottle and dry it thoroughly.  This one used to hold a jar cake.
Step 2: Choose a small toy to glue onto the lid.
Step 3: Fill the jar with treats!
And speaking of jars...
2. Marble Jar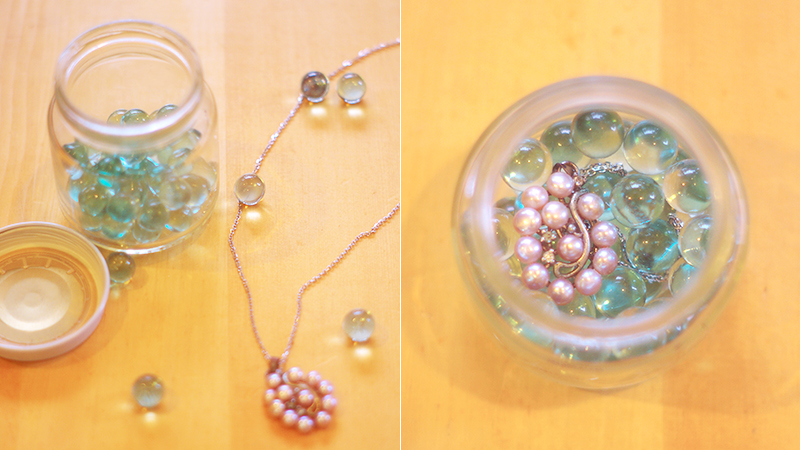 ADVERTISEMENT - CONTINUE READING BELOW
While this next one is mostly a DIY gift-wrapping idea rather than an actual gift, this might be a fun and easy way to present little tokens.  I've tried this a couple of Christmases ago for necklaces and it had been met with a lot of appreciative grins.  Aside from trinkets, you could stick a rolled up bill tied with a ribbon for godchildren, or maybe a heartfelt letter to a special someone.
Step 1: Choose a small jar (maybe from jam or baby food) and pour marbles or glass pebbles in.  You don't even have to fill it halfway, just enough to cover the bottom of the bottle.
Step 2: Drop the trinket/note/bill inside.
Step 3: You could paint or apply decoupage on the lid to prettify.  Tie a ribbon or twine around the jar with a tag as a finishing touch.
3. Metallic Magnets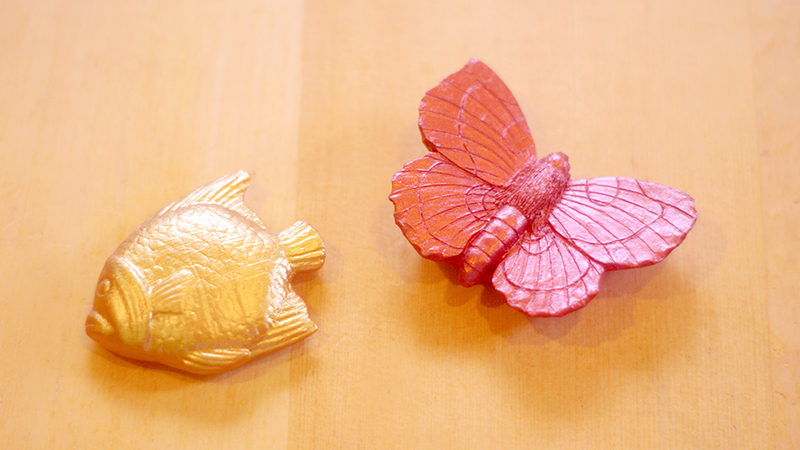 ADVERTISEMENT - CONTINUE READING BELOW
Give inexpensive fridge or memo magnets a chic, sophisticated look.  I just love how these old magnets turned out after being treated with a bit of metallic paint.
Step 1: Pick out fridge or memo magnets with well-defined details that would stand out after being painted.
Step 2: Apply a metallic color with acrylic or spray paint. (Tip: If using spray paint, it's always a good idea to do it on a sunny day in a well-ventilated area.)
Step 3: Allow to dry.
4. Framed Scratch Pad Art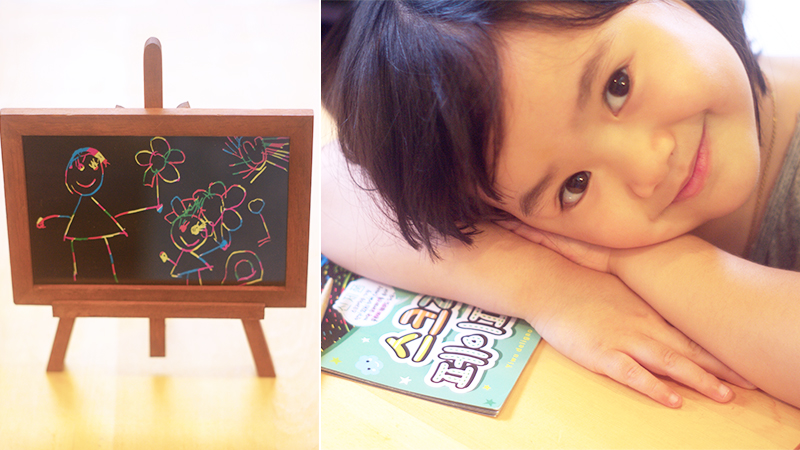 ADVERTISEMENT - CONTINUE READING BELOW
If you've got little ones, this could be a perfect gift for grandparents, godparents or teachers. Scratch pads are super easy to use and you can make visually interesting pieces with very minimal effort. A medium sized pad should cost around 85 pesos from tiangges, but are also available in regular bookstores.
Step 1: Pick out a picture frame that would fit a sheet of your scratch pad. It doesn't even have to be a brand new frame. You could opt to give it a lick of paint or decorate it with beads or puzzle pieces.
Step 2: Have your kid make a drawing of him/herself with the person you have in mind for this present. Another idea is to have them write a short, thoughtful note.
Step 3: Trim the edges of the scratch pad to fit and pop it in the frame!

5. Wood Letter Sign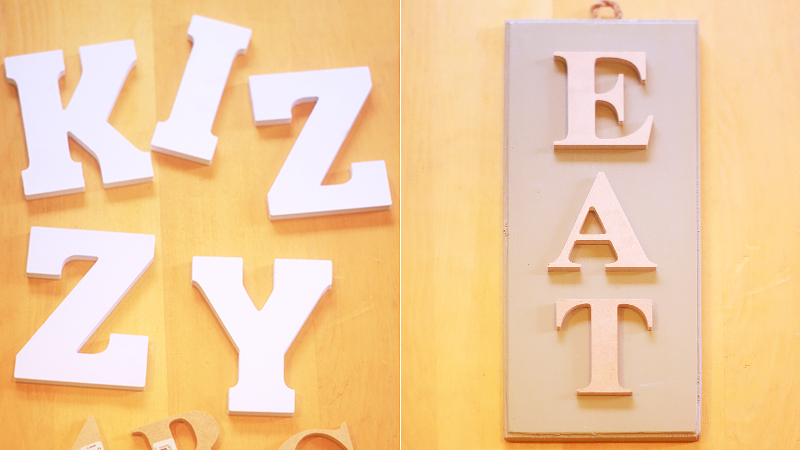 ADVERTISEMENT - CONTINUE READING BELOW
Use wood letters to spell out a name or a short word for this cute home decor gift idea. I got the white letters from Divisoria for P20 each.
Step 1: Pick a board to mount your letters on. It could be an old chopping board or a used wood frame.
Step 2: Lightly sand and paint the board with the color of your choice. Two or three coats should do it, depending on your paint's opacity. I used leftover (A Plus) elastomeric/acrylic paint from a previous wall painting project. It dries quickly, adheres well and has minimal odor. You could buy a quart from your neighborhood paint supply store for as little as P150. Believe me, it goes a loooong way!
Step 3: Super glue your letters on the board and you're good to go!
Load More Stories