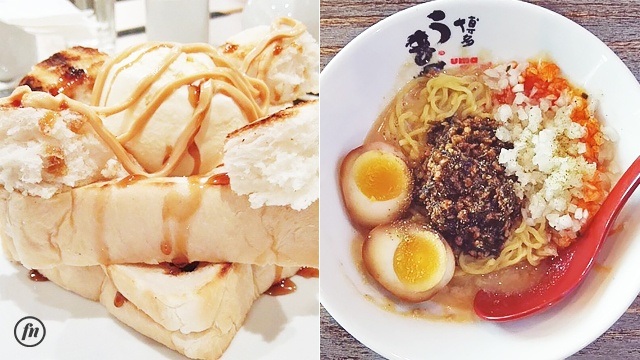 The next suweldo may still be a few days away, but that shouldn't stop you from thinking about that celebratory lunch or dinner you're planning with your colleagues, right? If you can never have enough Japanese food (like everyone else we know!), here are three restaurants that you should definitely try out: 
ADVERTISEMENT - CONTINUE READING BELOW
Location: S Maison, Conrad Hotel, Pasay
Who would have thought that soup can help get you great-looking skin? Bijin Nabe by Tsukada Nojo is a farm-to-table restaurant that boasts of using nothing but the best, cleanest, and healthiest of ingredients. The highlight of their menu is the Bijin Nabe, which is a "Beauty Hot Pot" that uses "Golden Collagen Stock" made from chicken bones, water, and salt simmered in low heat for 16 hours. Its deep and rich taste is complemented by chicken meat and vegetables, and later on mixed with shrimp and rice to create a super tasty porridge.
FN Tip: One portion, which is good for two people, starts at around P750, so it's a pretty good deal especially if you're going with a big group.
Location: Uptown Parade, BGC, Taguig
Uma Uma Ramen, which first opened its doors in S Maison, now recently launched its newest branch at Uptown Parade at the Bonifacio Global City. Now more accessible to offices, Uma Uma Ramen has decided to add new and more exciting dishes to their menu, including the Aligue Dry Ramen.
"It was in our plans to release a ramen inspired by local flavors. Aligue was one of the ingredients that caught our chef's (Chef Satoshi Nakamura) attention," explained Director of Iki Concepts Singapore Russel Yu in a press release. "He first did a ramen broth flavored with aligue, which was pretty good but did not convince him as a chef. He then experimented making it as a dry ramen—which turned out to be one of the best experiments that has come out of Uma Uma PH's kitchen."
The effort definitely paid off as the Aligue Dry Ramen was beautifully light yet filling, and is definitely both Pinoy and Japanese in a bowl. Other new items on the menu include Tan Tan Men, which uses Sapporo egg noodles, yakitori, and a slew of yummy side dishes.
FN Tip: Go for the Gyoza Chips and Dips if you want to start off light. This deceptively simple snack can be quite addicting!
ADVERTISEMENT - CONTINUE READING BELOW
Location: The Atrium, SM Megamall, Mandaluyong
Good news for okonomiyaki lovers in the Mandaluyong and Pasig business districts! Botejyu has recently opened a new branch in SM Megamall's Atrium, and if you haven't tasted good okonomiyaki yet, this is one of the best places to try it. Order the Premium Moonlight Okonomiyaki, which is packed with beef, pork, shrimp, squid, mixed with a good serving of cabbage and topped with egg and lots of bonito flakes. Their preservative-free special sauce is seriously good, so don't be shy to pour in more of it!
FN Tip: Order their Honey Toast with Brown Sugar Syrup and Creamy Kinako for dessert to help cleanse your palate!
Load More Stories