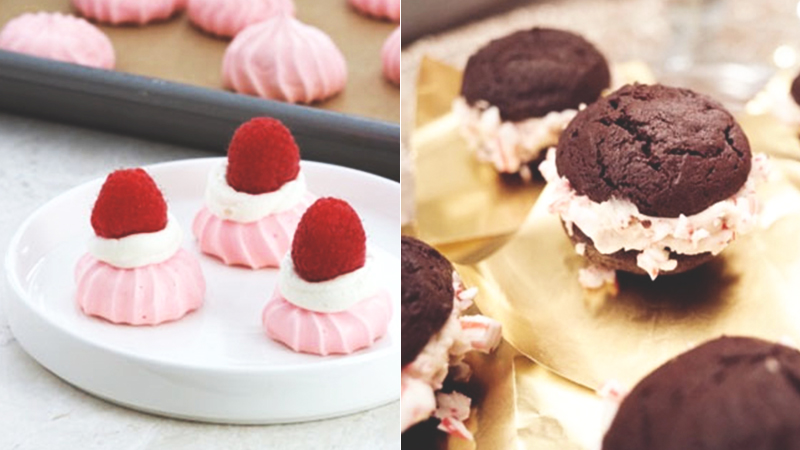 Noche Buena is just around the corner, and if you want to truly indulge yourself this Christmas, don't forget about dessert. Check out these recipes that are just as heavy in love as they are in calories:
1. Peppermint Patty Sandwich Cookies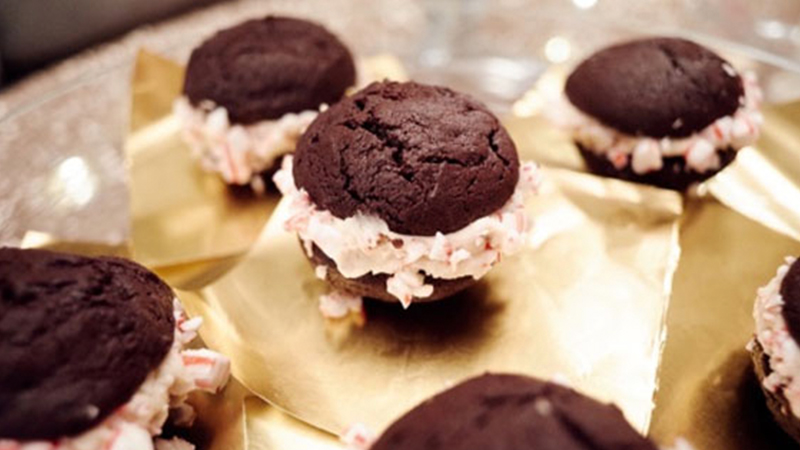 ADVERTISEMENT - CONTINUE READING BELOW
Itallian-American chef Giada De Laurentiis has recently started her new series on the Food Network called Giada's Holiday Handbook (Tuesdays, 6pm), and has shared one of her fun and yummy desserts for you to try!
Yield: 15 servings
Prep Time: 20 minutes
Cook Time: 10 minutes
Difficulty Level: Easy
Ingredients:
Sandwich cookies 
110g bittersweet chocolate, chopped
120g butter, at room temperature
240g flour
120g cocoa powder
½ tsp baking powder
120g light brown sugar
120g granulated sugar
1 tsp pure vanilla extract
2 eggs, at room temperature
60g plain yogurt
½ tsp salt 
Filling
720g confectioners' sugar
¼ tsp peppermint extract
240g butter, at room temperature
10 chocolate-coated peppermint candies, chopped
½ tsp salt
Optional
Method:
Preheat the oven to 190°C. Line two baking sheets with parchment paper.
Melt the chocolate and 120g butter over medium heat in a double boiler. Remove from the heat and set aside to cool slightly.
In a medium bowl, whisk flour, cocoa powder and baking powder together. Set aside.
Add brown sugar, granulated sugar, vanilla extract and salt to the bowl of melted chocolate butter mixture. Whisk to combine.
Next, whisk in eggs, one at a time, followed by the yogurt. Using a rubber spatula, fold in the flour mixture being careful to avoid over-mixing.
Scoop 1 tablespoon mounds of the batter on the prepared baking sheets, leaving about 2.5cm between each cookie. Bake the cookies for about 9 minutes, rotating the trays halfway through. Slide the cookies on the parchment onto a cooling rack and cool completely.
To make the filling, in a medium bowl, use an electric hand mixer to beat 240g butter and the confectioners' sugar until light and fluffy, starting on low speed to avoid splatter and slowly work up to medium speed. This will take approximately 3 minutes. Then, add the peppermint extract, salt and peppermint candies. Beat on medium speed until the candies are broken apart and evenly distributed.
To assemble, spread the filling generously on the flat side of one cookies. Top with another cookie. Roll the edges in crushed candy canes and serve immediately or store in an airtight container until ready to serve.
2. Swiss Meringue Gems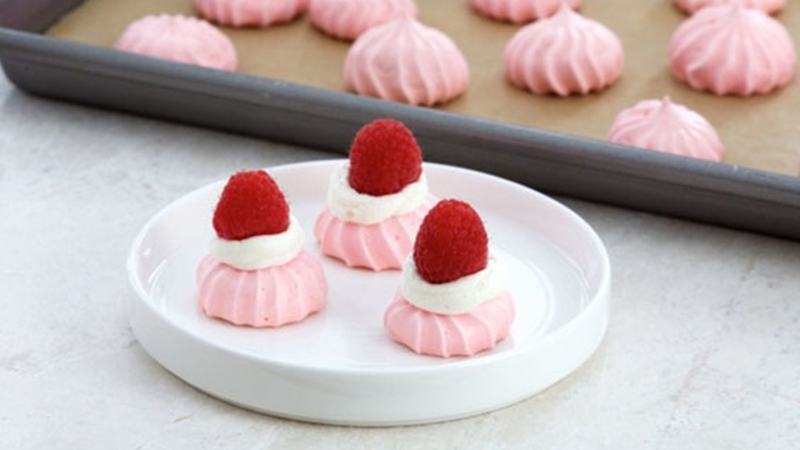 Bake with Anna Olson (Fridays, 9pm) is back for another season on the Asian Food Channel! Level up your baking prowess this Christmas with a recipe directly from the chef herself.
Yield:  4 dozen
Prep Time: 20 minutes
Cook Time: 1 hour 10 minutes
ADVERTISEMENT - CONTINUE READING BELOW
Difficulty Level: Easy
Ingredients:
Meringues
2 large egg whites, at room temperature
6 tbsp granulated sugar
½ tsp lemon juice
Pink food coloring paste 
Toppings
250ml whipping cream
3 tbsp icing sugar, sifted
½ tsp vanilla extract
48 fresh raspberries
Method:
Preheat the oven to 95

°

C and line 2 baking trays with parchment paper.
Place the egg whites with the sugar and lemon juice in a metal bowl and whisk.
Place the bowl over a pot filled with approximately 2.5cm of simmering water and whisk the whites constantly until they are warm to the touch.
Using an electric beater, or pouring the warmed whites into the bowl of a stand mixer fitted with the whip attachment, whip the whites on high speed for about 4 minutes or until they are glossy and hold a stiff peak when the beaters are lifted.
Use a toothpick to add a little pink coloring paste and stir in by hand.
Spoon the meringue into a large piping bag fitted with a medium star tip. Pipe a dot of meringue on the underside of each corner of the parchment paper. This will stop the parchment from lifting up as you pipe. Pipe little rosettes (about 2.5cm) across the trays, leaving some space between them.
Bake the meringues until they are dry, but not brown at all, for approximately 30 to 1 hour and 10 minutes. Cool the meringues on the baking tray. (Chef's tip: If you find the meringues still soft after cooling, return them to the oven.)
To make the toppings, whip the cream in a bowl until it holds a soft peak.
Fold in the icing sugar and vanilla.
Fill a medium piping bag with the toppings and pipe a little cream on top of each meringue. Top each with a single raspberry. Serve within 2 hours. (Note: The meringues can be made up to a week in advance and stored in an airtight container, but the assembled gems should be enjoyed very soon after being topped.)
ADVERTISEMENT - CONTINUE READING BELOW
3. Pinoy Leche Flan
This Pinoy classic will always be the star of the hapag at Noche Buena! The secret, according to folks at Jolly Cow, is to add grated dayap or lemon peel for a bit of depth to the sweetness!
Ingredients:
1 can (390g) of Jolly Cow Condensada
1 can (370ml) evaporated milk
10 egg yolks
1 teaspoon of grated dayap or lemon peel
1 cup of white sugar
Method:
Put sugar in a saucepan. Bring to a boil over low fire until the sugar caramelizes.
Pour the caramelized sugar equally into three llaneras. Evenly coat the caramelized sugar on the bottom of the llanera. Set aside.
In a bowl, gently mix together the Jolly Cow Condensada, evaporated milk, egg yolks and the grated dayap. Make sure to gently mix so as not to create bubbles on the mixture.
Gently and evenly pour the mixture on the llaneras containing the caramelized sugar.
Cover each llanera with aluminum foil.
Steam for about 30 minutes or until firm (steaming time may depend on the thickness of the llanera).
Cool and then refrigerate.
ADVERTISEMENT - CONTINUE READING BELOW
Tip: You can tell when the leche flan is fully cooked by inserting a knife in the middle of the mixture--if the knife comes clean, it is fully cooked.
Load More Stories