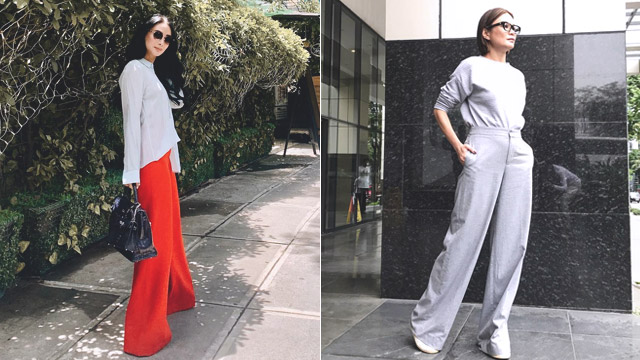 There's a lot to love about wide-legged pants: for starters, you won't need to put too much effort to dress them up—they're stylishly striking on their own, even when you pair them with a laid-back T-shirt. What's more, this relaxed, airy pant style is one of the comfiest trousers to wear on a daily basis, thanks to its loose fit and wide hemline!
To inspire you, here are a few ways you can wear them everyday in the office: 
1. Pair them with a long-sleeved, button-down blouse for an ultra-lengthening effect. 
ADVERTISEMENT - CONTINUE READING BELOW
2. Teaming them up with your cozy long-sleeved shirts will help you power through any lazy work day in style. 
Bonus: Take the monochrome route to look twice as polished. 
3. Make an impact as you walk into any room by going all-white. 
The wide, eye-catching hem keeps the look from falling flat. 
ADVERTISEMENT - CONTINUE READING BELOW
4. Wide-leg pants and blazers are a power combo you'd want to wear on your next big meeting. 
5. Balance out the the sultriness of your off-shoulder tops with loose, wide-leg trousers, so you can head straight from your desk to your ladies' night out. 
6. Top them off with a turtleneck! 
ADVERTISEMENT - CONTINUE READING BELOW
Load More Stories