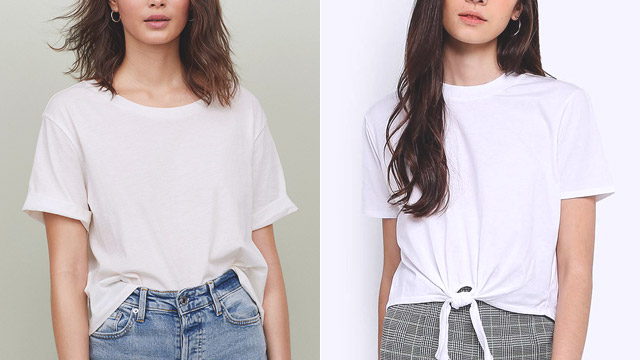 Every person needs at least one plain white tee in her closet. It's non-negotiable. White shirts can match with every other piece in your wardrobe, making it one of the most versatile fashion pieces you could ever own. While white T-shirts look pretty basic and can be bought almost anywhere, finding The One that can save you during days when you're too lazy to think of what to wear can be a little tricky. It has to be the perfect fit for your casual looks and one of high quality so you won't have to throw it out after a few washes. Here are the 10 best white T-shirts you can shop right now:
ADVERTISEMENT - CONTINUE READING BELOW
1. Uniqlo Women Crew Neck Short Sleeve T-Shirt
P590, available in all Uniqlo stores 
You'd be lying if you said you've never seen a single person in one of these T-shirts from Uniqlo. It's made with thick, double-sided knit fabric with a soft, flexible feel for a comfortable fit. Its straight cut makes it easy to style so you can wear it with your favorite pair of jeans, under a sundress, or with a midi skirt.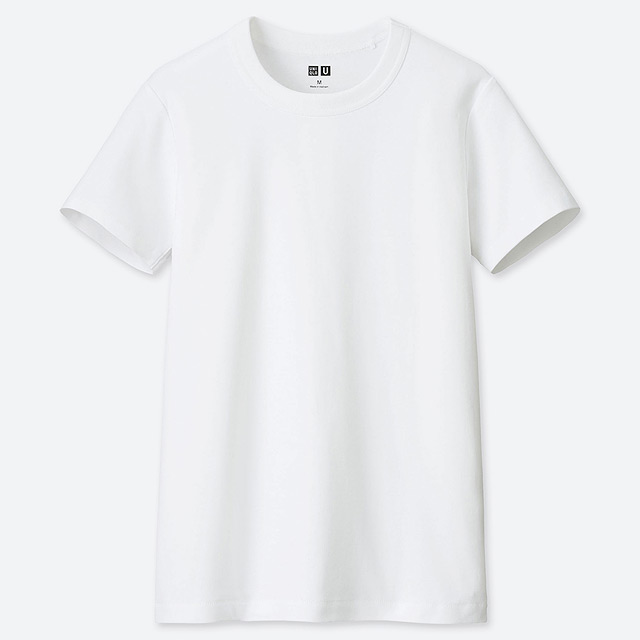 ADVERTISEMENT - CONTINUE READING BELOW
2. Gap Short Sleeve T-Shirt in Luxe Jersey 
P995, available in all Gap stores
Looking for a white shirt that's breathable and has an easy-breezy fit? Gap has just what you're looking for. It's made with lightweight jersey knit fabric with a thin rib knit trim on its round neckline. Plus, it's got a curved high-low hem, adding a bit of dimension to your look.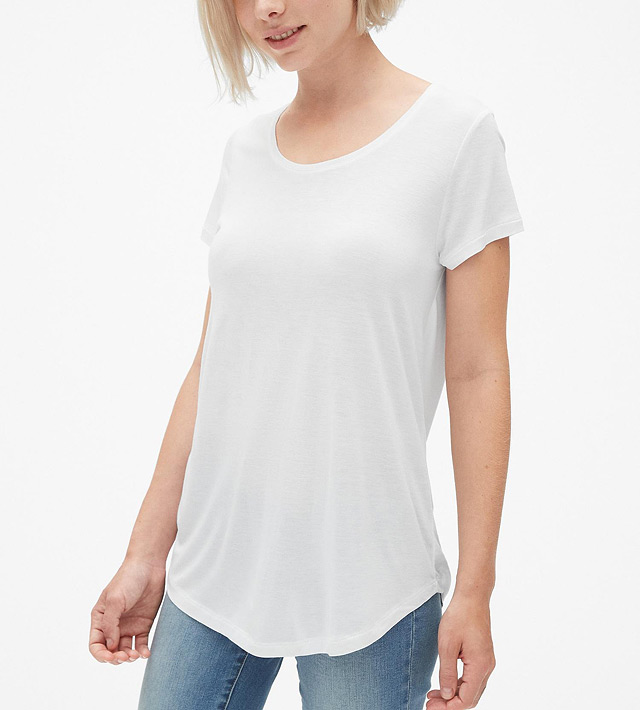 ADVERTISEMENT - CONTINUE READING BELOW
3. Levi's Perfect Pocket Tee Shirt
P999.50, available at Levi's stores
A Levi's classic, their Perfect Pocket Tees come in various prints and colors but you should have it in white if you want to make your life easier. It's made with 100 percent cotton and has a crew-neck style with a patch pocket on the chest.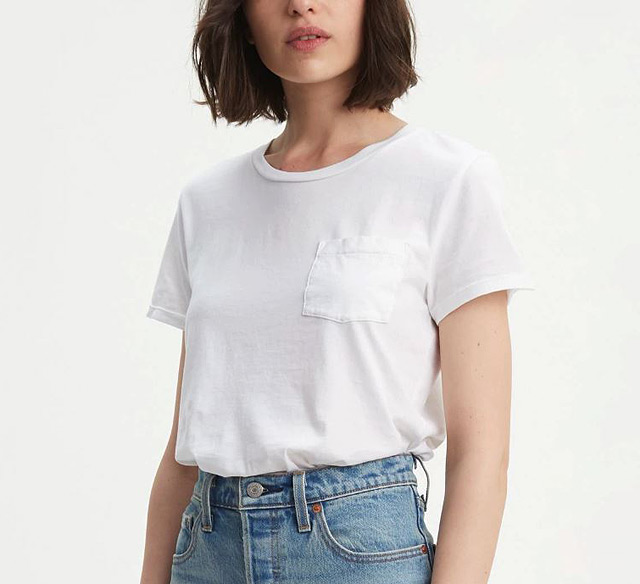 ADVERTISEMENT - CONTINUE READING BELOW
4. Zara Ribbed T-Shirt
P895, available at Zara stores
If you want a white shirt that hugs the body, this ribbed T-shirt from Zara is just what you need. It has a scoop-neck design, perfect if you want to bare your décolletage and stack on some necklaces. This tee would look great with boyfriend jeans or a flowy skirt!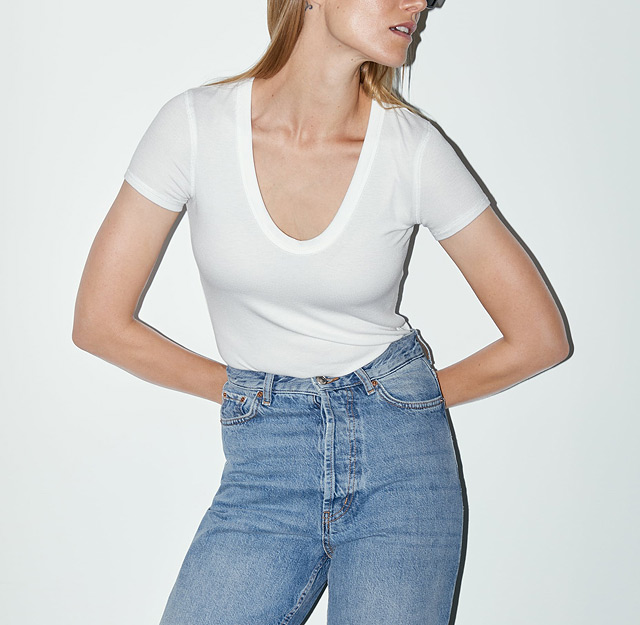 ADVERTISEMENT - CONTINUE READING BELOW
5. V-Neck Essential T-Shirt
P495, available at Mango stores
This boxy V-neck shirt from Mango has a comfortable fit that's not too tight nor too loose. You can easily dress it up by accessorizing (we'd totally throw in some pearls for that relaxed-yet-elegant look) or keep it super casual by wearing it with a pair of joggers.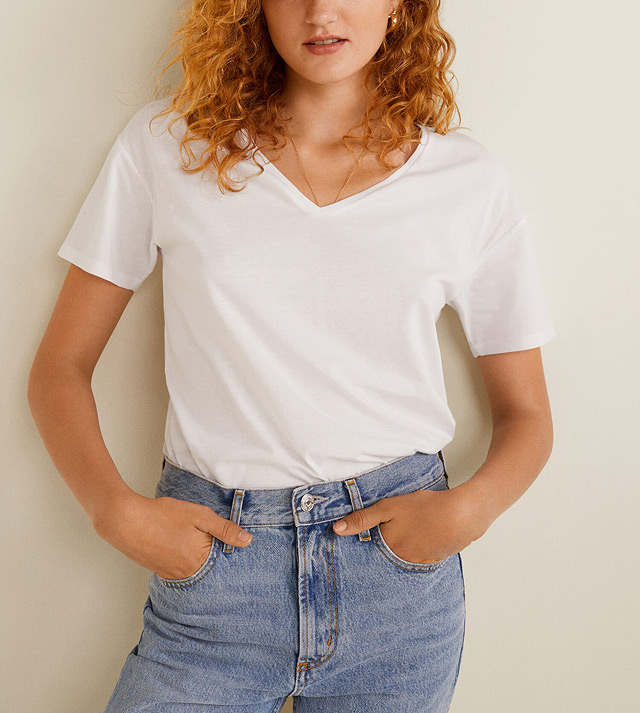 ADVERTISEMENT - CONTINUE READING BELOW
6. H&M Wide T-Shirt
P599, available at H&M stores
For those who prefer a wider, looser fit, this tee from H&M is right up your alley. It's made with soft cotton jersey fabric so you stay comfy even in the blistering heat. It also has folded sleeves, which lends the shirt a bit of style even when it's worn plain.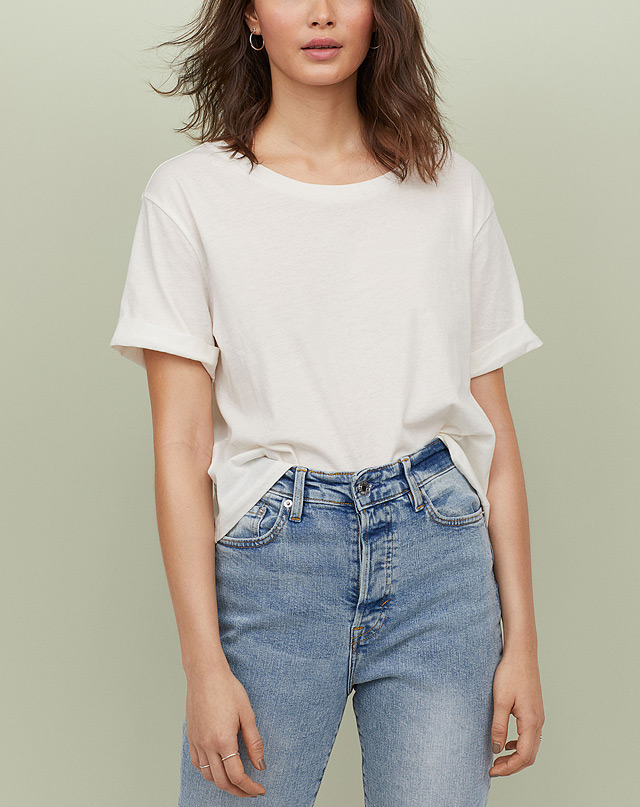 ADVERTISEMENT - CONTINUE READING BELOW
7. Cotton On Candy Chopped Tie Front Tee
P999, availabe at Zalora 
Here's a playful take on the plain white tee: This shirt from Cotton On is designed so you can tie a knot on the front, letting you rock an uninhibited "I'd-rather-be-at-the-beach" look. We'd tie it even tighter and cinched at the waist to amp up the laid-back aesthetic.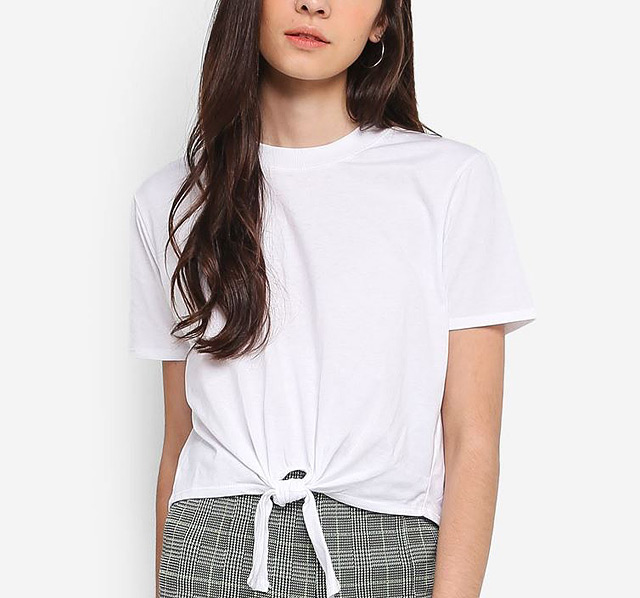 ADVERTISEMENT - CONTINUE READING BELOW
8. Topshop Notch Short Sleeve T-Shirt
P795, available at Topshop stores
If you feel like baring some skin without revealing too much, this notched tee from Topshop is the perfect pick for you. It's made with 100 percent cotton that's soft to the touch so you stay comfy all day. Plus, it's slightly cropped so you can bare your belly button if you want or wear it with high-rise jeans.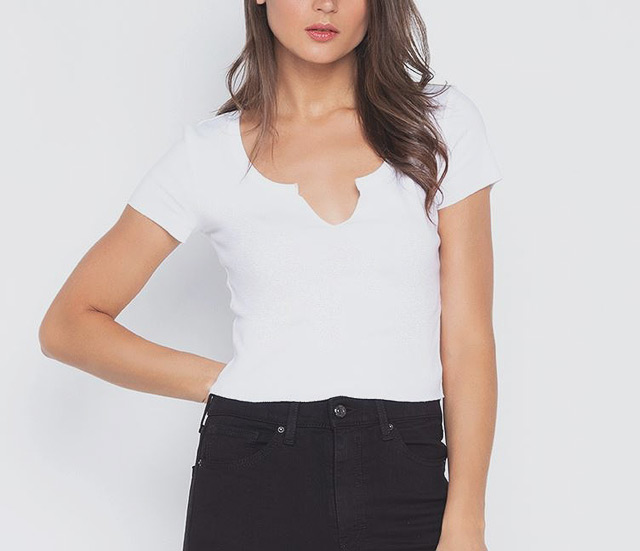 ADVERTISEMENT - CONTINUE READING BELOW
9. ZALORA Basics Basic Cropped Tee With Pocket
P359, available online 
This cropped tee from ZALORA Basics has a front chest pocket and rolled-up sleeves for a look that needs minimal styling. It has a loose fit for a relaxed vibe, but you can spruce it up by wearing it with a floor-length skirt.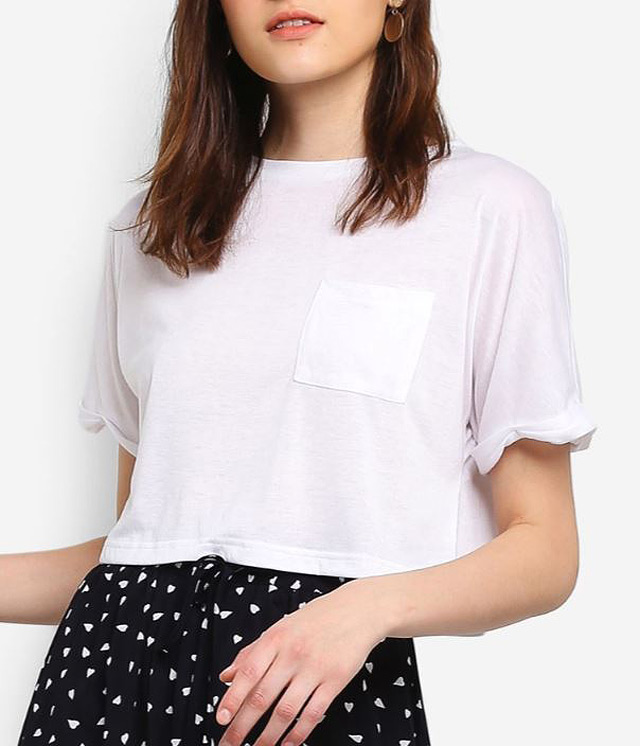 ADVERTISEMENT - CONTINUE READING BELOW
10. Warehouse Rib Lettuce Edge Tee
P1,195, available at Warehouse stores
British brand Warehouse gives the plain white tee a feminine twist with soft scalloped hems. Putting this chic top on will make you look fashionable without having to exert too much effort! The best part is that you can dress it up or down, depending on the occasion.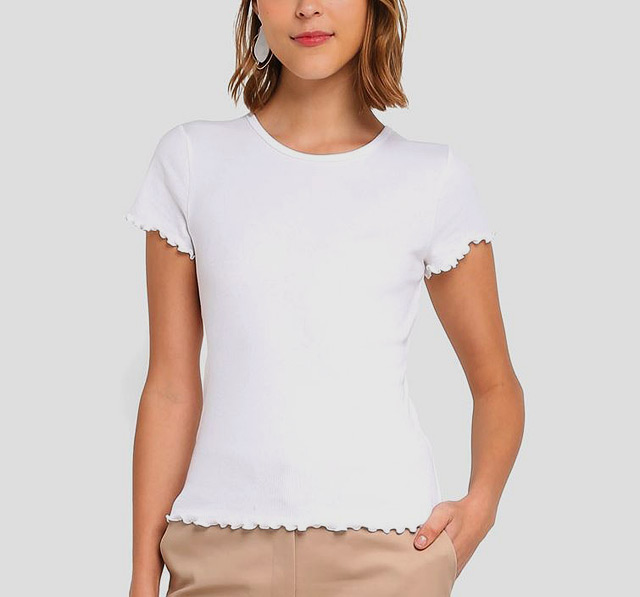 ADVERTISEMENT - CONTINUE READING BELOW
Recommended Videos
Comments
Load More Stories