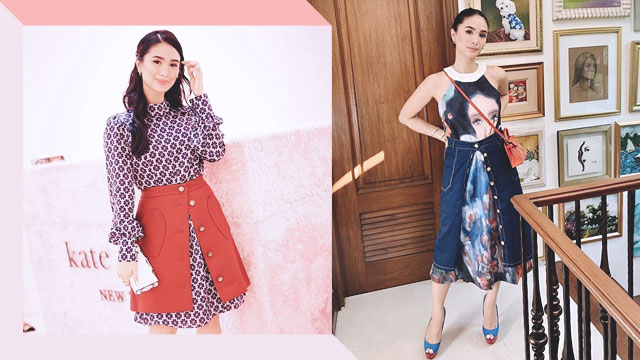 Heart Evangelista is a veritable treasure trove of dainty-ornate styling tricks. Below, we've listed down six of her most popular, widely-copied hacks:
1. The half-unbuttoned skirt
Taking the tip-top spot in our brief roundup is none other than Heart's half-unbuttoned skirt trick, which, in rather hyperbolic terms, spurned so vast an army of adoring fans that she even regrammed their Love Marie-inspired OOTDs and collated them on her Instagram Highlights bar.
ADVERTISEMENT - CONTINUE READING BELOW
Just leave your buttons undone to reveal the print of another dress underneath! 
2. Chanel hair bling
We're talking the whole shebang, from interlocked double-C brooches to pristine white packaging camellias to, yes, even logo-embroidered grosgrain ribbon. 
ADVERTISEMENT - CONTINUE READING BELOW
3. Blazers over hoodies
This is totally and completely a K-pop celeb-approved airport outfit combo. Trust Heart to make it her own! Instead of the usual street-smart outfits you'd normally associate with this kind of casual layering, she's gone the ladylike, tailored route paved by her generous collection of prim little tweed minis and lots of faux fur. In short, here's her version of laidback. 
ADVERTISEMENT - CONTINUE READING BELOW
ADVERTISEMENT - CONTINUE READING BELOW
4. Mismatched stacked jewelry
Newsflash: The less cohesive your pile, the better. Heart's proven to nurse a knack for mixing all sorts of accessories. Go crazy and throw on woven Christian Dior friendship bracelets on top of enormous platinum-set diamonds and an assortment of real-deal colored gems, then whip out a selection of hand-strung seashells and seed beads to really start the party. Now that's the ideal recipe for a high-low stack. 
ADVERTISEMENT - CONTINUE READING BELOW
5. Socks and sandals
While, again, this is something you've likely seen on gutsy Korean style stars or Scandinavian girls coolly tackling the summer-to-fall transition, it's a look Heart has glammed up to the nines in that singular way only she can. Sport socks and Birkenstocks have become a typical normcore-flavored pairing, so she's taken it into her eternally well-manicured hands to interpret it via shimmer and disco platforms. 
ADVERTISEMENT - CONTINUE READING BELOW
ADVERTISEMENT - CONTINUE READING BELOW
Load More Stories