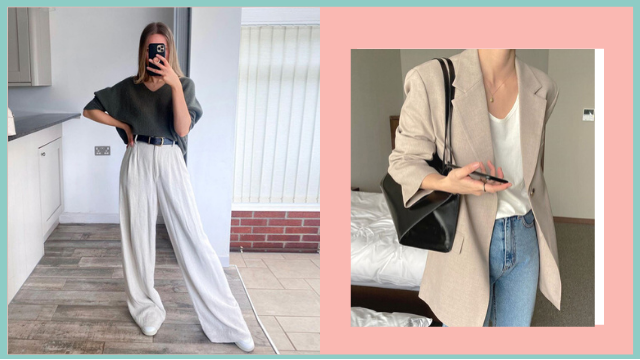 If you're at that point in your life where corporate meetings (on or offline) and company events are becoming a norm, then you've encountered the term "Smart Casual" more than once. This ambiguous dress code is oftentimes plastered on digital or paper invites as a failsafe to make sure guests don't come looking drab but neither make too much of an entrance in cocktail dresses or formal attire that'll draw too much attention. But since there's no real style template to this look, what does dressing up "smart" and "casual" actually mean? 
ADVERTISEMENT - CONTINUE READING BELOW
What Do You Mean by Smart Casual? 
Smart casual basically connotes an outfit that's a level dressier than your normal look day-to-day look. The key is to pair tailored and office-ready pieces with relaxed items to look polished no matter what. For example, you can step out in a sweat top and pants but layer it with a blazer and finish off with sleek pumps. Another common outfit combo is to put together a white button-down and blazer with dark denims and sneakers. Juxtaposing structured outwear or bottoms with typical casual wear (like T-shirts or hoodies), helps break the formalness of your outfit—and that's really the trick to pulling this off. Your shoes also play a huge role in completing the look. Opting for sneakers versus heels can ultimately make or break your look.
But don't confuse smart casual with business casual. A "business look" calls for more conservative pieces in a somber or serious color scheme. Let's say you can opt for a pastel-hued dress under a white blazer for a smart casual look, but in a corporate setting, it's best to pick a frock and jacket in a dark hue for it to pass as "business attire."  
What Items Should I Shop for a Smart Casual Look?
Smart Casual Tops 
Always shop for blouses or shirts with a collar to play it safe. But we don't mean just plain button-downs! Be sure to look for tops with statement pussy bows or ribbons, high-neck details, or ruffles to shake things up.
Smart Casual Dresses
Don't forget to shop for a chic dress you can easily transform for date night or dinner with friends as soon as you clock out. Though an LBD is a non-negotiable, also look for plain or printed wrap dresses, tailored puff-sleeved frocks, and modest bodycons for some variety.
Smart Casual Outerwear 
When it comes to jackets, a blazer is a must-buy! But don't just shop for one in black. Be sure to expand your repertoire with silhouettes in pastel and neutral tones. 
Smart Casual Bottoms 
For skirts and pants for smart casual dressing, the trick is to never pick a piece that's too short. What we mean by that is to avoid anything that falls mid-thigh. The shortest (and safest) length is a skirt or pair of shorts that fall above the knee. That's basically the only rule! You can go wild in terms of the design, silhouette, color, and even fabric.
ADVERTISEMENT - CONTINUE READING BELOW
Smart Casual Shoes 
Shoes definitely help elevate a look. But they can also be used to dress it down if it's a bit much. Case in point: when in a full suit, you can opt for sneakers to add that touch of casual cool. Meanwhile, a sleek pair of pumps can spruce up a denim look. Closed shoes are a no-brainer, but you can also shop for strappy heels in muted or neutral tones with a sleek heel if you're tired of your usual.
10 Smart Casual Outfit Combinations That'll Make You Look Polished 
If you need some ideas to build your "smart casual wardrobe" we've rounded up some foolproof style formulas that are far from boring. Don't worry, these aren't just your typical white-shirt-and-slacks outfits—you'll be surprised at how versatile this dress code is if you style yourself right! 
1. Plain Shirt + High-Waist Trousers + Sleek Heels 
Dress up a plain tee with the right pair of pants that are as tailored (but relaxed) as they come. Be sure to finish off the look with understated heels.  
ADVERTISEMENT - CONTINUE READING BELOW
2. White Midi Dress + Pumps 
A white dress is always a good idea no matter the occasion. When adhering to the smart casual dress code, your frock needs to be modest and not too sexy. So don't pick a strappy dress with a low back or a slit! 
3. White Shirt + Short Blazer Suit + Gold Jewelry 
Opt for a short suit if you want to break expectations at a corporate event. The trick is to make sure both your blazer and bermuda shorts are tailored to perfection! Add some gold jewelry for a touch of glam. 
4. Sweater + Midi Skirt + Boots 
Always take advantage of the weather—especially if it allows you to layer up or whip out your favorite sweater! Pair your cozy knit top with a midi skirt and boots for a stylish but cozy look that's fit for both office calls and cocktail night.
5. Blazer + White Shirt + Baggy Trousers + Chunky Sneakers 
This '90s-inspired outfit is perfect for those who prefer to add an athleisure spin to their office attire.  
ADVERTISEMENT - CONTINUE READING BELOW
6. Button-Down Shirt + Pencil Midi Skirt + Heels 
Don't be afraid to play with proportions. A baggy button-down paired with a streamlined skirt can draw attention to your waist and create an elongating silhouette. Be sure to wear heels for a height boost, too! 
7. Shirt Dress + Belt + Heels 
A shirt dress is a must for any corporate woman! If you opt for one that falls like a shift dress, be sure to have a belt ready if you want to highlight your figure a bit more. A nude pair of heels is a safe choice since it practically matches any color.  
8. Sweater + Trousers + Heeled Slingbacks 
Don't be intimidated by the color of this outfit, but pay attention to the silhouette it creates. If you're not a fan of color, you can opt to wear each piece in black, white, or a neutral. The point is to pair a relaxed sweater with more structured pants and shoes to dress it up.
ADVERTISEMENT - CONTINUE READING BELOW
9. Blazer + White Shirt + Midi Skirt + Sneakers 
This is a go-to style formula for girls who love to layer and mix and match pieces. The beauty of this outfit is that you can play around with the colors and print of each item.  
10. Shift Dress + Collared Shirt with Sleeves + Block Heels 
A modest-length dress is perfect for petite girls who still want to look tall without showing off some excessive leg. A block heel will also keep you comfy despite a full day of work or errands! 
Load More Stories