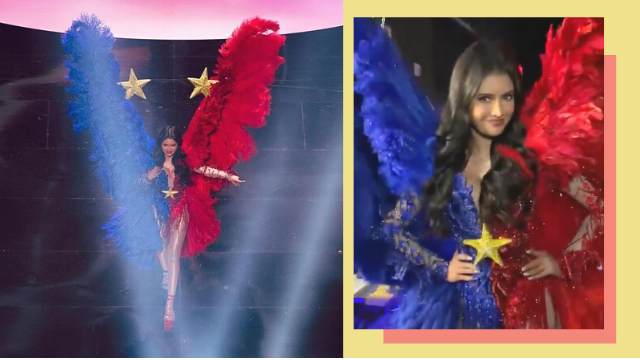 Rabiya Mateo looked like a Victoria's Secret Angel during the national costume presentation of the Miss Universe 2020 pageant last Friday, May 14, 2021.
The 24-year-old Illongga beauty queen wore a Philippine-flag-inspired masterpiece by the late fashion designer Rocky Gathercole.
Completing Rabiya's look was a pair of bespoke red-and-blue high heels from Nereku.
View this post on Instagram
On Miss Universe's official Twitter account, Rabiya said in a video, "I feel like I'm a Victoria's Secret Angel right now. I'm gonna fly, I'm gonna fly!"
ADVERTISEMENT - CONTINUE READING BELOW
In an interview with Mary Jean Lastimosa on Wednesday, May 11, 2021, Rabiya revealed more details about her national costume.
"It's sexy and it's very unique. Kasi now, MJ, I was able to find my personal style. And I find confidence when I show some skin, not too much skin.
"And it's a representation of Luzon, Visayas, and Mindanao wrapped into one. And I really envisioned myself in this costume ever since."
Another interesting tidbit: the weight of her national costume.
"It's heavy, to be honest, that's why I really need to practice it. Like, I really need to work out physically.
"Yung alam mo yung pinapasok mo talaga sa isip mo na kahit mabigat ito, irarampa ko talaga ito."
She added, "Clue lang, yung runway namin, it's gonna be long. So extra hirap ito for me, but I'm up for the challenge. This is for my country."
Like the previous edition of Miss Universe, fan votes will determine the winner of Best in National Costume.
Vote for Rabiya through this link: Miss Universe National Costume Voting.
The grand coronation of the 69th edition of Miss Universe pageant will happen on May 16, 2021 (May 17 in the Philippines) at Seminole Hard Rock & Casino in Hollywood, Flordida.
Load More Stories