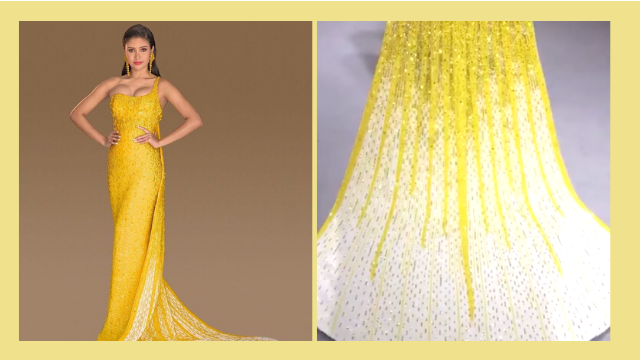 After showcasing her Philippine flag-inspired national costume, Rabiya Mateo shone at the Miss Universe 2020 preliminary competition in a stunning yellow gown! 
The dazzling piece was designed by Furne Amato. 
Over on Instagram, the Dubai-based Filipino designer shared the inspiration behind the dress: "The sun—it symbolizes happiness, strength, and vitality. Even at 93 million miles away, it warms, illuminates and energizes us, making us feel our brightest." 
ADVERTISEMENT - CONTINUE READING BELOW
According to the designer, Rabiya's gown is embellished with "Citrine Swarovski crystals."
Take a closer look at the details:
He added, "Its beadwork was inspired by the radiance of the Philippine sun which symbolizes positivity and optimism. A hope for a new tomorrow, a world with endless beauty and happiness."
Rabiya also wowed the audience with her "Halabira Walk" during the swimsuit competition.
The Miss Universe 2020 pageant will be held on Monday, May 17, 2021, at 8 a.m. 
Load More Stories