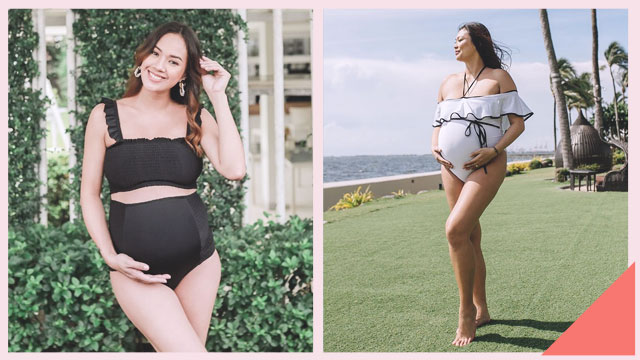 International model and mom-to-be Ashley Graham started the year 2020 with a bang. No, she didn't give birth in the New Year. Ashley launched a new line of swimsuits for pregnant women like her.
ADVERTISEMENT - CONTINUE READING BELOW
Her fifth collection Swimsuits For All resort collection included one-piece swimsuits and bikinis—yes, two-piece bikinis. She wore and posed for photos herself, with her baby bump hugged and snug and in full display.
"My favorite part about designing this swim collection was exploring new7 styles and fits while pregnant," Ashley told Popsugar.
She didn't also hold back and went ahead with swimsuits that have a lot of lace-up styles and plunging necklines. There's no need to cover up even if you're not sporting a slimmer silhouette.
"Who says you can't be sexy while pregnant?!" Ashley, has always spoken up about body-positivity even before getting pregnant, exclaimed.
ADVERTISEMENT - CONTINUE READING BELOW
Pregnant women are not always just cooped up at home. Expecting women, like Isabelle Daza and Rona Tai, go on babymoons and other vacations at resorts with pools or by the beach before the baby arrives.
ADVERTISEMENT - CONTINUE READING BELOW
And do you have any idea how it feels like to be pregnant in the summer? Having a dip in the pool to relax helps a lot. Plus, swimming is also a perfectly safe workout for preggos.
Ashley makes a valid point. Pregnant women need comfortable swimwear and one that flaunts all their curves, especially their baby bump. They should have choices, whether one-piece or two-piece ones.
Shop for maternity swimsuits locally
The good news is there are great-quality maternity swimwear and preggy mom-friendly swimsuits available locally in the Philippines. Most of them have extra fabric for your growing baby bump, while some designs successfully hide dark spots. Below are your options:
1. Coral Swimwear and Mummy Hugs PH, specialize in maternity swimwear.
ADVERTISEMENT - CONTINUE READING BELOW
ADVERTISEMENT - CONTINUE READING BELOW
Celebrity mom Andi Manzano collaborated with Coral Swimwear for designs for mom and little girls. They're not only a source of swimwear for twinning sets, but they have a maternity line, too.
ADVERTISEMENT - CONTINUE READING BELOW
Mommy Hugs PH is also known for twinning outfit sets for women and girls but also resort and swimwear for the whole family, including moms with buns in the oven.
2. Why not just bare your bump and wear a bikini!
Preggo moms may opt for a typical two-piece swimwear, a bikini or a tankini. Just like Andi Eigenmann in her Paradis Swimwear collaboration and Fatima Rabago in her Agua Swimwear line.
ADVERTISEMENT - CONTINUE READING BELOW
ADVERTISEMENT - CONTINUE READING BELOW
3. Find maternity swimsuits online (there are loads to choose from!)
Apart from department stores, a quick search for maternity swimsuits on Zalora showed three different one-piece styles. Decathlon, a one-stop-shop for anything sports, offers one, too. Lazada and Shopee also provide a lot of options, even from sellers that ship locally. Just make sure you check the seller credential before you "add to cart."
4. Have a swimsuit customized just for you and your baby belly!
Every mom-to-be should feel extra pretty and special, so why not have a swimsuit made just for you? Several retail shops on Instagram offer this service. (Try Belle Summer PH and Swimees Closet PH).
Load More Stories