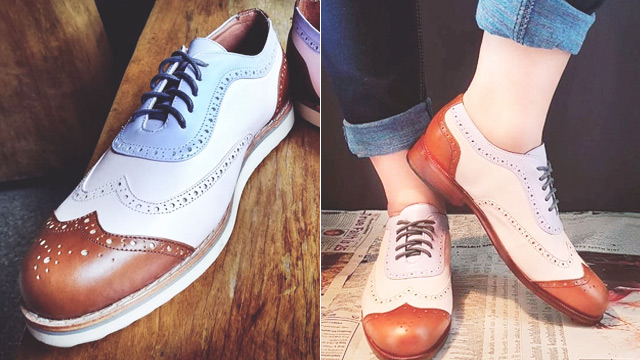 I've always been dumfounded by how difficult it is to find oxford shoes for women, having personally scoured through malls myself in order to find the perfect pair to go with my collection of trousers. I'm talking about genuine leather oxfords that won't peel off after a month of use. The result? If my frustration is any indication, I've, so far, only come out empty-handed. Finally though, I think I've just found the solution.
ADVERTISEMENT - CONTINUE READING BELOW
In the middle of my recent Instagram adventures, I came across HERS by Godfather, a women's brand launched by Godfather Shoes in October 2018. "The brand was born after receiving numerous requests to create women's version of Godfather Shoes," Ayn Angeles, the founder of HERS, tells Preview.ph.
CONTINUE READING BELOW
Recommended Videos
As it turns out, it's a store that sells made-to-order oxford shoes especially designed for women and made from genuine leather that's sourced and handcrafted from Marikina.  "We studied the market and realized that indeed, there are very few local brands that offer quality oxfords for women. It took us a while to decide on a brand name, but since our goal was to create a "His and Hers" version of our men's line, we decided to call it HERS by Godfather."
Find out more about the brand and how you can get your own pair of oxfords in our interview with Ayn, below! 
ADVERTISEMENT - CONTINUE READING BELOW
What's the history behind the brand?
"Our first brand was Godfather Shoes. It was founded by my husband and focused mainly on men's leather shoes (oxfords and brogues) that can be personalized. Our clients would go to the showroom for fitting, and usually, they are accompanied by their wives, girlfriends, or daughters. They would often admire the shoes and request for a pair in their size. From there, we thought of trying it out. We developed shoes in women's sizes and tried to play around with the available designs in our men's line. When we launched it, we were surprised by the response of the market. Our first design was limited edition and it was sold out in a day!"
ADVERTISEMENT - CONTINUE READING BELOW
Is there a signature design or key element evident through your designs?
"Most designs that we have are wingtips. I would say that would be the key element in our current and future designs. We will play around with the colors, soles, and type of shoes that we'll be releasing but it will always have the classic wingtip look."
ADVERTISEMENT - CONTINUE READING BELOW
Design-wise, what are the differences between making oxfords for women as opposed to those for men?
"Design-wise, there's not a big difference—we can make patterns based on the designs of men's oxfords. The main difference would be the shoe last and the materials used. As women's feet are usually smaller, we made our shoe lasts slimmer and 'sexier.' It has to have a certain form that would look good on women's feet. We wanted to ensure that you don't look like McDonald's when you wear our shoes."
ADVERTISEMENT - CONTINUE READING BELOW
Can you take us through the creative process of designing and creating your shoes?
"Since we have a signature look already, we try to find ways to incorporate this into every design that we make. We also think about the ladies who would wear them—their personalities and their preferences. When we came up with our first design (Anielle in Pastel Colors), we had in mind the dainty ladies. As our market grew, we had a lot of requests for plain or darker colors, and so, we also made those available. Of course, colors [from] our men's line [were] also offered."
Could you describe the lifestyle that fits your designs?
"Our shoes can cater to different lifestyles—we have leather soles which, can be worn in the office or even for formal events. We also have rubber soles, which can be worn daily—best for those who are always on the go. Since oxfords can be paired with almost anything—pants, dresses, suits—anyone can wear it."
ADVERTISEMENT - CONTINUE READING BELOW
What can we expect from your brand in the future?
"New designs and more ways to personalize it. We're also working on leather accessories: bags, belts, keyholders, etc. It's going to be an exciting year!"
Tell us about the price range of your products.
"It starts from P4,900 to P6,000."
ADVERTISEMENT - CONTINUE READING BELOW
Lastly, where can we purchase your shoes? Do you have a physical store where buyers can go to?
"For first-time clients, we highly recommend to go to our showroom in Marikina for fitting. They can send us a message on our IG or FB page to set an appointment. That's what we recommend to ensure that the size is correct. If they are unable to visit us, we can send them instructions on how to measure their feet from home and then send their measurements to us.
"Our showroom is located along Sumulong Highway, Marikina City."
This story originally appeared on Preview.ph.
* Minor edits have been made by the Femalenetwork.com editors.
Load More Stories