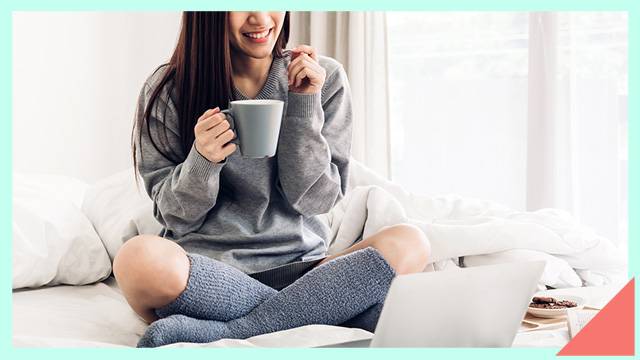 2020 may be the year when you've added to cart the most—and it's not only due to the fact all those sales are tempting, but also because online shopping is pretty much a safer and more efficient way to buy needs and wants especially when you don't really have much of a choice but to stay indoors due to pandemic-related travel restrictions.
ADVERTISEMENT - CONTINUE READING BELOW
According to ZALORA's 2020 Southeast Asia Trender Report, fashion choices have also changed as the workplace shifts into the home. There has been a rise in purchases of blouses and tunics compared to other clothing items this year, as those who remote work usually use platforms like Zoom, Google Meet, and Microsoft Teams to coordinate virtually with their teammates. Interestingly, dress purchases dipped, most probably because when you're in an online meeting, no one can really see what you're wearing waist-down.
Active wear and lounge wear (aka "pambahay") have also seen a rise in sales this year. The report notes that as homes transform into a "multipurpose hubs," more people are opting out of gyms and simply creating spaces for exercise indoors. "Sportswear is designed to be comfortable, apart from being crafted from technical materials that have better heat-resistance and cooling properties," says Category Director of ZALORA Group Eric Cheang. "Across the years, sportswear has upped their game in terms of wearability… and now that consumers don't have to travel for hours to get to work, customers have more time at home to be active."
ADVERTISEMENT - CONTINUE READING BELOW
As for pambahay, you're probably one of the many who have invested in better lounge wear not only because you want to feel good and comfy at home (girl, it's high time you threw out that tattered company shirt from 10 years ago), but also because you want something you can just throw a blazer on and still look put-together for Zoom meetings. After all, a nice-looking tank top can be both easy to wear and presentable when paired with a jacket.
So what fashion purchases will people be making in the coming year? We'll probably see more of the same trends in the first quarter of 2021—and a whole lot more bargain-hunting at fashion festivals (1.1, 2.2, 3.3, anyone?). Despite the belt-tightening, however, sustainable fashion is also seeing an upwards trend as many are will to pay a little more if it means supporting environmentally-friendly, locally-made products.
ADVERTISEMENT - CONTINUE READING BELOW
One thing's for certain: people will keep on adding to cart. Just make sure to stay within budget and shop wisely!
Load More Stories