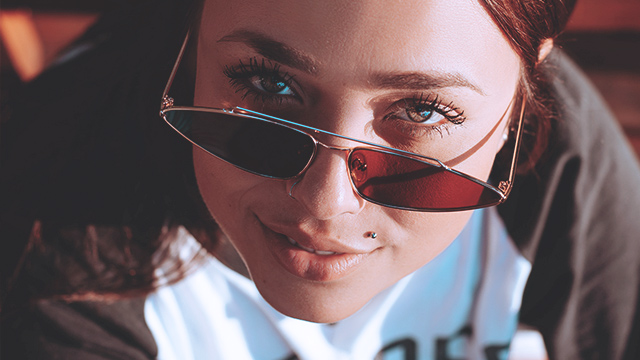 We saw some pretty out-there fashion statements in the past year and there are some that just didn't make sense. We review the year in fashion, the trends we're glad that went away with 2018, and the styles we're welcoming this year.
2018: Bike Shorts
Embed from Getty Images
Who would have thought that bike shorts would make a comeback? Popularized in the 1980s by icons such as Princess Diana, Madonna, and Sarah Jessica Parker, these thigh-hugging shorts made a miraculous return last year.
ADVERTISEMENT - CONTINUE READING BELOW
2019: Tailored Shorts
Embed from Getty Images
While a few fashion houses such as Stella McCartney and Fendi are clinging on to the trend, it's time to swap your pair of cycling shorts for a more sensible set of tailored shorts. These breathable options will replace the skirt this summer and allow you to dress down your blazer for a sportier look.
2018: See-Through Shoes
Embed from Getty Images
PVC plastic-everything was all the rage in 2018, and it might have worked for some accessories like the see-through jacket or the occasional handbag but the material might not have been the most practical choice for footwear. This style of footwear has been known to visibly fog up your shoes while worn or make your feet sweat uncomfortably.
2019: Square Toes
Embed from Getty Images
This year's staple shoe will have a lot more coverage, fortunately. Sartorial forecasts point to square-toe shoes to be on the rise. This welcome addition to the shoe closet is much more wearable than the ubiquitous pointed-toe flats.
2018: Lavender
Embed from Getty Images
It's time to bid goodbye to last summer's mainstay shade. For a moment, lavender lent both sundresses and suits a feminine flavor.
2019: Coral
Embed from Getty Images
This doesn't come as much of a surprise after Pantone announced its color of the year, so gear up to find more options in this pink hue. So far, Tibi, Salvatore Ferragamo, and Chanel have joined the coral bandwagon.
2019: Mesh Bags
Embed from Getty Images
Vogue Italia called the net bag the must-have item for last summer. The woven bag trend brought us back to our roots with its simple eco-friendly design concept. We saw the net bag take many forms: straw, cotton, raffia, and in many accessible price points.
2019: Mesh Bags 2.0
Embed from Getty Images
It looks like the accessory is here to stay for another year, a fitting all-natural bag meant for a more environmentally-conscious time. But this year, the net bag is getting some upgrades: J.W. Andersen and Sonia Rykiel's collections have paired it with the undying wicker trend, Loewe is giving it some color and structure, while Altuzarra is keeping its natural look and embellishing it with seashells.
ADVERTISEMENT - CONTINUE READING BELOW
2018: Tiny Sunglasses
Embed from Getty Images
The year 2018 resurrected many trends from the past, but one of the most prevalent throwbacks were tiny sunglasses, sported by the likes of pop singer Rihanna and the trendy Hadid sisters. We saw these reborn in various forms—cat-eyes, oval frames, and rectangular frames. But rationally, these sunglasses served as form over function and do little to actually protect the eyes.
2019: Oversized Shades
ADVERTISEMENT - CONTINUE READING BELOW
Designer brands are now rolling out the exact opposite of micro sunglasses with larger than life shades. They're more goggles than sunglasses, but the creative directors behind Miu Miu, Dior, and Tod's are convinced they're going to be the next big thing.
2018: Chunky Sneakers
Embed from Getty Images
Not all that is big is better, and this goes to the '90s tribute that was the chunky sneaker. Popularized by Balenciaga late into 2017, this shoe trend was dubbed the "ugly sneakers" by fashion authorities. Bulky, heavy, and bordering ridiculous, this "ugly" trend is better off left behind in 2018.
2019: Printed Loafers
Embed from Getty Images
Celine's Hedi Slimane has spoken: loafers are the new sneakers for both men and women. This formal type of footwear is given the edge that it needs through crazy prints and over-the-top details.
2018: Berets
Embed from Getty Images
Berets were big in the headwear department last year, thanks to the likes of Chanel and Dior. As fashion accessories, however, they were merely just that—add-ons to an outfit.
ADVERTISEMENT - CONTINUE READING BELOW
2019: Oversized Hats
Embed from Getty Images
Right after the exit of small-sized beret and bucket hats, here comes the oversized hat. This type of headgear will be popular around the summertime, replacing the conventional sunhats.
2018: Frills For Days
Embed from Getty Images
There was wide use of ribbons, tulle, and excessive layers in the past year. But now that we're entering an age where less is more, fashion is ready to shed the surplus of materials for something more down-to-earth.
2019: Cinched Waists
Embed from Getty Images
The hourglass figure is making a revival, but not in the way you would expect it. Tailored suits are constructed with built-in cinched waists to automatically give its wearer a curvy silhouette. It's a reasonable partnership between business and fashion.
This story originally appeared on Townandcountry.ph.
* Minor edits have been made by the Femalenetwork.com editors.
Load More Stories