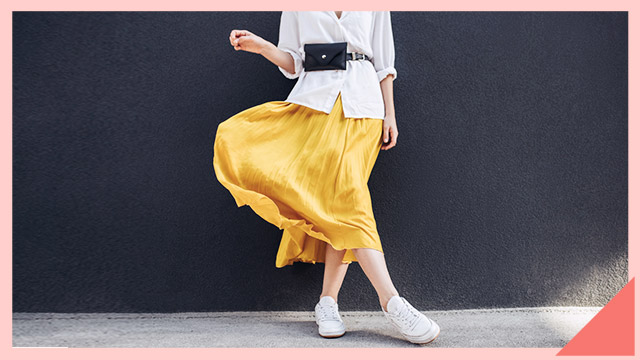 Wearing color, in fashion, is not new. However, it's often avoided because some women are either afraid of standing out too much (frankly, what's wrong with that?) or a bit unsure of the hues they're trying to match together. But have you ever thought that your aversion to bright shades is a kind of fear rooted beyond your lack of confidence in making a statement that's uniquely you?
ADVERTISEMENT - CONTINUE READING BELOW
Skipping colors can be attributed to mistakes you probably have no idea you're even making. It's about time you veer away from the comfort of neutrals and wear more brights! Here are five easy ways you can correct your styling mistakes.
Mistake #1: You wear too many clashing colors at once.
What to do: Wear one bold color over neutrals. Overdoing mixing colors could be a far greater sin than wearing neutrals all the time. If you're a newbie, learn to control yourself and start with baby steps. Wear brights one at a time and add more over time, once you're more comfortable.
Mistake #2: Black is your safety net.
What to do: Yes, you can wear an outfit without using black. Stick to solid, complementing colors and review your color wheel for easy reference. Remember, as Coco Chanel said, "The best color in the world is the one that looks good on you." But you won't be able to find out which best suits you if you keep wearing black. 
ADVERTISEMENT - CONTINUE READING BELOW
Recommended Videos
Mistake #3: You underestimate the power of a good accessory.
What to do: Remember that your sunnies, shoes, and bags can make or break a stylish outfit. Use them to your advantage to add a pop of color to your OOTD.
Mistake #4: Monochrome dressing is not limited to neutrals.
What to do: Try exploring other shades and pile them on for a cohesive look. Tonal dressing shouldn't be boring either. Play with shades and wield it to best accentuate your body. Remember darker shades can slim you down and lighter ones add a bit more heft to your frame.
Mistake #5: You always wear safe colors.
What to do: Memorize fail-proof color combinations, such as orange+beige, yellow+teal, yellow+red.
There's nothing wrong with gravitating to colors that are tried and tested. That said, your wardrobe still shouldn't be limited to just those safe colors. If you make it a habit, they tend to make your wardrobe boring. Be fearless in finding color combinations! Color blocking is still a thing, mind you! 
ADVERTISEMENT - CONTINUE READING BELOW
This story originally appeared on Preview.ph.
* Minor edits have been made by the Femalenetwork.com editors.
Load More Stories