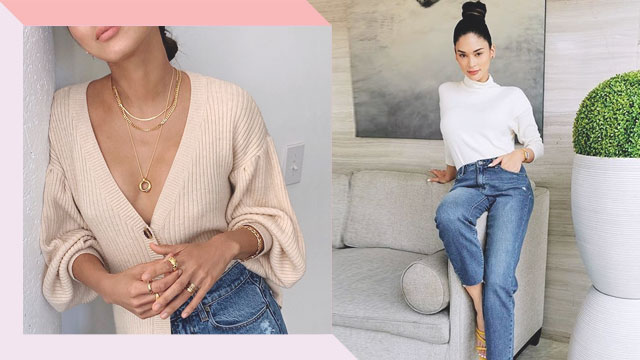 We'll just go ahead and say it: Skinny jeans are forever. It's a timeless and classic pair that can be worn by anyone—no matter one's size, shape, and age. But despite its supposed unifying characteristic, skinnies can also make you look basic if you don't style them the right way. 
ADVERTISEMENT - CONTINUE READING BELOW
To help you out, we listed five common skinny jean mistakes you may have been unconsciously doing and five tips on how to fix them.
1. You don't alter the jeans.
The mistake: Here's one glaring problem: You buy the jeans and only consider its fit on your waist and hips. Newsflash, ladies! You also need to mind the length. 
What to do: Most jeans are manufactured for women with different height and built compared to yours, so take it upon yourself to take your pairs to the tailor to have them altered. Make sure they graze your ankle just right (or they're long enough for you to make a cute cuff) to avoid having the fabric rumpled at your feet. Leaving out the extra denim fabric pooled at your feet will instantly cut you off.
2. You're not playing with proportions and silhouettes.
The mistake: You wear your jeans with only an extra tight tank top or a fitted shirt.
What to do: There's no sweat in pairing your trusty skinnies with a cute tank top, but don't forget to add a third piece to play up the silhouette because you need to offset the body-hugging detail of the jeans. You can also opt to wear a chunky cardigan half-tucked into the jeans to add an instant nonchalant cool vibe to your look. Heck, you can even wear it with a dress!
ADVERTISEMENT - CONTINUE READING BELOW
3. You don't wear accessories.
The mistake: You skip your belt and ditch wearing baubles.
What to do: As we've established, skinny jeans, while they remain to be a closet staple, still have the tendency to look basic. So the easiest way to jazz it up is to layer on the accessories. Try a bedazzled belt for a change, add some gold chain necklace, or maybe switch up your usual footwear with cool ankle boots. You can even take it up a notch and stuff your skinnies into a knee-high boot!
ADVERTISEMENT - CONTINUE READING BELOW
4. You wear pairs that are way too distressed.
The mistake: Your ripped jeans are making your entire outfit too casual for an office setting.
What to do: Here's the thing, ladies. There's no harm in opting for distressed jeans, but always choose when to do so. If you're attempting to sneak your skinny jeans into the workplace, it's not wise to wear a pair with rips on both knees. If you want to elevate the pair, a nice dark-washed jean worn with a dressy top and some stilts will do the trick.
ADVERTISEMENT - CONTINUE READING BELOW
5. You wear it with other basic colors.
The mistake: You're playing it safe with your color combos.
What to do: If you truly want to dress up your fave skinny jeans, then don't revert to teaming them up with equally basic hues. Got a light washed jean? Ride its bright blue hue and opt for analogous color pairings like red, orange, or yellow. Donning a dark washed one? Try adding textured tops like snake effect skin or maybe it's time you finally wear that sequined top!
ADVERTISEMENT - CONTINUE READING BELOW
Load More Stories