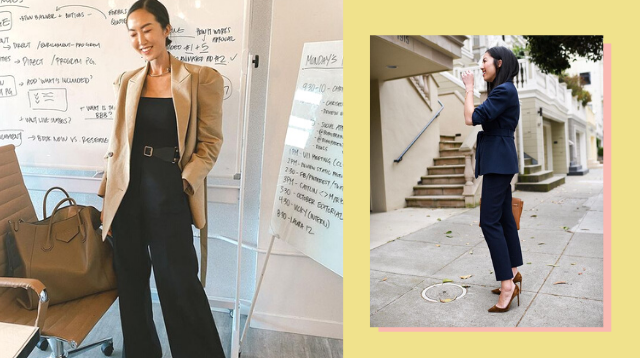 Dressing for the office can pose a big challenge, especially when your intent is to dress professionally, comfortably, and of course, stylishly. Clothing options are believed to be limited, especially when we talk about trousers. But ladies, your office pants are actually a versatile piece—transformative, even—when you know how to style them right.
ADVERTISEMENT - CONTINUE READING BELOW
Below, we list five common mistakes that you're probably doing when wearing trousers that may be hindering you from reaping its best sartorial benefits. Scroll down and learn to correct each of them, while you're at it!
1. You buy the same size across brands.
The mistake: You stick to the sizing tag more than prioritizing the fit.
What to do: Don't blindly follow the tag! It's always best to fit the pants before buying the pair. Remember that the sizing is relative and brands don't exactly follow one universal measurement. Instead of looking at the size, pay attention to how the pair looks like when you've tried it on.
2. You don't like to invest in a good pair.
The mistake: You prefer shopping in fast fashion brands for a quick fix.
What to do: While fast fashion brands offer more affordable options, they sometimes do have to compromise the quality. Bespoke shops can create a nice pair of office trousers for you that will stand the test of time, transcend trends, and give you more bang for your buck. So, go ahead and treat yourself with at least one bespoke pair that's custom made to highlight your best assets.
ADVERTISEMENT - CONTINUE READING BELOW
3. You buy and wear, without getting it tailored.
The mistake: You don't hem your pants.
What to do: Take your pants straight to the tailor after purchasing! This way, you won't have to deal with excess fabric forming an unsightly pool at your ankle—effectively making you look frumpy and short. By getting the length of pants tailored, your trousers look more expensive and instantly polishes you off.
ADVERTISEMENT - CONTINUE READING BELOW
4.  You don't try other silhouettes.
The mistake: Straight pants are not the only cut and silhouette out there.
What to do: Experiment with more trouser cuts like flared, wide-leg, and even carrot cut! The thing is, these loose-fitting pairs can also change the feel of your outfit. They still look polished but a bit more stylish and at the same time, laidback. Plus, they're so comfy to wear all day long, too!
ADVERTISEMENT - CONTINUE READING BELOW
5. You think office trousers are just for the office.
The mistake: You stow them at the back of the closet when the weekend comes.
What to do: Trousers, as the tips above have demonstrated, are versatile pieces that can make your office looks fun and polished. Now, why wouldn't you want to look like that, every day of the week? Swap out your button-down shirts with tees or sheer pieces, and you're all set for a relaxing and stylish weekend!
ADVERTISEMENT - CONTINUE READING BELOW
ADVERTISEMENT - CONTINUE READING BELOW
Load More Stories