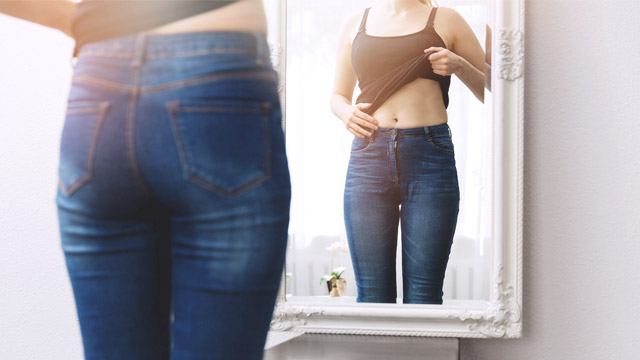 Denim is a fickle fabric. There are different cuts, sizes, and washes, and it tends to feel different each time you put it on. Even if you manage to shop for the perfect pair, sometimes the most frustrating thing happens: your jeans just don't fit you anymore. We hear you, ladies! Don't throw your fave pair just yet. Below, we've got easy tricks you can do to shrink or expand your jeans in order to bring them back to their perfect fit.
ADVERTISEMENT - CONTINUE READING BELOW
How to Shrink New Jeans
Solution #1: Wash in hot water
What to do: This works best if your jeans are made out of cotton, close to 100%. Throw your pair in the washer and set the cycle in the hottest possible setting. Dry it on the hottest setting as well or press hot iron if need be.
Solution #2: Spot shrinking
What to do: Spot shrinking means shrinking just specific parts of the pants. Say, the waist is a true fit and you've found a pair with your true length. But it's a bit too loose around the calf and thigh areas. What you can do is to mix three parts of hot water with one part fabric softener in a spray bottle. Spray on the area you wish to shrink 'til it's soaked. Tumble dry at the hottest temperature. Fit the jeans and repeat process until you reach your desired fit. A word of caution, though: once your jeans fit you perfectly, reduce washing to avoid sacrificing the quality and its longevity.
Solution #3: Boiling
What to do: As we've learned, hot water can shrink jeans. That said, you can fill a large pot of water and bring it to a boil. Turn your jeans inside out and submerge into the water and leave it to boil for about 30 minutes. Tumble dry at the hottest temperature.
ADVERTISEMENT - CONTINUE READING BELOW
Solution #4: Sew an elastic band at the waistband
What to do: Should your jeans feel a little too loose, simply sew a six-inch piece elastic band at the back of your waistband.
How to Expand Tight Jeans
Solution #1: The Bathtub treatment
What to do: Trust us on this one! It may sound a little crazy but if you really want a perfect fit, wear your jeans and sit for about 15 minutes in a tub full of warm (not hot!) water. Sit on a towel to dry the excess water. Move around the house in your damp jeans so the pair can "memorize" your shape. Hang dry.
ADVERTISEMENT - CONTINUE READING BELOW
Solution #2: Wet, stretch, and pull
What to do: Spray your jeans with lukewarm water then lay them out on the floor. Depending on the area you want to stretch, manually use your hands to stretch and pull the jeans while they are wet. Try pulling in any (or all) directions and keep spraying with water if needed.
Solution #3: Alter the original waistband
What to do: For the more advanced DIY-ers, you can challenge yourself and alter the original waistband of your jeans completely. All you need to do is to rip the waistband and the side seams of the jeans about two to three inches down and insert a separate piece of denim (or any other fabric you like) in place. You can check this out for a more detailed instruction.
This story originally appeared on Preview.ph.
* Minor edits have been made by the Femalenetwork.com editors.
Load More Stories