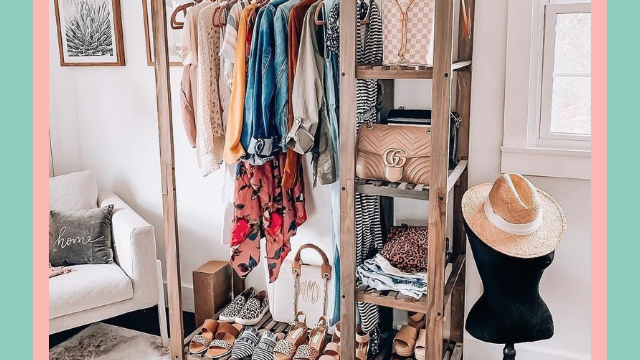 When you open your closet and think that you have "nothing to wear," the solution isn't always to shop for more clothes, but rather, to declutter. This is mainly because your wardrobe is filled up with way too many items that you no longer wear.
ADVERTISEMENT - CONTINUE READING BELOW
Once you've decluttered, your go-to clothing items will even be more visible, making it easier for you to dress up. Consider moving on from these wardrobe pieces below: 
1. Jeans that no longer fit
It's a part of life that your go-to pants will be a tad too tight for you at some point, hence, it's always good to check if you have a couple of unused pairs hiding at the back of your closet. Jeans, with its bulky fabric, take up a lot of space, so you would want to only store the ones that are in heavy rotation. 
2. Worn-out tees 
T-shirts give and wear after every wash so it's only natural if you end up having many yellowish-white, worn-in tees that you no longer reach for when going out. While some can be repurposed as pambahay clothes, know when it's time to unload. "A collection of T-shirts takes up a ton of space, and you probably won't miss them when they're gone," writes Reader's Digest. 
3. Any clothing piece that you've only worn once
It happens to the best of us: We buy things we don't end up wearing, whether it's because they don't go with the clothes we own, they ended up being a pain to wear, and many other reasons (here's how you can avoid these shopping mistakes.) Naturally, you'll still want to keep these purchases because "sayang naman" or you might still wear it "in the future." But if you haven't worn something for over a year, you probably won't wear it ever. 
ADVERTISEMENT - CONTINUE READING BELOW
4. Formal dresses you've worn to countless weddings, work events
Dresses are another bulky clothing item that you would want to avoid piling in your closet. If there's a frock that you once wore all the time but no longer reach for, it's probably time that you retire and replace it. 
ADVERTISEMENT - CONTINUE READING BELOW
5. Anything that no longer fits your style.
As HuffPost notes, "if you're holding on to clothes that don't make you feel great when you wear them, it's probably a good idea to let go of them." 
Once you've finally let go of these unused items, consider selling them online, especially if you've only worn them once, swap them for a discount and a sustainable cause (if you donate a bag of old clothes to brands like H&M, you'll get a store discount in return), or donating them to charities (here are places where you can give away old clothes.) 
ADVERTISEMENT - CONTINUE READING BELOW
Load More Stories