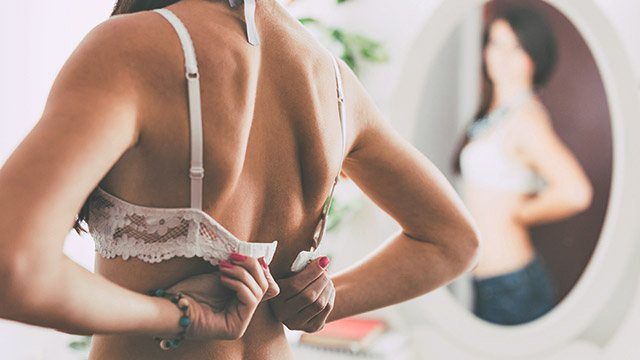 We've all excitedly thrown on our favorite new outfit only to realize halfway through the day that our bras are trying to kill us. A lot of us choose to ignore it, even chalking up the discomfort as a regular occurrence. In some instances, it's merely a case of having to give up an old ratty pair for a new one; for others, it could be a sign that you are wearing an ill-fitting brassiere. Here are some tell-tale signs that you need to be fitted with the correct bra:
ADVERTISEMENT - CONTINUE READING BELOW
1. Straps digging into your shoulders
This isn't sexy bondage like you've seen on 50 Shades of Gray, more like kidnap-esque rope burns that dig into your dermis. Once your straps leave a mark or worse, cause redness, irritation, and bleeding, it means that the cups are likely too small for you, causing strain on the shoulder straps.
CONTINUE READING BELOW
Recommended Videos
2. Back strap is going north
Does the back strap feel like its raising up to your neck every time you move? If so, then the problem is probably due to the fact that you are wearing a bra that is too big for you. Try on several smaller sizes to get the right fitting band size. More and more companies are starting to churn out band sizes below the usual 32-inch measurement so worry not.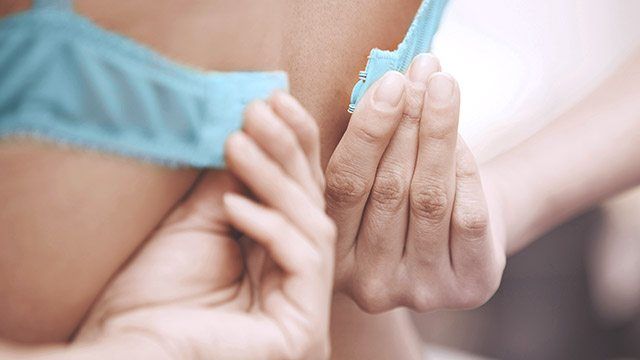 ADVERTISEMENT - CONTINUE READING BELOW
3. Stabbing via underwire
Getting stabbed by your underwire doesn't always mean that your bra is just worn out. In some instances, it can also indicate that you need to size up your cup. Invest in a new bra that won't try to stab you in the heart.
4. Spillage
Too many glamour models and underwear ads show models with busty photos and overflowing cups. In truth, excessive spillage of your breasts or some noticeable back bulge seen on the band should mean that sizing up is a must in either band or cup measure.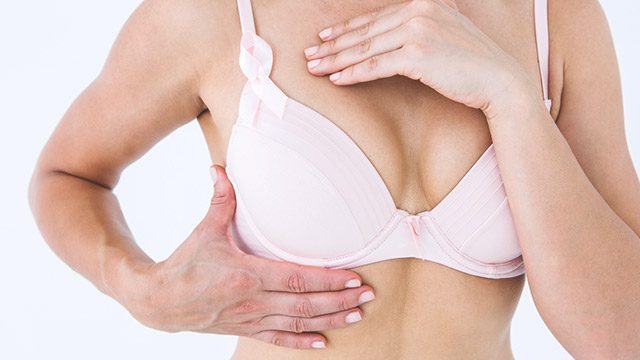 ADVERTISEMENT - CONTINUE READING BELOW
5. Cups have wrinkles
On the other hand, wrinkling cups is a clear indication that you are likely unable to properly fill out the cups of your brassiere and should therefore go down a size or two.
6. Straps are sliding off your shoulders
There are two main culprits for falling bra straps. 1.) The cup size is too big for you. 2.) The bra is past its wear by date, thus making the straps old and stretched out.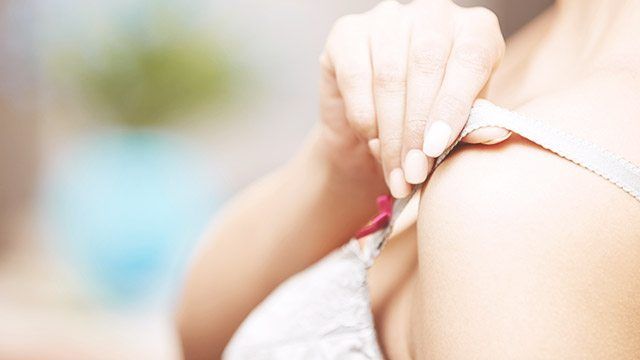 ADVERTISEMENT - CONTINUE READING BELOW
7. Chaffing
Decorative bras with piping, mesh, lace, etc. could cause irritation on sensitive skin. To find out what the culprit is, try switching to smoother cotton fabrics to determine if the irritation is due to sensitive skin or if it is caused by a specific bra issue.
Load More Stories