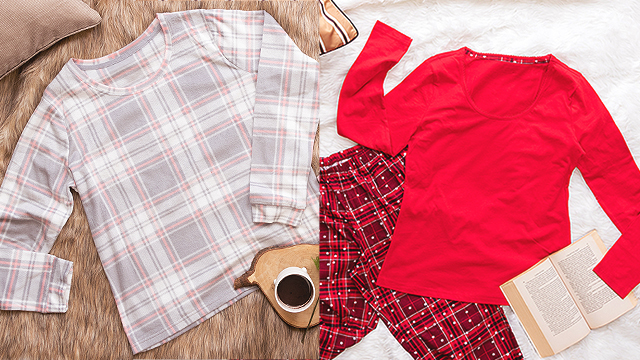 Your wardrobe undergoes subtle changes as you get older and take on different roles in life. Now that you're in your 30s, you're most likely an accomplished career woman with a more polished, timeless, and less trendy fashion sense. But there may still be one aspect of your wardrobe you've neglected to upgrade: your sleepwear. In the comforts of your own home, your nighttime wardrobe is probably still a black hole of old T-shirts from your high school and university days, ratty pambahay shorts, and tank tops with indistinguishable stains.  

As part of growing older, it might be time to retire all those worn-out pieces in exchange for sleepwear that's comfortable and still compliments your style. From coordinated pajamas to satiny chemises, here are some sleepwear options to update your closet with.
1. Romper
A chic one-piece bedtime romper or playsuit is best for practical women who like their lives—and clothes—free of fuss and complication. As something that's easy to slip on, it's usually made in a soft fabric that feels comfortable to sleep in.
2. Coordinated pajamas
A matching set of cotton or silk pajamas (shorts for warm summer days, pants for 'ber months or when traveling to colder climes) allows the meticulous, organized, and all-round perfectionist to happily slip into dreamland.
Pure Cotton Pyjamas, P1,650, Marks & Spencer
Pure Cotton Pyjamas, P1,650, Marks & Spencer
3. Cami and tap shorts 
This sleepwear set is the elevated version of the classic tank top and shorts combo. Usually edged in scalloped lace and printed with dainty patterns, the cami set is the sleepwear of choice of fun, carefree spirits who love to mix, match, and play up their wardrobe.
4. Chemise 
Light and airy chemises, usually made of silk or satin and held up by the thinnest of straps, are worn by women who understand the importance of looking great at all times, even when the lights are out. Wear it with a fragrant sleep mask and a layer of night cream to look fresh and glowing in the morning.  
5. Nightgown
This timeless piece of sleepwear is usually reserved for traditionalists with a more conservative streak, even when under the covers. Made of cotton or a cotton blend and falling below the knees, the nightgown is a classic option that's as cozy as it is comfortable.  
6. Night robe
More cover-up than sleepwear, modern night robes come in shorter lengths and silky fabrics that are airier and friendlier to the skin than flannel or terry cloth. Sophisticated, stylish women wear this to bed or over skimpier sleepwear when lounging around after-hours.  

Investing in your bedtime wardrobe lets you end the day with class and style and wake up to face mornings with glamour and grace. Update your sleep apparel with pieces from high-quality retail stores like Marks & Spencer, which has a range of fabulous, comfortable sleepwear designed specifically for making a good night's sleep and getting up in the morning so much more elegant.
Pure Cotton Pyjamas, P1,650, Marks & Spencer
On main image (left to right): Cosy Pyjamas, P1,850, Marks & Spencer; Pure Cotton Pyjamas, P1,650, Marks & Spencer

Visit M&S Philippines and follow Marks & Spencer Philippines on Facebook to find out more about their collections.

This article was created by Summit Storylabs in partnership with MARKS & SPENCER.