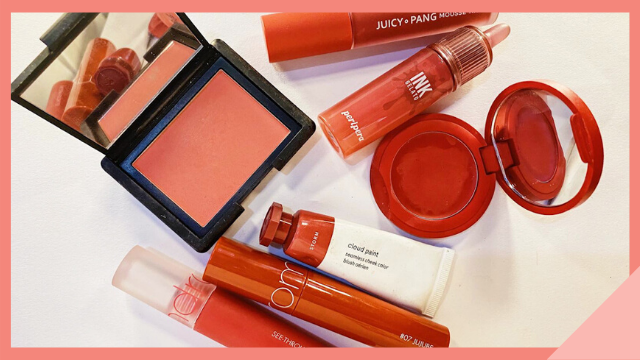 As I was organizing my makeup collection, I noticed a theme. I mostly own lipsticks and blushes in the same family color and sometimes, they come in the exact hue but different finishes. I knew I wasn't alone in this predicament because I've raided my friends' stashes before and noticed the same sitch. We all buy the same shades over and over again.
ADVERTISEMENT - CONTINUE READING BELOW
Besides the relatable memes I see on IG, my theory on this purchasing behavior was backed up by an article on Into The Gloss. Author Utibe Mbagwu admitted that she owns lipsticks in identical shades. It happens to everyone!
Let's dig deeper and find out why we buy the same makeup shades over and over.
1. We already know what works for us.
It took us months or maybe years to find a shade that works well with our skin tones. Makeup doesn't come cheap so buying similar colored products guarantees a good investment. It's a safe purchase.
ADVERTISEMENT - CONTINUE READING BELOW
2. It's easy to filter the new purchase in our current collection.
When you've already established your "makeup wardrobe," you can simply inject products that will complement the items you already own. For example, I'm into deep rose blushes and tints that work well with my pink eyeshadows. If I buy a coral blush, it may be out of place with my current makeup collection. Of course, I can make It work, but since I have a tried and tested makeup-shade combo, my primping routine may become longer. I need to figure out the looks I can create using my new blush.
2. We're used to buying certain things.
We're creatures of habit, so once we find The One, we'll never let go of it! We gravitate towards items that we see every day, those we already own. If it fits our style DNA, our brains and eyes can't help but be attracted to it.
ADVERTISEMENT - CONTINUE READING BELOW
The takeaway
Buying the same shades over and over is normal, and we shouldn't be judged for this behavior. What we have to keep in mind, however, is that we may be purchasing items we don't really need. This bad habit results in a cluttered vanity and a load of unused products-aka wasted money that should have gone to more valuable things.
ADVERTISEMENT - CONTINUE READING BELOW
Load More Stories