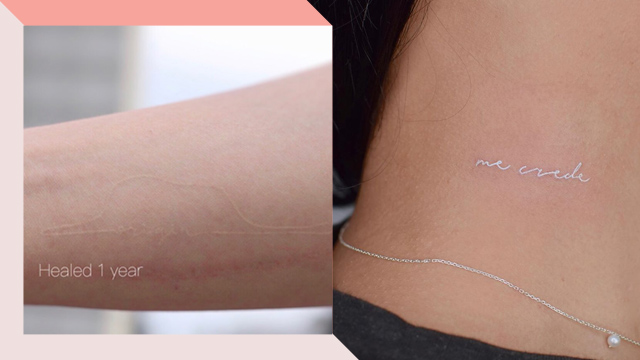 A white tattoo is considered to be the dainty choice by those who want to be inked, but are scared of potentially over-the-top, bold designs. It's a subtle way to wear body art because it can only be seen up close. You can have it done even if you work in a corporate setting or similar environments.
ADVERTISEMENT - CONTINUE READING BELOW
CONTINUE READING BELOW
Recommended Videos
It's guaranteed to be pretty, but there's a catch: It doesn't last that long. A white tattoo doesn't age well. It fades into your skin color gradually within 15 days (depending on the area) up to a year or so. The result looks like an artfully drawn scar. I know, it's sad but also kind of poetic.. 
ADVERTISEMENT - CONTINUE READING BELOW
ADVERTISEMENT - CONTINUE READING BELOW
Another factor to consider is for it to be seen, a white tattoo's lines must be thick. Your artist must have excellent skills to get a precise outline and shape, otherwise, it will look awful. The bottom line is, white ink is best used for highlighting colored and black tattoos, not the tatt itself.
Load More Stories