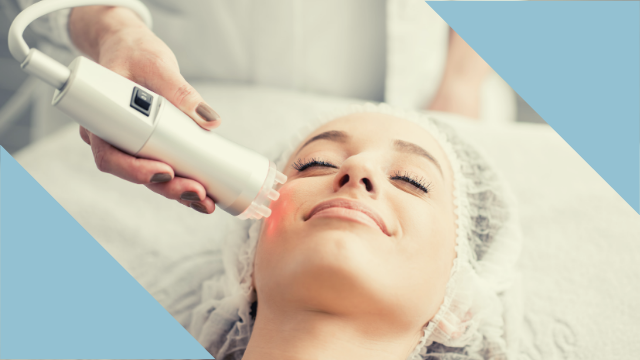 There's a reason why collagen is a buzzword you'll come across in many skincare brands—it acts like the "glue" that keeps our skin firm, supple, and lifted. In fact, according to Web MD, it makes up 75% of our skin; however, its production naturally starts to decrease at the age of 25. 
Aside from taking in collagen supplements and adding vitamin C to your P.M. routine, one of the most common ways you can boost your skin's collagen production is through getting Ultherapy or Thermage. These two skin-tightening treatments have been gaining popularity in the past few years, and with good reason: No needles are involved. 
ADVERTISEMENT - CONTINUE READING BELOW
Ultherapy and Thermage have a lot of things in common. For starters, both are non-invasive treatments that use heat to promote collagen production, tightening the skin and improving its overall texture. But have you ever wondered what makes them different from each other? 
What is the difference between Ultherapy and Thermage? 
According to Dr. Kaycee Reyes of Luminisce Holistic Skin Innovations, one isn't better than the other. She explains: "Ultherapy kasi is an ultrasound; it targets [the deepest layer of the skin], which is a combination of fat, ligament, and muscle so nil-lift niya 'yon.  
"But for Thermage, it's a radiofrequency... it's the best kind of radiofrequency that targets the first three layers of the skin. Parang pinaplantsa niya 'yong collagen to tighten [the skin].
"Thermage is more [for] tightening but if you want to lift the skin, you do the Ulthera. So hindi din talaga parang mapaplitan 'yong isa, mas maganda pa nga na you combine [both treatments]."
Essentially, Thermage works best for tightening skin and treating fine lines, whereas Ultherapy can lift saggy necks and jowls. 
How soon will you able to see results? 
Right after treatment, you will notice that your face is slightly firmer, however, the more obvious results will show after a few months. In a previous interview with Female Network, Dr. Lovelyn Daet of Skin House explained that results "improve over two to three months as your body naturally regenerates collagen." As our Editor-in-Chief Ysabel Yuzon, who underwent an Ultherapy treatment, shared: "I only started noticing some changes about two and a half weeks after, but it was really how much sharper my jawline felt that made me confident about the results of the treatment." 
ADVERTISEMENT - CONTINUE READING BELOW
Because of the heat penetration, you may experience mild swelling tenderness or redness. Don't worry, it will only last from a few hours to a couple of days.  
How long will the effects last? 
The results of a single Ultherapy or Thermage treatment gradually improves over time and can last up to a year. 
ADVERTISEMENT - CONTINUE READING BELOW
What specific areas do Ultherapy and Thermage target?
Ultherapy and Thermage are both commonly used on the face, neck, and jowl. Thermage, however, can be used around the forehead and the eyes, softening fine lines and wrinkles; it can go beyond the face, too, targetting certain areas of the abdomen, arms, knees, thighs, buttocks, and legs, where there is sagging or "crepey" skin (take note: it typically takes more than one session to see results on the body, compared to the face.) Meanwhile, Ulthera can also lift the brows, resulting in a youthful, wide-awake appearance.  
ADVERTISEMENT - CONTINUE READING BELOW
One of the most common frequently asked questions: Does Ultherapy or Thermage hurt? 
There may not be painful needles in sight, but there is heat involved, meaning there is still a chance of discomfort. 
According to Prive Clinic, "Patients will feel a brief heating sensation when the [Thermage] treatment device's tip touches your skin, followed by a cooling sensation to help protect your skin and minimize any discomfort." Due to bulk heating, Thermage is known to be a little more painful compared to Ultherapy, which uses micro-focused ultrasound technology. But don't worry—feelings of discomfort dissipate quickly! 
ADVERTISEMENT - CONTINUE READING BELOW
How much do these treatments cost? 
The prices are pretty steep! A single Ultherapy treatment can range from P40,000 to P150,000. Meanwhile, a Thermage treatment can cost up to P120,000 per session. But on a brighter note, it is recommended for a patient to undergo an Ultherapy or Thermage only once a year, and you'll see dramatic results even with one session so you truly get what you pay for. 
ADVERTISEMENT - CONTINUE READING BELOW
According to Dr. Kaycee, there are also affordable skin-tightening alternatives that work just as well. "There are other devices that can lift the face. "[Another] good machine available in the market is the Ultraformer. It's very popular in Asia. We call it the 'Face Lift Tite' in the clinic," she shares. 
ADVERTISEMENT - CONTINUE READING BELOW
Load More Stories