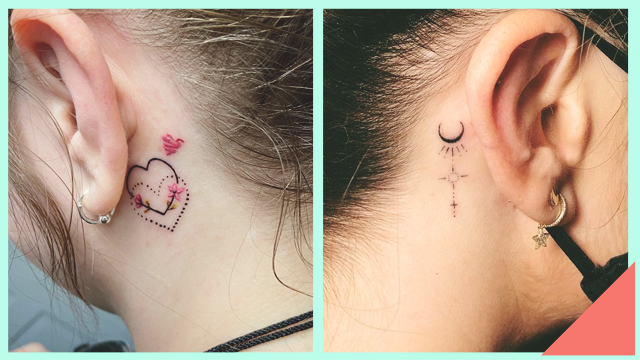 When you plan on finally, finally getting that tattoo you've always wanted, there are a few things you have to consider. Aside from the design, you have to think about is the placement. Since it's your first ink, you most probably want to stick with something that is low-key and easy enough to hide, especially if you work in a strict office.
ADVERTISEMENT - CONTINUE READING BELOW
If you don't want to stick with the generic areas like the wrist or the inner arm, you might wanna try placing your body art behind your ear! It's a place that isn't immediately visible, especially if someone looks at you from the front. You can conceal it even further by letting your hair down!
Interested? Below, we put together everything you need to know about behind the ear tattoos, from the pain level, aftercare, and even some designs for inspiration. Keep on scrolling to learn more:
Are behind the ear tattoos painful?
Okay, we're not going to lie to you: Behind the ear tattoos are painful. Since there is less fat cushioning the bone in this area, you will really feel the needle sinking into the skin. And because it's near your ear, too, the vibrating and buzzing sounds of the tattoo gun can be unnerving.
If you go to a professional tattoo artist, you can be sure that you're in good hands. They are trained to be as gentle and light-handed as possible to lessen the pain!
How do I take care of my behind-the-ear tattoo?
When it's time to wash your tattoo, use a mild, unscented soap. Rinse it with cool water and pat your tattoo dry using a clean towel. Then, moisturize the area to prevent any dryness. Scabbing is normal, and it will take about two to four weeks for it to stop. Make sure not to pick at the peeling skin since it will affect the healing process.
While your tattoo is healing, you might want to put your locks in a ponytail or bun if you have long hair to prevent any sweat or oil from reaching the fresh wound. Also, drag your sunscreen all the way to the back of your ear to prevent the colors from fading!
Best Behind The Ear Tattoo Designs To Try
Ready to find a design for you? Check out 15 of the best ones we spotted on Instagram:
ADVERTISEMENT - CONTINUE READING BELOW
1. Rose
You can't go wrong with a classic, TBH. A rose is a timeless design that will look good on anyone.
2. Doggos
You can also dedicate your tattoo to your beloved dogs. We recommend going with a line drawing since there's no shading involved!
ADVERTISEMENT - CONTINUE READING BELOW
3. Lavender Flower
This dainty lavender flower tattoo is angled in a way that it follows the natural curve of the ear—very clever.
4. Dreamcatcher
Your tattoo doesn't have to stay small and hidden. You can choose an intricate design and let it extend down your neck, just like this dreamcatcher ink.
ADVERTISEMENT - CONTINUE READING BELOW
5. Music Notes
If you're a musician or simply just a big fan of music, you can opt to get some notes tattooed behind your ear.
ADVERTISEMENT - CONTINUE READING BELOW
6. Minimalist Heart
A heart is another classic design. We love the one below—it's simply pretty.
7. Baby's Breath
Want a flower tattoo design but you're sick of roses? Go for some dainty baby's breath blooms.
ADVERTISEMENT - CONTINUE READING BELOW
8. Where's Wally?
The placement of this Where's Wally? This tattoo is very fitting since he's hidden behind the ear.
9. Cherry Blossoms
Missing Japan? Take a little bit of the picturesque country with you wherever you go by choosing a cherry blossom design.
ADVERTISEMENT - CONTINUE READING BELOW
10. Space Baby
This dainty and delicate celestial-themed tattoo goes well with the girl's moon and star earrings.
11. Piece of Cake
This rainbow-colored cake slice is oh-so-sweet.
ADVERTISEMENT - CONTINUE READING BELOW
12. Floral Heart
This unique dotted heart with some flowers is a playful take on the classic tattoo design.
13. Rainbow Dots
These low-key Pride-themed dots does a great job of conveying your advocacy!
ADVERTISEMENT - CONTINUE READING BELOW
14. Scorpion
If you're a Scorpio, a badass scorpion tattoo is a fitting design for you.
15. Paw Prints
Take your dog with you wherever you go by getting some paw prints tattooed on behind your ear.
ADVERTISEMENT - CONTINUE READING BELOW
* * *
Cosmo.ph is officially on Viber! Be part of their growing community and subscribe to Cosmopolitan Philippines now!
This story originally appeared on Cosmo.ph.
*Minor edits have been made by FemaleNetwork.com editors.
Load More Stories