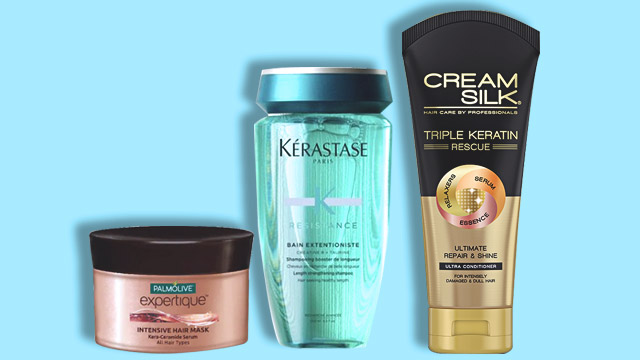 You shouldn't only be more attentive to your skin as you enter your 30s, you also need to be more mindful of your scalp and hair. Several changes happen as you age—you find that your tresses are thinning due to stress, compounded by the lack of ample vitamins and minerals. Sometimes you can't even help it, especially when hormones are the culprits.
ADVERTISEMENT - CONTINUE READING BELOW
While you deal with the health-related concerns by regularly visiting your doctor and improving your lifestyle, you also need to make sure that your strands are clean and healthy on the outside, and this time, your usual shampoo-and-conditioner combo (which you may have just randomly picked from the grocery) may not be enough.
Here are a few hair products that are formulated for specific hair concerns you may want to try:
When your hair needs its dose of keratin: Cream Silk Triple Keratin Rescue Conditioners
P259/340ml, available in department stores
Hair is basically made up by a type of protein called keratin, so the more of it you have, the better and fuller your tresses look. According to Healthline, keratin is said to work by "smoothing down the cells that overlap to form your hair strands," so if dullness and damage are your issues, you can try these hair-saving conditioners.
When your strands are damaged and hard to tame: Palmolive Expertique Line
Shampoo and Conditioner, P139 each/170ml; Intensive Hair Mask P229/180ml; Anti-Frizz Serum, 250/70ml; Beautifying Hair Oil, P195/30ml; available in Watsons
ADVERTISEMENT - CONTINUE READING BELOW
Palmolive recently launched a wide range of hair products under the Expertique line which aims to solve the most common hair issues. If you're tired of dealing with frizzy and dry hair, try their Smoothique shampoo and conditioner that contain a blend of keratin and ceramides. Ceramides are lipids that are known to keep your hair cuticle and shaft healthy—lack of it can make your hair more prone to damage, dryness, and breakage.
Complement these products with a hair mask you can use once a week, hair oil to keep your tips well-moisturized, and an anti-frizz spray to keep those tutyang tamed.
When you want healthy growth: Kerastase Resistance Extentioniste Line
Bain Extentioniste (shampoo), P1,600; Fondant Extentioniste (conditioner), P1,900; Masque Extentioniste, P2,980; Serum Extentioniste P2,050, available in partner salons
ADVERTISEMENT - CONTINUE READING BELOW
Are you trying to grow your hair out but it seems to be taking longer than usual? Kerastase offers new products that can help you with just that. Resistance Extentioniste brings the salon experience to your home with a 30-minute treatment: shampoo with the Bain Extentioniste which has Creatinine R Complex to strengthen your strands and taurine to protect your follicles, then condition with the Fondant Extentioniste enriched with acid maleic for even strand coating; twice a week, you can replace the conditioner with the Masque Exentioniste to help reduce breakage, followed by the no-rinse ceramide-rich serum massaged on to your scalp to trigger faster hair growth. Religiously do the treatment and you'll see results in a few weeks.
Load More Stories